'New Amsterdam' Season 3: Will Jocko Sims Return as Dr. Reynolds?
New Amsterdam Season 3 starts airing on March 2 on NBC (and on March 3 on Hulu and Peacock), and will see characters like Dr. Max Goodwin (played by Ryan Eggold) and Dr. Helen Sharpe (Freema Agyeman) tackling the coronavirus pandemic. After Dr. Floyd Reynolds (Jocko Sims) left for San Francisco towards the end of the last season, however, viewers have been left wondering whether the doctor will be returning to help out his friends at this time of crisis.
Though the character has left the main cast of the NBC medical drama, Sims has not ruled out a return for Dr. Reynolds—and judging by the numerous interviews he has made, he will be back at some point in Season 3. Asked by TVInsider whether he would be back, the actor said, "I don't think so. I think there are plenty of opportunities to see Reynolds. He'll always have a home there at New Amsterdam if he wanted to come back. There's opportunities for him to come and participate if his skills were needed for a particular surgery. There's possibilities for spinoffs [or] they could take some of the story to the West Coast, and he'd still be on the show."
Around the same time, he made similar comments to The Koalition, saying: "I don't want to confirm that you may not see Floyd again. I don't want to confirm that there won't be a spin-off.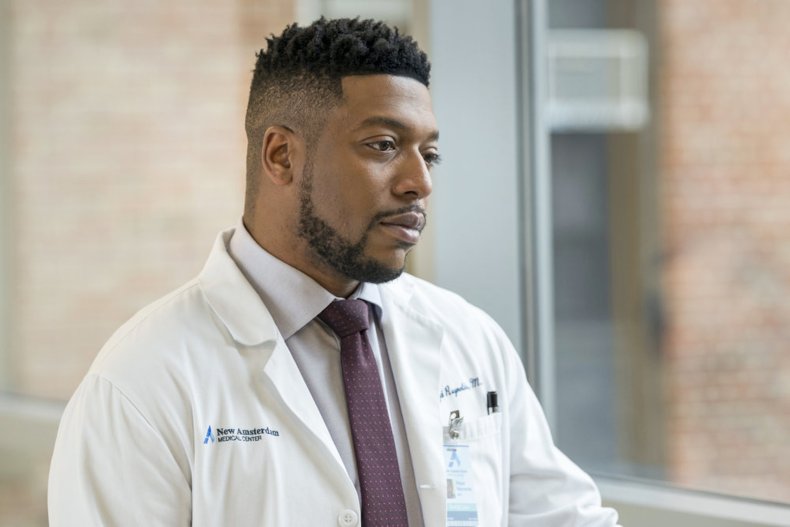 "I won't confirm that's he's leaving for good because we didn't get to see the rest of the season that he left for good or that he's coming back or that we're seeing him in San Francisco...I personally think you'll see Floyd again. Hang in there."
If IMDB is to be believed, Reynolds could be back in a few week's time. IMDB currently has him listed in the cast of Season 3, Episode 4, though this does not seem to have been confirmed by NBC, who has not released an official synopsis or cast list for the episode.
So far, NBC has released photos for the first two episodes of the show's third seasons, none of which contains Sims.
Notably, however, the actor's Instagram, which he updates fairly regularly, still has the bio: "I play Dr. Reynolds on @NBCNewAmsterdam" in the present tense, suggesting his role on the show is not over. His character bio is also still on the New Amsterdam page on the NBC website—though this may be a holdover from the last season.
November 2020 also saw Sims take part in a Peacock advert where stars from multiple medical shows joined together to advertise the streaming service. In this, he again says that he "plays" Dr. Reynolds in the present tense.
In an interview with Fox News, he also teased that there was more to the San Francisco plotline than there seemed to be. Asked whether the show will start the episodes that were unable to be completed in Season 2, he said: "We were devastated that we didn't get to finish the season in a proper way, but I'm pretty sure that they will come back with the storylines that we're missing and either will finish this season or we'll start the new season with some of these stories because they were fantastic."
He added: "A lot of people were trying to figure out, for example, what's going on with my character. The last time we saw him, he left the hospital and was headed for San Francisco. People are wondering, 'Is he gone for good?'"
New Amsterdam Season 3 airs Tuesdays at 10 p.m. ET / 9 p.m. CT on NBC.