Who Is Vijay on 'New Amsterdam'?
New Amsterdam Season 4, Episode 13 aired on Tuesday, and saw one of the NBC show's characters die off screen.
In the episode, titled "Family," Helen Sharpe (played by Freema Agyeman) received a call. We did not hear that much of the call, but from her response we know it is not good news.
It is only later in the episode that we learn what Helen was told. By that time, the news has spread across the hospital, and we see a tearful Ella (Dierdre Friel) tell Iggy (Tyler Labine), "It's Vijay. He..."
She tearfully trails off, but we are led to believe that Vijay has died. This, however, left a lot of New Amsterdam fans confused. As soon as Ella broke the news, there was an influx of Google searches asking: "who is Vijay?"
Vijay Was a Doctor Who Formerly Worked at the New Amsterdam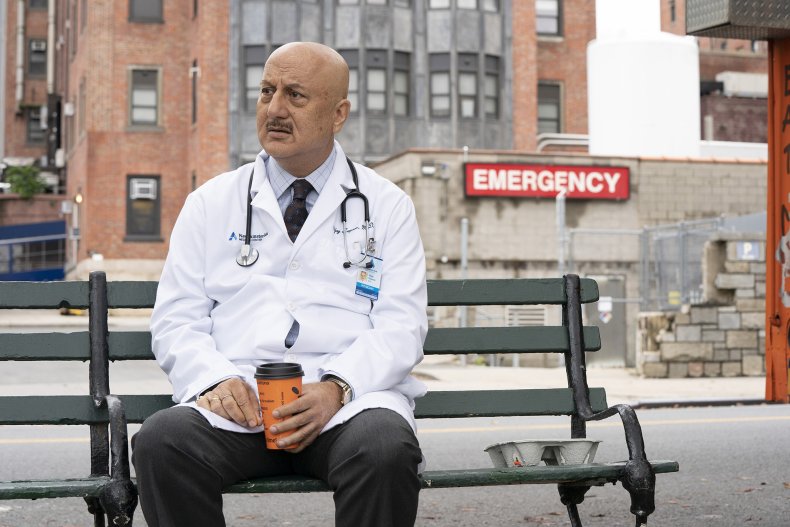 Vijay is Dr. Vijay Kapoor (Anupam Kher), who appeared in over 40 episodes of the show between 2018 and 2021.
Before leaving the show early in 2021, the 66-year-old actor had played the head of neurology at the New Amsterdam, a role taken over by Dr. Agnes Kao (Christine Chang).
It makes sense within the show that it was Ella who was most upset by Vijay's death. The pair had bonded over their time on the NBC show, with Ella even moving in with him after his son dated her, made her pregnant and then left.
Previously on the show, Vijay caught COVID-19 and nearly died from the virus. After recovering, he resigned from the hospital.
At that time, Ella was the one who explained why he left the hospital. She said: "Vijay's doctor told him he's never going to work again about a month ago. He didn't want to believe it. He kept saying the guy was crazy, he didn't know what he was talking about.
"But a couple of days after, he got ready and decided to come into the hospital early and surprise everybody. He couldn't make it out the front door. He won't talk to me about it. He won't talk to anyone."
Why Did Vijay Leave 'New Amsterdam'?
This was the show's way of quickly writing off the character after Anupam Kher left the show in April 2021. The Indian actor exited the show suddenly, after his wife (the actress and politician Kirron Kher) was diagnosed with blood cancer.
At that time, the actor (who has over 400 credits on his IMDb) paid tribute to the show on his Instagram account. He wrote: "This past year has been difficult for so many people around the world, not least for Dr. Kapoor. It was an incredibly special time for me to be part of this show and one I will never forget.
"The New Amsterdam family will always hold a special place in my heart. I am grateful to the audience for their love, support, and good wishes, particularly for my wife, Kirron, at this time. I hope you all will continue to join me on my journey and future projects."
New Amsterdam Season 4 airs Tuesdays at 10 p.m. ET on NBC.