'New Amsterdam' Season 4: When It Starts, How to Watch and All You Need to Know
New challenges await for the staff of New Amsterdam hospital as season 4 begins on NBC tonight.
The medical staff dealt with COVID-19 in season 3 but are returning to a semblance of normality in the new season, which airs Tuesday nights at 10/9c. The core cast members are also all back to pick things up right where the season 3 finale left off.
New York City-based New Amsterdam was created by David Schulner and inspired by Eric Manheimer's 2012 book Twelve Patients: Life and Death at Bellevue Hospital. The show's proved to be so popular on NBC that they renewed it for a new multi-season deal during the second series.
Ahead of the launch of season 4 on television, here's everything you need to know to prepare you for the new batch of episodes to come.
What happens in season 4 of New Amsterdam?
With the new season picking up directly after the events of the season 3 finale in June ("Death Begins in Radiology"), we see Dr. Max Goodwin and Dr. Helen Sharpe's romance finally play out.
Episode 1, "More Joy" also sees Dr. Floyd Reynolds deal with the revelation that the man with whom Dr. Lyn Malvo is in a relationship is the doctor who offered him a promotion. Dr. Iggy Frome decides to step away from a patient-facing role in search of a new career path.
Dr. Leyla Shinwari discovers what her girlfriend Dr. Lauren Bloom did to secure her residency spot at the hospital.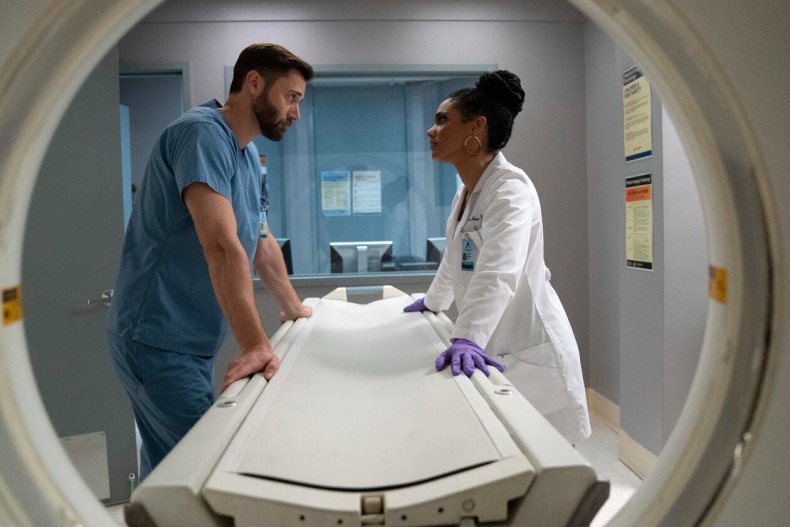 Who stars in New Amsterdam season 4?
All of the regulars are back for season 4 of New Amsterdam. Ryan Eggold and Freema Agyeman return to play the blossoming couple Max and Helen while Jocko Sims is back as the popular Floyd. Janet Montgomery plays Lauren once again and Tyler Labine is Iggy.
A new actor joining New Amsterdam for season 4 is Sandra Mae Frank, who plays Dr. Wilder. Showrunner Schulner told TVLine that her character is one of the best surgeons and takes some convincing to join Max's team, replacing one of his existing team members.
Chloe Freeman joins the cast as Dr. Pavan Carey, a new resident coming into the emergency department, while Michelle Forbes (The Killing) also joins as Dr. Veronica Fuentes.
When is Season 4 of New Amsterdam on?
Episode 1 airs on NBC on September 21 at 10/9c. Every following episode airs weekly on Tuesdays with episode 2 "We're in This Together" airing on September 28 and episode 3 "Same as it Ever Was" showing on NBC on October 5.
NBC renewed New Amsterdam for three more seasons partway through Season 2, so we know that once Season 4 airs, we'll definitely be getting a Season 5 as well.
With Seasons 3 and 4 both airing in 2021, it's very likely we'll have to wait until 2022 to see Season 5 of New Amsterdam air on NBC.