New Analysis Supports Limiting Third Stimulus Check to People Earning Under $75K
Data released on Tuesday showed that President Joe Biden's proposed round of $1,400 direct payments included in his $1.9 trillion COVID-19 relief bill may not benefit households making more than $75,000 per year.
Some lawmakers have voiced concern that Biden's proposal does not target American families in need and have called for direct payments to be sent only to households that make less than $75,000 per year. Biden's plan would provide direct payments to most American households, including some classified as high-income.
According to data from the Opportunity Insights Economic Tracker, January's stimulus payments of $600 had little effect on spending for higher-income households. Households that earned over $78,000 only spent an average of $45 out of the $600 direct payments, a spending increase of 0.2 percentage points. Households that made $46,000 or less showed an increase in spending of 7.9 percentage points between January 6 and January 19.
If Biden's proposal is approved as is, Opportunity Insights estimates that households that earn more than $78,000 per year will only spend $105 out of the $1,400 direct payments.
Newsweek reached out to the White House for comment.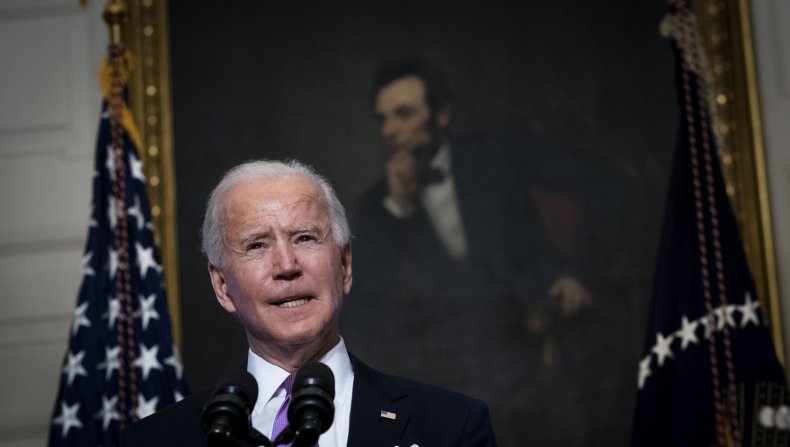 Biden's plan also includes an increase in unemployment benefits and the raising of the minimum wage to $15 per hour. Funding for a national vaccination program and reopening schools are also part of Biden's proposal.
Senators from both sides of the aisle held a Sunday conference call about Biden's proposal, searching for ways to cut the cost of the bill. Limiting the number of households that receive the direct payments was named as a potential solution.
According to The Washington Post, Maine Republican Senator Susan Collins said during the call that in her state, "if you're a household of five people with an income in excess of $300,000, it's unlikely that you've been financially harmed by the pandemic."
Biden said during a Monday press conference that he would consider scaling back the eligibility requirements for the direct payments if it meant Senate Republicans would lend their support to the proposal.
"Because it was bipartisan, I thought it would increase the prospects of passage—the additional $1,400 in direct cash payment to folks," Biden said, adding that he was "open to negotiate" aspects of the proposal.
On Tuesday, Senate Majority Leader Chuck Schumer said that Democrats could move on Biden's proposal without negotiating with the GOP. Schumer told Democrats on a conference call that a vote on a budget resolution "could come as early as next week."
Schumer may utilize a tool called budget reconciliation which would allow Biden's proposal to pass the Senate with a simple majority instead of the normal 60 votes required for approval. Reconciliation would also limit the time lawmakers could debate the proposal to 20 hours, circumventing any attempt at a filibuster.
"We can get a lot of the COVID bill done with reconciliation," Schumer told MSNBC on Monday, "and that's something we certainly will use if they try to block this immediate COVID bill."