New Arizona Poll Shows Republican Senator Martha McSally in Trouble Against Mark Kelly
Arizona's incumbent Senator Martha McSally, a Republican, continues to see her Democratic challengers' lead grow, according to new polling.
OH Predictive Insights released polling data this week which showed that Democratic candidate Mark Kelly has a lead of 13 points, with support from 51 percent of Arizona voters compared to only 38 percent who back McSally. The GOP senator's support has declined significantly (4 points) since April, when OH Predictive Insights had McSally at 42 percent and Kelly at 51 percent.
Newsweek has reached out to McSally's campaign for comment.
"McSally is doing terribly," pollster Mike Noble told The Arizona Republic in regards to the polling. "There's no way to find a bright spot on that one."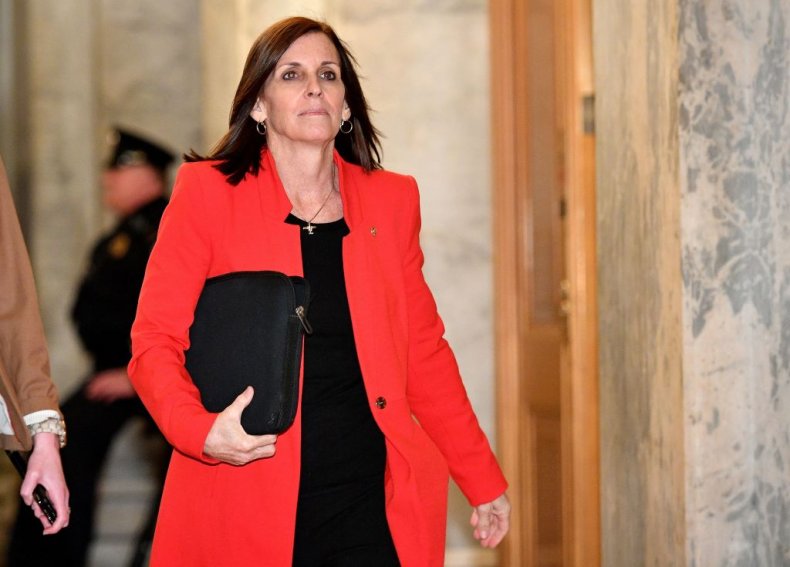 Kelly has led McSally in nearly all public polls that have been conducted this year. The current Real Clear Politics average of Arizona polls, which does not include the latest OH Predictive Insights survey, shows Kelly ahead of McSally by an average of 8 points. That aggregation shows Kelly with support from about 49 percent of Arizona voters, while McSally is backed by just 41 percent.
The incumbent GOP senator was appointed to her position to serve out the rest of deceased Republican Senator John McCain's term, following the resignation of his initial successor Senator Jon Kyl. McSally previously lost a 2018 Senate bid against Democratic Senator Kyrsten Sinema.
Polling from OH Predictive Insights also showed presumptive Democratic presidential candidate Joe Biden with a commanding lead over President Donald Trump. The survey day showed Biden ahead of Trump by 7 points, with 50 percent of Arizona voters backing the Democratic challenger compared to 43 percent who back the incumbent president.
Democrats are hopeful that they can potentially flip Arizona, which has been viewed as a solidly red state, in the coming elections. Until 2018, the southwestern state had been represented by only Republicans in the Senate since 1995. Now it appears possible that both senators could be Democrats starting in 2021. Arizona has also voted Republican in every presidential election for several decades, with the exception of 1996 when it backed former President Bill Clinton, a Democrat, during his reelection campaign.
Republicans are pushing hard to maintain their control of the Senate, with most analysts currently expecting the House of Representatives to remain under Democratic control come November. But the race for the Senate appears to be a toss-up at the present, with some projections suggesting it could be evenly split or potentially shift to Democratic control.
Currently, the Senate is composed of 53 Republicans, 45 Democrats and two independents who caucus with their Democratic colleagues. In order to secure control of the upper chamber of Congress, Democrats would need to maintain all their current seats and gain four more. If the chamber is evenly split between the two parties, the vice president would cast the deciding ballot when the chamber is tied on a vote.
Recent polling has suggested that Democratic challengers also have an advantage in Senate races against GOP incumbents in Colorado, North Carolina and Maine. But the Republican contender in Alabama, who has not yet been selected by the party, appears to have an advantage over incumbent Democratic Senator Doug Jones.