New Balance FuelCell Rebel v2 Review: Shoes That Make Running Fun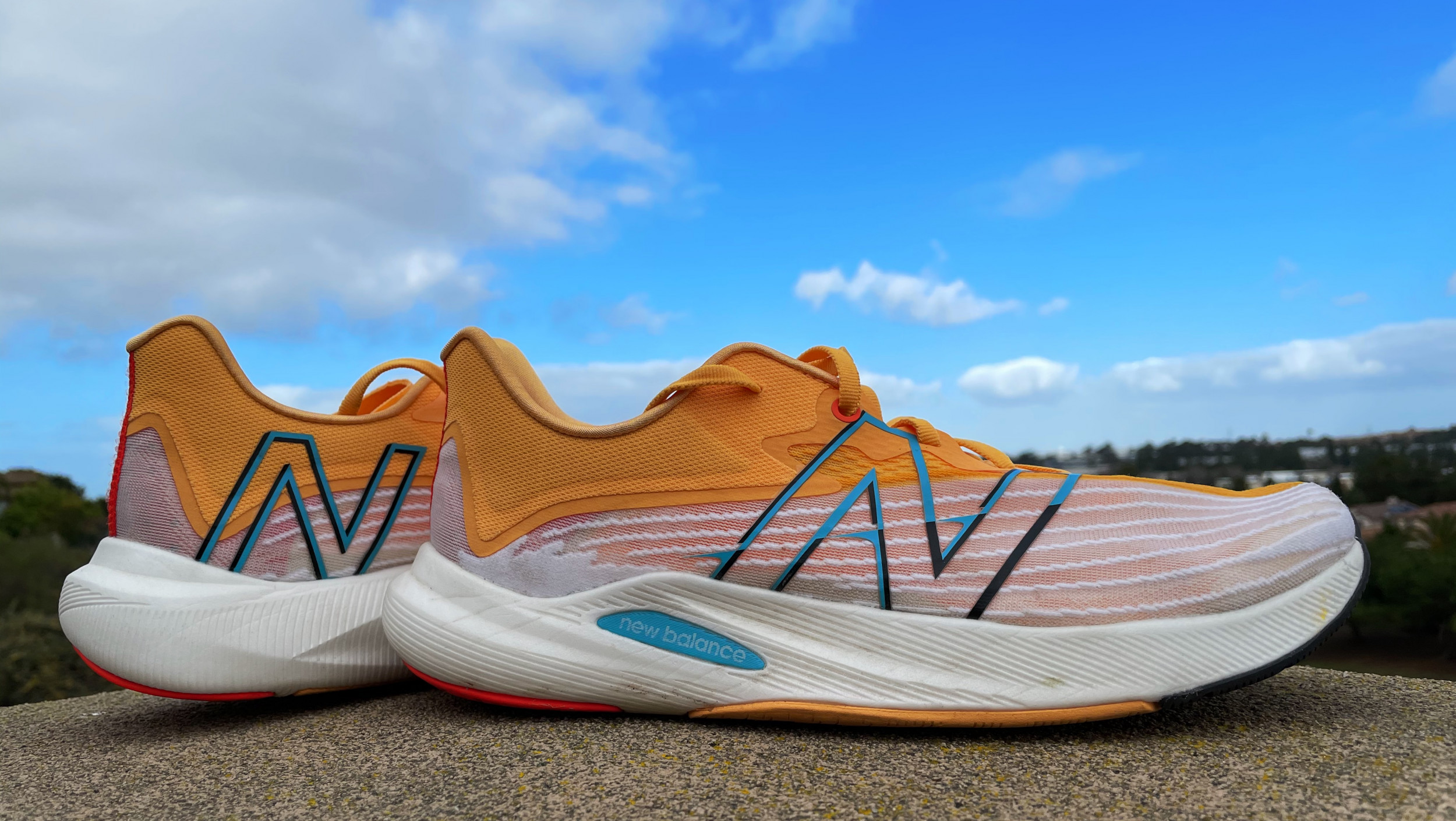 No one, no matter who they are, ever wants to go running every time they've planned to. If there's any excuse available, it will be used to justify skipping a day from time to time. I've often considered skipping a run, but I could never pin it on New Balance's Fuel Cell Rebel v2 shoes. In fact, more than once they were the sole reason I decided to stay on schedule and head out on a run.
The FuelCell Rebel v2 are roomy, lightweight and have a bouncy midsole foam—all combined, they elicit enthusiasm for running that few shoes do. While they may not be perfect in every way, they're fun. Did you know running shoes could be fun?
First Impressions
Out of the box, the FuelCell Rebel v2's felt worn in and ready to go. They didn't feel used, they just felt comfortable. The generous toe-box space and flimsy flexible upper both help accomplish this immediate level of familiarity. Also, maybe it's just me, but no matter what running shoe I try on, I always expect them to be noticeably bouncy as I trot around my living room for the first time. Most of the time, there's a gap between reality and expectations—whether those expectations are realistic or not. This time, however, the FuelCell Rebel v2 aligned exactly with what was in my mind.
There's a difference between a midsole foam that's cushioned and one that's bouncy. These shoes are squarely on the springy and lively side. It's one of the aspects that makes them a fun running shoe.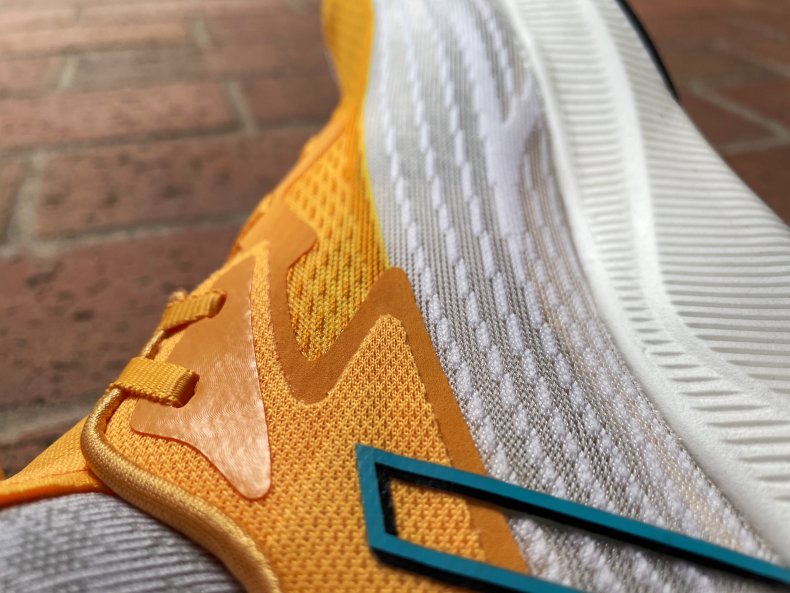 Before diving fully into the feel and performance of the FuelCell Rebel v2, the look is also worth mentioning: Its design captures the playfulness of the shoe without being too bold or silly. I'm a fan of the color yellow, so the yellow review shoes that showed up probably would have been my personal choice.
I didn't realize how transparent the upper of these shoes were until I put them on with dark socks and noticed the color tint shift. They're not completely see-through, but if you do plan to use these all day, before or after a run, to work or out to a store, your sock choice may be something to keep an eye on.
Features, Specs and Price
New Balance's FuelCell Rebel v2 advertised features, specs and price:
Price: $130
Weight: 7.3 ounces (210 grams) for a men's U.S. size 9
Stack Height: 26 mm for the men's shoe
nDurance rubber in high-wear outsole areas
A lightweight and durable engineered mesh upper for breathability
Performance
The feel of the FuelCell Rebel v2 gave me a bit of a false sense of performance. These shoes have a dangerous combination of being lightweight and bouncy, so on the first run I felt a little invincible. Heading out the door and down the sidewalk, I had a sense that these were the perfect shoes to fly in. Finishing up those first 3 miles was a reality check. I felt great after that first run, but I didn't have a new personal record on my hands.
They can definitely handle some bit of speed work, but I found that despite an advertised "explosive energy return," the bounce from the midsole FuelCell foam just didn't translate to the energy return I was expecting or hoping for. Trying to push hard in the last mile of my weekly 10K was more difficult than other daily trainers. As I climbed the final elevation gain I always wanted just a bit more firmness under my foot to finish as fast as possible.
On the other hand, doing an easy 5-mile run at a purposefully casual pace was joyous. There were no aches in my feet, no prodding from the upper or any kind of discomfort to speak of. While these aren't plush recovery run shoes, they definitely lean slightly more toward the slower and steady pace. For any runs over five miles when speed isn't the goal, my eyes always glance at these New Balance shoes as ones to use.
For comparison sake, running in Reebok's Floatride Energy 3 after the FuelCell Rebel v2 felt like running directly on concrete. The Energy 3 has a great all-around mix of cushioning and support—I really like them—but felt rock-hard directly compared against the squishy FuelCell Rebel v2 foam.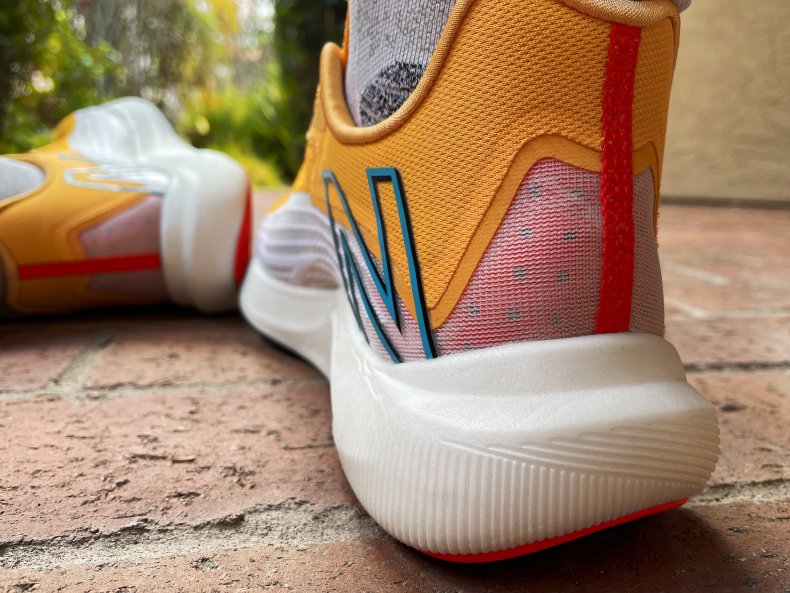 In trying to sort out where exactly these shoes fit in a shoe rotation, I put in plenty of miles doing a variety of run types. In evaluating them so far, the Rebel v2 really shines as a midlength, midpace shoe. They're a great option to wear multiple days in a row. Without trying to tie them down to any specific usable range, they performed well for me between 3 and 10 miles at a casual pace. The midsole foam under the heel is generous, and even after several miles is still noticeably softening heel strikes.
My biggest initial concern of the FuelCell Rebel v2 was the durability of the outsole. Within 25 miles I began to see tread smoothing around the toe and in places under the midfoot. I was a bit worried about how that would play out over the subsequent 25 miles, but after passing the 50-mile mark, these shoes have held up just fine. The outsole rubber is limited to keep the weight down, but the traction and tread should be OK for a while. I've run in these immediately after a quick rain and didn't have problems with puddly sidewalks or damp asphalt.
The FuelCell Rebel 2 running shoe probably won't help you shave much time, if any, off your personal records, and yet, this shoe can handle most of what you throw at it. It's a perfect all-around option to lace up several times a week for various paces and skill levels.
Should You Buy the New Balance FuelCell Rebel v2?
The FuelCell Rebel v2 is an amazing everyday running shoe that a lot of people should probably buy. It has a wide range of uses that will make it a great shoe for people of all skill levels and training types. Ultimately though, it's a shoe that can make the running experience fun. And sometimes knowing there will be little fun to be had is the thing that can motivate you to get out for a run. For that reason, these are my favorite running shoes I've tried over the last 12 months.
Buy at New Balance and Running Lab.
Newsweek may earn a commission from links on this page, but we only recommend products we back. We participate in various affiliate marketing programs, which means we may get paid commissions on editorially chosen products purchased through our links to retailer sites.