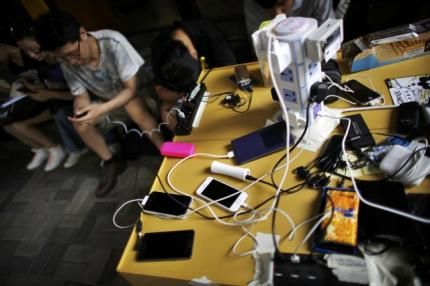 Sick of your gadget's quickly diminishing battery life? Well, there may soon be a solution, and then some.
Researchers at Nanyang Technological University in Singapore have developed a new lithium-ion battery that could reach a 70 percent charge in around two minutes and has a 20-year lifespan, or 10,000 recharge cycles. The new battery will have the power of existing options but will charge faster and will need to be replaced less often.
The current rechargeable lithium-ion batteries on the market are most commonly used in cellphones and tablets. They last for about 500 recharge cycles, the equivalent of about two or three years of use, and take about two hours to be fully charged.
The new battery's trick is it replaces graphite, which is traditionally used for the negative pole, with titanium dioxide. The new material is not only abundant and cheap (it is found in soil) but also safe and is commonly used as a food additive or as an ingredient in sunblock. The lessened toxicity, as well as the prolonged life, will dramatically cut down the waste generated by disposed batteries.
Associate Professor Chen Xiadong, the inventor of the technology, says it has the potential to solve power difficulties related to electric cars. Not only will it save drivers thousands of dollars on battery replacements, but "electric cars will be able to increase their range dramatically, with just five minutes of charging, which is on par with the time needed to pump petrol for current cars," Chen said in the university's news release.
The fast-charging battery is currently being licensed by a company for eventual production. Chen predicts it will hit the market in the next two years.