New Bill to Legalize Marijuana at Federal Level but Allows States to Maintain Prohibition
A group of Democrats led by Senate Majority Leader Chuck Schumer unveiled a new draft bill Wednesday to legalize marijuana at the federal level.
The Cannabis Administration and Opportunity Act would remove cannabis from the Controlled Substances Act, where it currently shares the same classification (Schedule 1) with heroin, LSD and Ecstasy.
The draft was written by Schumer, Senate Finance Committee Chairman Ron Wyden and New Jersey Senator Cory Booker. Feedback on the discussion draft can be provided until September, and a final legislative draft will be introduced later.
"It's not just an idea whose time has come. It's long overdue," Schumer said of legalization at a press conference on Wednesday. He added that cannabis "overcriminalization has been one of the great historical wrongs" of the past few decades.
The legislation, if passed, would also expunge prior convictions and allow people currently serving time for a nonviolent marijuana-related offense to petition a court for resentencing.
But the bill wouldn't make marijuana legal in every state. States would still be allowed to set their own policies when it comes to the drug and can maintain prohibition even if the drug is decriminalized at the federal level.
Eighteen states and the District of Columbia have legalized marijuana for recreational use since 2012. This year alone, four states—Connecticut, New Mexico, New York and Virginia—passed legislation decriminalizing the drug for adult use.
Medical marijuana use is now legal in 37 states. Just a dozen states don't allow marijuana to be consumed in any form.
The draft bill released Wednesday sets the minimum age required to buy cannabis at 21 and limits retail sales transactions at the state level to 10 ounces of cannabis at a time.
As more states take action to legalize marijuana within their borders, congressional Democrats this session have introduced multiple bills aimed at decriminalizing the drug at the federal level and regulating the growing industry.
Supreme Court Justice Clarence Thomas recently criticized the federal government's "contradictory" marijuana laws, saying their ban on the drug may no longer be necessary.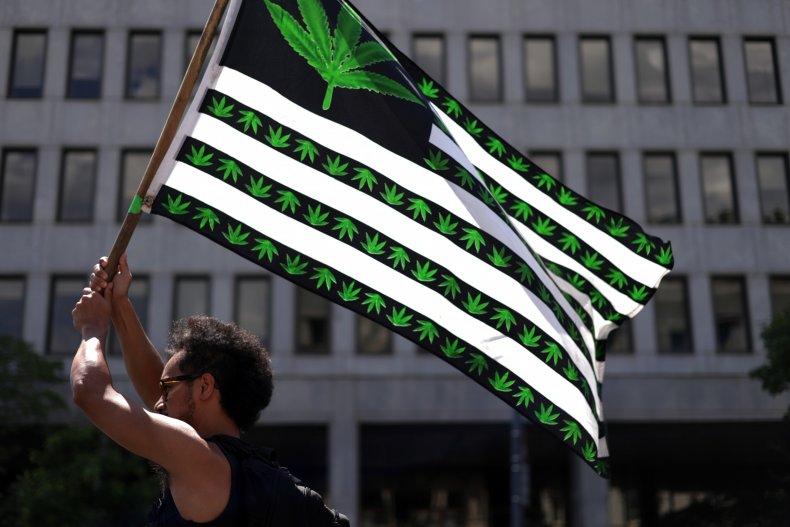 In May, Representative Jerry Nadler and others reintroduced the Marijuana Opportunity Reinvestment and Expungement Act. The bill, which would decriminalize marijuana and expunge records, passed in a historic House vote in 2020 but failed to make progress in the then-Republican-controlled Senate.
Progressives in the House have also introduced a bill to end criminal penalties for personal use possession of many federally scheduled drugs, including marijuana, heroin and cocaine.
Most of the bills introduced to federally legalize marijuana also have provisions promoting social justice for those disproportionately affected by the war on drugs, primarily people in communities of color.
One measure in the Schumer bill would create a Cannabis Justice Office at the Department of Justice to help with convicts' reentry after incarceration and job training.
Another provision would establish an Opportunity Trust Fund to use federal cannabis tax revenue to reinvest in communities and help "level the playing field for entrepreneurs of color who continue to face barriers of access to the industry."
The bill, once formally introduced, is likely to face an uphill battle in the 50-50 split Senate. Every Democrat and independent who caucuses with the party, as well as 10 Republican senators, will need to back the legislation for it to pass.
"By ending the failed federal prohibition of cannabis, the Cannabis Administration and Opportunity Act will ensure that Americans — especially Black and Brown Americans — no longer have to fear arrest or be barred from public housing or federal financial aid for higher education for using cannabis in states where it's legal," the draft bill reads.
"State-compliant cannabis businesses will finally be treated like other businesses and allowed access to essential financial services, like bank accounts and loans. Medical research will no longer be stifled," the bill says.