New Bill Would Ban Religious Discrimination in Immigration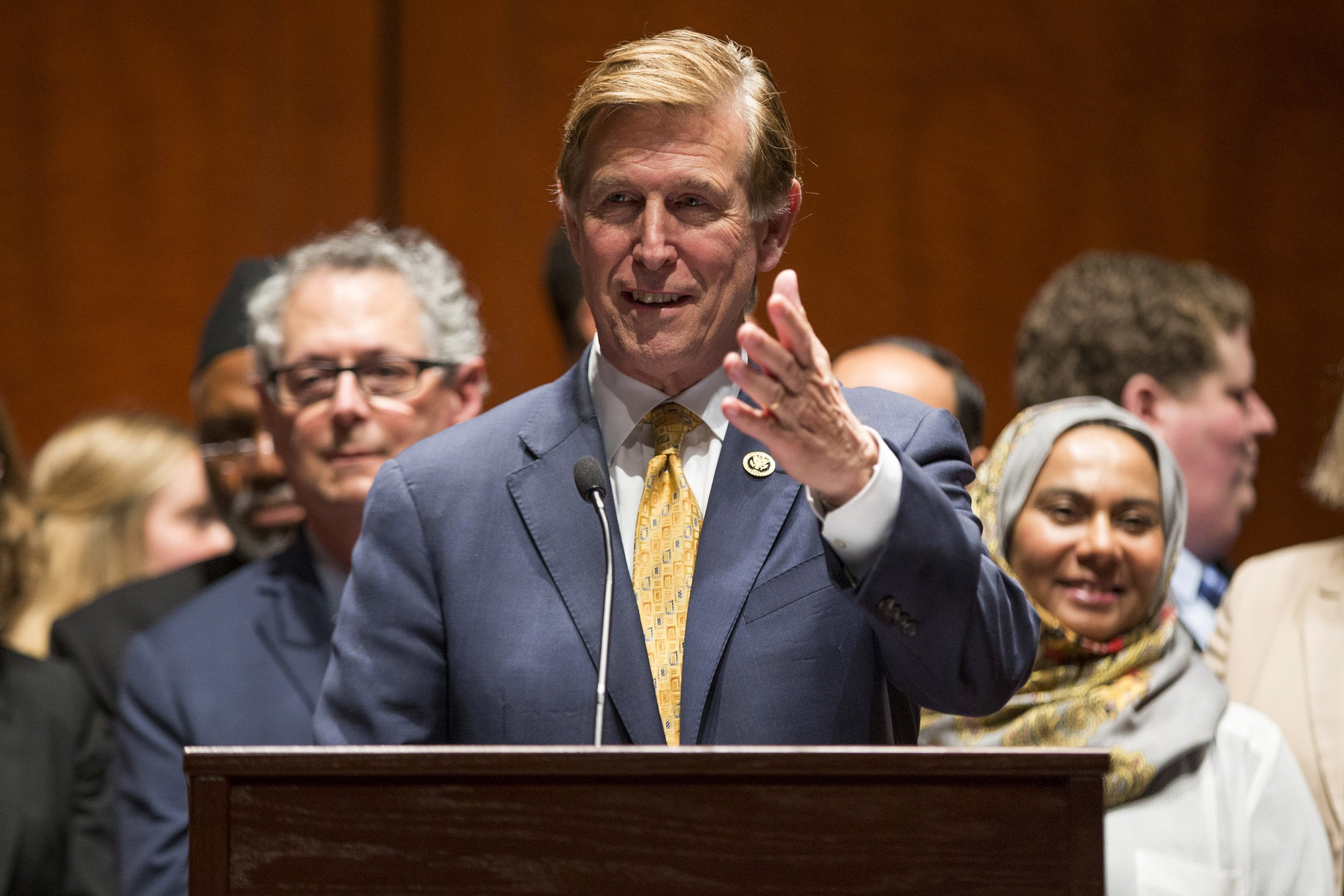 U.S. Representative Don Beyer (D-Va.) unveiled a bill Wednesday that would ban religious discrimination in the context of immigration.
The Freedom of Religion Act of 2016 would amend the Immigration and Nationality Act with a new section titled "Prohibition on denying admission because of religion," which stipulates that "notwithstanding any other provision of the immigration laws, an alien may not be denied admission to the United States because of the alien's religion or lack of religious beliefs.''
"We cannot allow fear and paranoia to drive our public policy, especially when it comes to the defining values of our country," Beyer said in an emailed statement to Newsweek ahead of a press conference on the bill. "Our Founding Fathers guaranteed religious freedom for all, in the First Amendment to our Constitution. People all around the world look to us as the standard for freedom, liberty and tolerance."
Beyer was joined at the press conference, which was live-streamed via Periscope and Facebook Live, by supporters, including Representative Eleanor Holmes Norton (D-District of Columbia), Representative Joe Crowley (D-N.Y.) and Representative Mike Honda (D-Calif.).
"For over 400 years, people have flocked to American shores in search of religious freedom," Beyer said. "Quite simply, a religious-based immigration or travel ban would betray the promise of freedom that gave birth to our country and would hurt our national interest," he added. "Policies driven by fear and bigotry are as immoral as they are unwise."
Beyer, who previously joined other House Democrats to introduce legislation "condemning violence, bigotry, and hateful rhetoric towards Muslim-Americans," pointed to some of the "darkest stains" in American history, including the exclusion of Jews [during] the Holocaust, Japanese internment, the Chinese Exclusion Act. "We refuse to walk that path again," he said. "The United States is strong because of our diversity, because it is a place of refuge."
Even before he publicly announced the bill Wednesday, Beyer had garnered support from dozens of religious groups. The Interfaith Alliance, along with 30 other groups—some religious, some interfaith and some devoted to religious freedom—published a letter Monday outlining its own support for Beyer's legislation and urging Congress to follow suit.
The bill, which Beyer said he plans to introduce Wednesday with more than 70 original co-sponsors, "is a simple measure that would bar the U.S. from denying a person the opportunity to enter this country based solely on his or her religion. This bill is an important step toward ensuring that our nation will remain open to people of all faiths and beliefs, securing the religious freedom of all," the letter says. "Significantly, this proposal would not prevent our nation from proactively seeking to help persecuted religious minorities around the world find safety on our shores while also maintaining our national security."
It's no surprise that the bill and the support from religious organizations comes, at least in part, as a reaction to the anti-Muslim rhetoric that has cropped up in the 2016 presidential race and elsewhere. The letter addresses the issue head-on:
Concerns about national security are mixing with unchecked anti-Muslim bigotry and fomenting unjust fear and scrutiny of Muslim refugees and immigrants. Sadly, that fear has led some to call for a temporary ban on Muslims immigrating to the U.S., to propose dramatically limiting the number of refugees our nation accepts, and to pursue a host of policies designed to make life difficult for Muslims in America. To close our doors to Muslim immigrants and refugees in need would betray both the First Amendment and our nation's great history as an open and welcoming land.
Rabbi Jack Moline, executive director of the Interfaith Alliance, tells Newsweek that "a lot of the rhetoric that's been flying around in this political season about excluding people from this country on the basis of their religious identity [has] struck us in particular, as it always has in general, as being contrary to the very basis of the principles on which this country is founded."
Donald Trump, of course, comes to mind, after his call last December for a "total and complete shutdown" of Muslims entering the country. But Moline says he doesn't "want to lay this entirely at the feet of Mr. Trump." Trump has "articulated an attitude that we've heard in other quarters of the United States, and by the way, not just Republican quarters."
"The history of the United States is replete with groups that arrived on these shores and then wanted to close the borders to other people," says Moline, who is also a constituent in Beyer's district. "The notion that we need to protect ourselves from waves of antagonistic foreigners who want to take over this country and remove it from its religious moorings—generally, its Christian moorings—or its constitutional moorings is not a new message. It is a revitalized message," he says, one that "unfortunately has reached an audience not just of American voters but of American legislators."
When Beyer's office told the Interfaith Alliance about plans for the bill, Moline says, his organization wanted to help. The alliance reached out to friends and partners to add their voices to Monday's letter. The diverse list of signatories includes the Anti-Defamation League, the Islamic Society of North America, the Milstein Center for Interreligious Dialogue, the Presbyterian Church, the Union for Reform Judaism and NETWORK: A National Catholic Social Justice Lobby.
Other organizations, such as the American Civil Liberties Union and the Southern Poverty Law Center, tweeted their support on Wednesday. The bill, Beyer said at the press conference, has received support from more than 105 national organizations. Leaders of a few of them also spoke Wednesday, including Rabbi Jason Kimelman-Block, director of Bend the Arc Jewish Action, and Nihad Awad, executive director of the Council on American-Islamic Relations.
"I stand before you as an immigrant myself, as a refugee, who was welcomed to America," Awad said. "I became a success story, like many American Muslims. We are here to build bridges, not to build walls. And Donald Trump has diminished the hopes of many people," he added. "This act, this bill, comes to restore hope in the American dream, in the American values, in the American principles."
The Freedom of Religion Act bill that Beyer, his fellow U.S. representatives and more than a hundred religious and other organizations are behind would nip in the bud proposals like Trump's ban on Muslims.
"This is one of those situations in which a travesty could be prevented," Moline says. "I do not want to see us have to come back and revisit this question to correct a travesty of justice."