New Book Finds Humor in Villepin's Stance Against Iraq War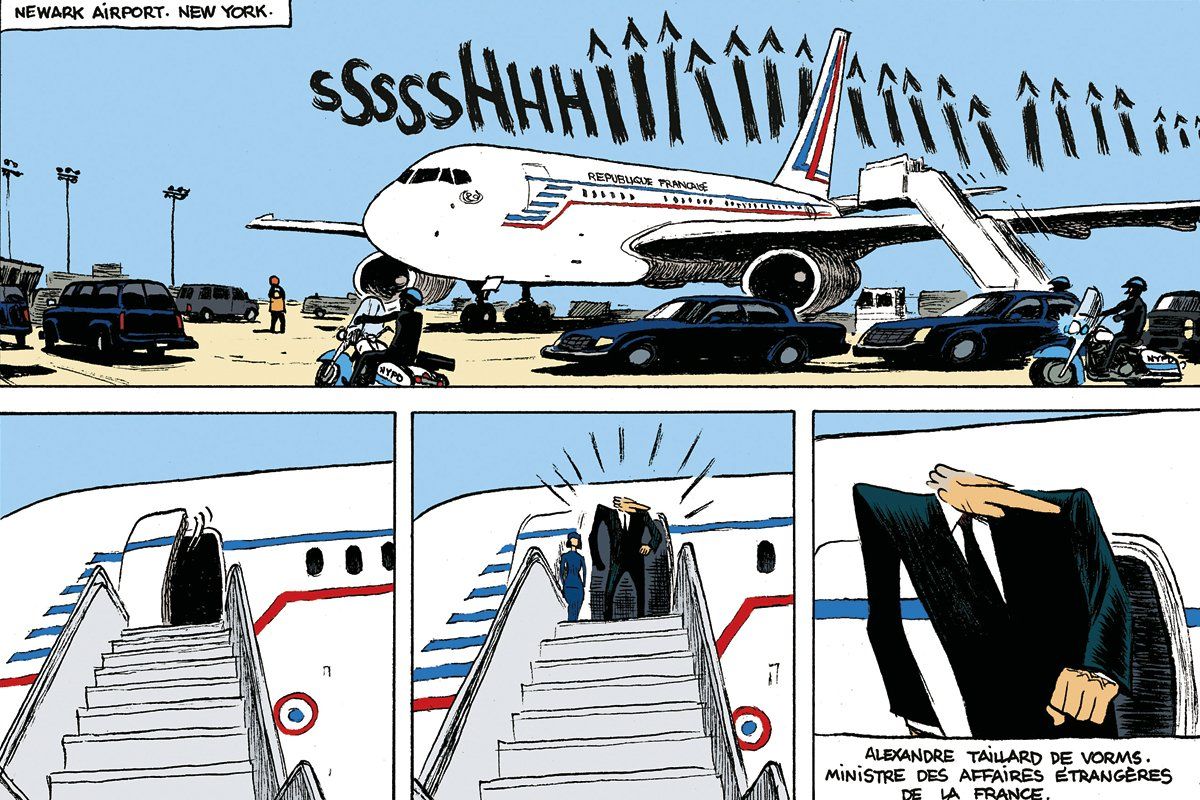 There was always something cartoonish about Dominique de Villepin: that windswept silver coif, the lampoonable lankiness, those outrageous flights of prose. In France, the former prime minister's rivalry with President Nicolas Sarkozy is a trove of comedy. Some even assume his surprise run for the Élysée Palace is calculated to irk his old bête noire.
Yet it takes a special sort to find comedy in Villepin's solemn 2003 speech to the United Nations Security Council. As the self-styled voice of "old Europe"—and of, many would now admit, reason—Villepin made a valiant but doomed appeal against the hasty, American-led invasion of Iraq. In Quai d'Orsay: Chroniques Diplomatiques, Tome 2, Abel Lanzac and Christophe Blain's new bande dessinée, that watershed moment gets the comic-book treatment. Darkly hilarious and deeply brilliant—think The West Wing, but burlesque—it is now a bestseller in France.
The authors' unusual alchemy is what makes the sequel work. Blain is a BD auteur best loved for his adventure series about pirates and cowboys; Lanzac is the nom de plume of a secret former Villepin adviser.
The series chronicles the diplomatic adventures of one silver-maned Alexandre Taillard de Vorms, a larger-than-life, brusque lunatic who is somehow on the right side of history. Our guide is Arthur Vlaminck, a chain-smoking doctoral student with a Metallica ringtone who is hired to write major policy speeches and is driven mad by his minister's cryptic whims and catty advisers.
While not explicitly biographical—Villepin's name never appears—the portrait is thinly veiled. (Vorms's jogging partner, Jeffrey Cole, is a ringer for Colin Powell.) The writers took some narrative liberties but strived for historical integrity. "The more you want to tell the truth, the more you must, in reality, invent it," Lanzac, the secret adviser, tells Newsweek via email. The story gets beyond the diplomat clichés, "those eternal champagne and cocktail-party caricatures," Lanzac says, while the BD format let them better explore the murky rapport between players.
"The issue isn't to underline the fact that [Villepin] had the right idea," Blain tells Newsweek in his Paris atelier. Indeed, the story shows that consensus over Iraq wasn't unanimous, even on the French side, as France floated the threat of a U.N. veto. "What's a lot more interesting is to see how the idea was experienced at the time, on the inside." As for Villepin, his single-digit poll numbers make succeeding Sarkozy in May unlikely, but he seems to be a good sport about his alter ego; rumor has it that he even autographs the odd copy "Alexandre."