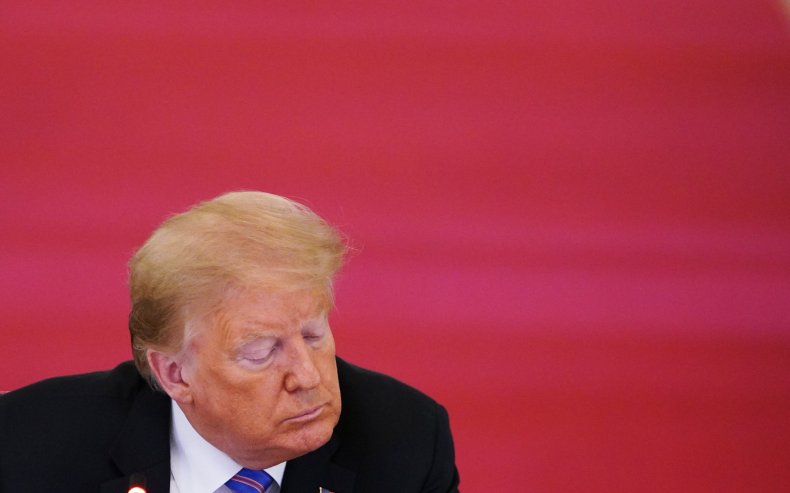 Donald Trump's mother mocked him amid his financial failings in the early 90s, a new book written by the president's niece claims—one of the many tales of dysfunction in the Trump family.
"Somebody's cranky," the Trump matriarch reportedly told her granddaughter after he left the room. "Poor Donald."
At the time, Mary Anne Trump was in the hospital, recovering from an assault and robbery in 1991.
"He never listened to me," Trump's niece claims her grandmother told her that day. "Donald got away with murder."
It's just one of the stories from long ago that Mary L. Trump, Donald Trump's niece, weaves throughout the book Too Much and Never Enough: How My Family Created the World's Most Dangerous Man, to give insight into how Donald Trump became the man he is today.
The book paints a dark portrait of the first family and Trump's upbringing. It's due for release next week, but Newsweek obtained an early copy of it.
Kellyanne Conway, a senior adviser to President Trump, told reporters Tuesday that the book should be taken with a grain of salt.
"As for books generally, obviously, they're not fact checked—nobody's under oath," she said. "I know there's always this rush to slap credibility on whoever's getting the president that day."
"And I think family matters are family matters," she added.
President Trump previously told Axios that his niece is "not allowed" to write about him because she signed a nondisclosure agreement.
Mary L. Trump claims some of the controversial moments from the president's 2016 campaign—from calling Democratic rival Hillary Clinton a "nasty woman" to appearing to mock a disabled reporter—are manifestations of how he's always been.
"In fact, I was reminded of every family meal I'd ever attended during which Donald talked about all of the women he considered ugly fat slobs or the men, usually more accomplished or powerful he called losers while my grandfather and (other relatives) all laughed and joined in," she writes. "That kind of casual dehumanization of people was commonplace at the Trump dinner table."
Describing the way the 2016 race unfolded, Mary Trump writes that she was reminded of how Donald Trump was the family favorite, while her father became a black sheep of the family after struggling with addiction. Fred Trump died in 1999.
"I began to feel as though I were watching my family history, and Donald's central role in it, playing out on a grand scale," Mary Trump wrote. "Donald's competition in the race was being held to higher standards, just as my father had always been, while he continued to get away with—and even be rewarded for—increasingly crass, irresponsible and despicable behavior."
Mary Trump, who has a doctorate in psychological studies and has taught psychology, questions whether the president suffers from multiple disorders, from narcissistic personality disorder to antisocial personality disorder and even an "undiagnosed learning disability" that has hindered his "ability to process information."
At one point, she compares him to a three-year-old: "incapable of growing, learning or evolving, unable to regulate his emotions, moderate his responses or take in and synthesize information."
"Donald's need for affirmation is so great that he doesn't seem to notice that the largest group of his supporters are people he wouldn't condescend to be seen with outside of a rally," she wrote.