New British Foreign Secretary Jeremy Hunt Says His Wife Is Japanese — She's Chinese
The United Kingdom's new foreign secretary momentarily mixed up his wife's ethnicity during his first trip to China as his country's top diplomat.
Speaking in Beijing alongside his Chinese counterpart State Councillor Wang Yi, Jeremy Hunt tried to play up his connection to China on Monday, mentioning a backpacking trip he took through the country when he was 19, Reuters reported. He then identified his wife as Japanese. The problem is, she is Chinese.
"My wife is Japanese," Hunt said, before quickly correcting himself: "My wife is Chinese."
Attempting to make light of the slip, Hunt added: "That's a terrible mistake to make," as those in the room laughed awkwardly.
"My wife is Chinese, and my children are half-Chinese, and so we have Chinese grandparents who live in Xian and strong family connections in China," he went on to explain, according to the South China Morning Post.
Hunt married his wife Lucia Guo in 2009. They now have three children together, one son and two daughters.
Twitter users were quick to criticize and mock Hunt's gaffe.
Aamna Mohdin, who works as a reporter for QZ, tweeted:"Jeremy Hunt, Britain's new foreign secretary, refers to a Chinese woman as Japanese during debut visit to Beijing. Oh, she also happens to be his wife."
The BBC quickly responded to the gaffe with an article explaining why Hunt's slip was "a bad mistake."
"Confusing China with any other country is bad if you're trying to curry favor with the Chinese government," the broadcaster wrote. "But of all the countries to get confused with, Japan is probably the worst one." The article then went on to explain the continued tensions between the two Asian nations, resulting from a bitter history of conflict.
The BBC also pointed to common racist assumptions about Asians.
"There's a common joke that East Asians 'all look the same' – and many East Asians have complained that people make lazy assumptions about what race they are," the broadcaster explained.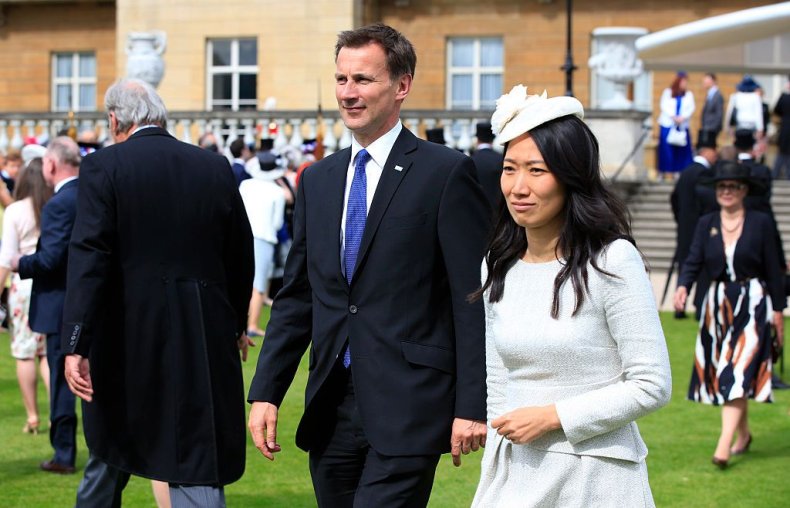 Hunt, who took on the foreign secretary role after the shock resignation of Boris Johnson earlier this month, is in China to strengthen trade ties with Beijing ahead of his country's exit from the European Union.
The secretary's office also said Hunt would discuss "the importance of multilateralism and free trade and ways the UK and China can work together on global challenges such as climate change, development, security and non-proliferation and enforcing U.N. sanctions on North Korea," the SCMP reported.
Johnson, Hunt's predecessor, was also noted for making racially charged comments in the past. In one particular instance, Johnson referred to Africans as "flag-waving piccaninnies" with "watermelon smiles."