How The New Call Of Duty Reinvents Old Battlegrounds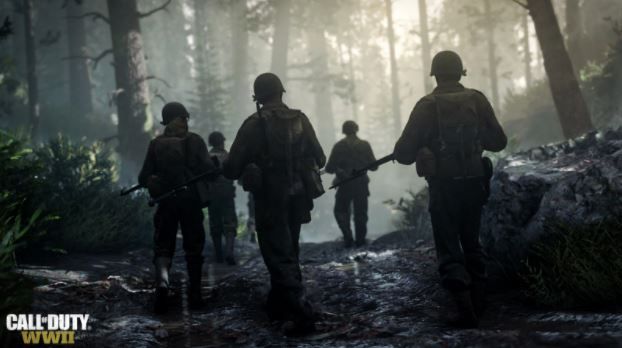 Call Of Duty burst onto the gaming scene in 2003 as a premier World War II shooter. Now, nearly 15 years later, the series returns to its roots with Call Of Duty: WWII.
Renewing A Legacy
When first conceptualized in 2014, a World War II-themed game wasn't even a blip on the radar for Sledgehammer Games, one of three Call of Duty studios under the Activision umbrella. How did three years of iteration and historical passion spawn one of 2017's most anticipated games?
"Sledgehammer wanted to make Advanced Warfare 2," Activision CEO Eric Hirshberg told Newsweek. A sequel to 2014's Call of Duty: Advanced Warfare seemed obvious, as it was regarded positively by fans and critics alike. But Hirshberg and his colleagues saw a deeper trend emerging from their millions-strong audience. Many fans called for the franchise to return to its real history roots; the first six installments of the multi-billion dollar franchise were all set during World War II. And he was confident that Sledgehammer would be the studio to go there. "We knew they would become historians, that they would tackle it with authenticity, give it tremendous care and we also knew they would capture the unspeakable scale of World War II."
That unspeakable scale comes through understanding not just the conflict itself, but also Call Of Duty: WWII's slate of brand new features. "What I love about this game is that anyone's who's looking forward to going back to the roots, the gritty, human-scale, boots-on-the-ground, militaristic, authentic experience that Call Of Duty is known for, this game delivers it in a big way," Hirshberg said.
To capture that retro essence for today's audience, WWII brings new innovations in multiplayer. Its new Headquarters social hub unites large groups of players between matches. If you're tired of realistic combat, there's also a reworked version of the fictional Zombies mode with greater emphasis on visceral horror.
But it's the scripted single-player campaign where Call of Duty: WWII finds its historical footing. The narrative follows Ronald "Red" Daniels and his ragtag squad of soldiers from the U.S. First Infantry Division. These personalities are fictional, but the social pressures and battles they face are ultimately very real. From American anti-semitism to the liberation of Paris, Sledgehammer rigorously sought to convey the brutality of the world's greatest conflict.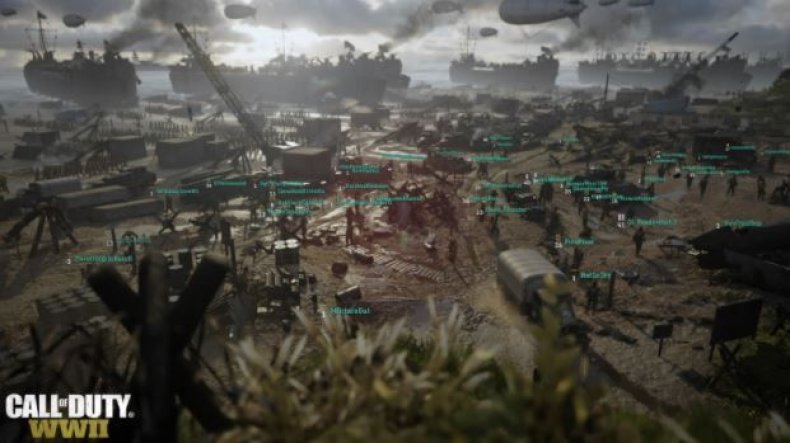 An Emphasis On Authenticity
"When you're making an interactive game with a story based in fiction, you always have the balancing act between authenticity and creative license," Hirshberg told Newsweek. To flesh out that authenticity, Activision enlisted the help of World War II historian and renowned author Martin K.A. Morgan. From the bombast of the beaches of Normandy to the untold story of the French resistance, Morgan traveled with creators, introduced them to the territory and helped select the most pivotal moments for a strong playable narrative.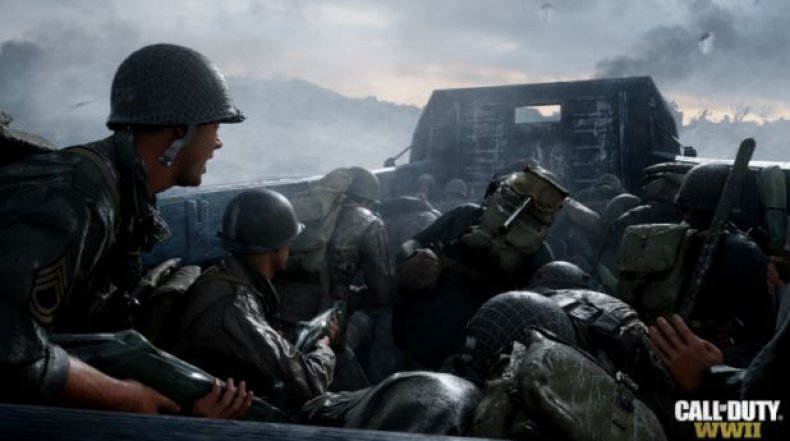 Activision put Morgan's expertise to the test by inviting four World War II veterans to speak to its teams in the days before launch. Hirshberg described the event with great enthusiasm.
"We think it's daunting to show our games to our fans, and here we were showing it to people who actually stormed the beaches of Normandy, who actually fought through the Hürtgen Forest and we're showing them those levels from the game," he said. "It was an incredibly gratifying experience. After the lights came up, these gentlemen looked at us and said 'yup, you got it right!' It was one of those human moments where something you're making for entertainment purposes intersects with real life in a pretty impactful way."
The Challenge Of Expectation
The expectation to innovate weighed heavily on the Sledgehammer team during the game's three-year development process. "That three-year development cycle means you have to see three years into the future," he mused, "which is a very difficult thing to do."
Especially when drawing inspiration from a franchise history spanning 14 years, the push to do something new can take its toll. "Everyone thinks the clean white page is the most daunting task, but oftentimes trying to figure out how to bring something fresh and new to something people have a decade of relationships with is even harder," said Hirshberg.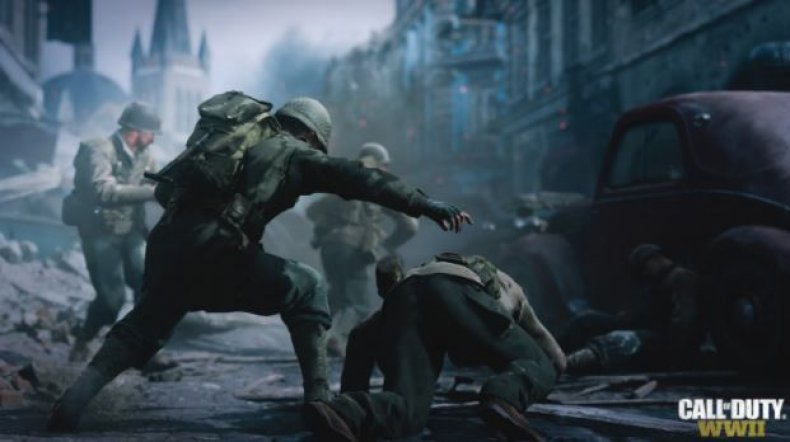 To combat that pressure, Hirshberg has tried to cultivate a creative environment that encourages his three Call of Duty studios to experiment, even when a new project feels unsafe. "When you study longstanding franchises, it feels very risky to change them sometimes. But, in my opinion, the biggest risk you can take is not taking risks."
Case in point: last year's far-future themed Call Of Duty: Infinite Warfare. In our chat, Hirshberg candidly admitted "with Infinite Warfare we found the guard rail [of creativity]. At the end of the day it just didn't feel enough like Call Of Duty." That meant some fans didn't connect with it as much as past entries in the franchise, even though it was one of last year's best-selling games."If anything, [ Infinite Warfare ] just amplified the demand for boots-on-the-ground that much more," Hirshberg said.
Having learned from the reception of Infinite Warfare, Hirshberg sees WWII as a tremendous opportunity for the Call of Duty brand. "I want to use this franchise as a platform to bring more people into [gaming] than any other has been able to do," he explained. With record-breaking digital sales and active players during its opening weekend, WWII looks to go a long way toward accomplishing that mission.
So what does the future hold for Call Of Duty? Hirshberg teased that "we have proven sub-franchises, time periods and areas to play in that I think give us a lot of variety." But for now, his excitement is focused entirely on WWII: "This is the game you first fell in love with, in the setting you first fell in love with … It is completely amplified by the capabilities of new technology, innovations, higher graphics fidelity and it is Call Of Duty: WWII like you've never seen before."
Call Of Duty: WWII is available now on PS4, Xbox One and PC.