New CDC Data Shows Schools With No Masking 3.5 Times More Likely to Have COVID Outbreak
New data from the Centers for Disease Control and Prevention (CDC) shows that schools that don't require indoor masking are 3.5 times more likely than those with mask requirements to suffer a coronavirus outbreak.
The study, which was published Friday, examined the transmission of the virus at K-12 schools in Maricopa and Pima counties, which make up more than 75 percent of Arizona's population.
Among the 999 schools covered in the analysis, 210 had a mask requirement in place when the school year began, 309 schools implemented an order after classes began, and 480 had no masking rules.
Within the first 15 days after school started, there were 191 school-associated outbreaks. An outbreak is defined as two or more students or staff testing positive within two weeks.
According to an early look at the findings, nearly 60 percent of the virus outbreaks took place at schools with no mask requirement. By comparison, only 8.4 percent of outbreaks occurred in schools that began the year with a mask mandate, and 32.5 percent of outbreaks took place in schools that implemented one later on.
The CDC has long recommended that students, staff members, faculty and visitors over the age of 2 wear masks when inside a school, regardless of vaccination status, in order to keep kids safe, especially children who remain ineligible for the vaccines.
"In addition to universal indoor masking, CDC recommends schools maintain at least 3 feet of physical distance between students within classrooms to reduce transmission risk," the CDC website says.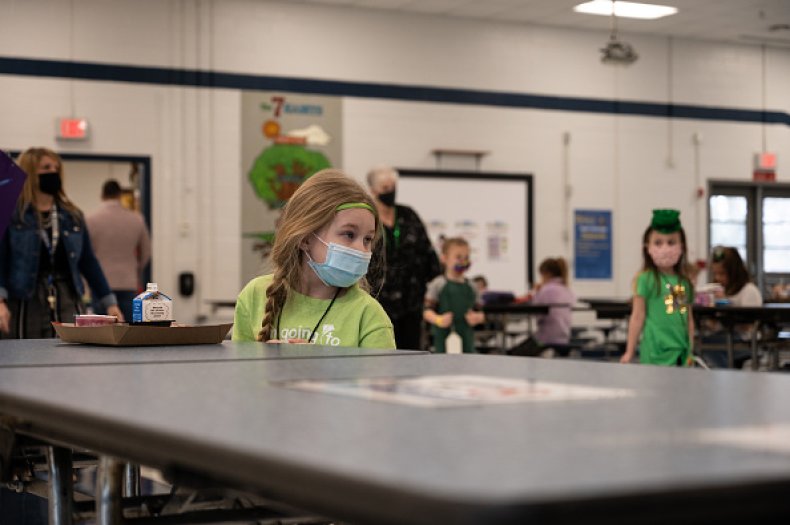 Arizona is one of a handful of Republican-led states that have issued executive orders prohibiting school districts from mandating masks.
By the end of August, children accounted for a quarter of the state's coronavirus cases, according to data from the University of Arizona's Mel and Enid Zuckerman College of Public Health. In Maricopa County alone, 1 in every 6 infections occurred in children under 12.
The federal government has attempted to combat state legislation that could be leaving children vulnerable to getting infected.
Last month, the Education Department opened up an investigation into Iowa, Oklahoma, South Carolina, Tennessee and Utah to evaluate whether their bans on mask requirements at school discriminate against children with disabilities. As of this week, Texas is also being investigated.
Education Secretary Miguel Cardona told U.S. News and World Report that his department will continue to monitor other states like Arizona, as well as Arkansas and Florida, for how state laws could affect coronavirus outbreaks.
"We are going to investigate, and we will see where that goes," Cardona said. "But the message is out there that we will not allow for states to punish leaders who are trying to protect children."