New Colorado Congresswoman Says 'I WILL Carry My Glock to Congress'
Lauren Boebert, a Republican who was recently elected as a representative of western Colorado to the United States Congress, said Sunday night that she plans to carry a weapon to the lower house.
Boebert did not mince words in her tweet.
"Let me tell you why I WILL carry my Glock to Congress. ... Government does NOT get to tell me or my constituents how we are allowed to keep our families safe. ... I promise to always stand strong for our 2nd Amendment rights," Boebert tweeted.
The video attached to her tweet shows Boebert saying: "I'm Lauren Boebert, and I approve this message."
Then the congresswoman, who said she is 5-foot tall and 100 pounds, can be seen chambering a clip for her Glock pistol and placing the gun in a concealed holster underneath her jacket.
Boebert, 33, is shown walking down some steps, and then down a city sidewalk. She introduces herself in the video and says that even though she works "in one of the most liberal cities in America, I refuse to give up my rights, especially my Second Amendment rights."
She goes on to say members of Congress are sent to Washington, D.C., to encourage practicing rights.
"Here are the real reasons why I choose to defend myself in our nation's capital," she continues. "I choose to defend my family with all of the force the Constitution provides. [Washington] D.C. is one of the top 10, most dangerous cities in our country."
She talks about homicide rates in the nation's capital city, and how it is "skyrocketing" there.
"I'm a woman and a mother of four," Boebert says.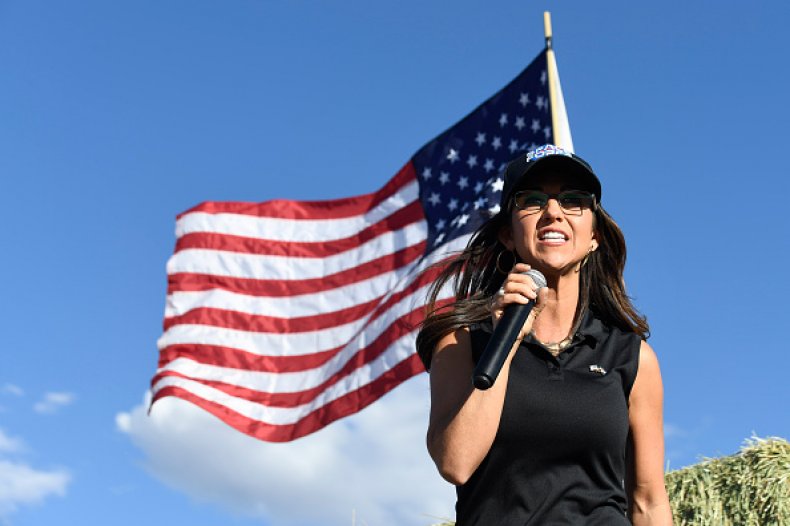 Boebert has been vocal about her passion for guns for quite some time, even last month. She tweeted last month: "I've always heard to 'speak softly and carry a big stick.' I prefer to speak loudly and carry a Glock."
In 2020, Boebert defeated five-term Congressman Scott Tipton to win the GOP nomination, partly because he didn't back President Donald Trump with enough fervor, according to NBC News.
Members of Congress are allowed, by law, to carry weapons on the Capitol grounds, but just not inside the chambers. Congressional aides are also allowed to carry the weapons for them, the report stated.
Boebert, who now represents Colorado's 3rd Congressional District, ran on a platform of "Pro-Freedom, Pro-Guns, Pro-Constitution, Pro-Energy, Pro-Life, Pro-Colorado, Pro-America," which won votes in the conservative district.
On Sunday, Boebert boasted that her first vote in Congress was against Nancy Pelosi to be re-elected as Speaker of the House, which Pelosi won anyway.