New Coronavirus Not an International Public Health Emergency, But Countries Advised to Be Ready for 'Potential Evolution'
A World Health Organization (WHO) committee of experts determined on Thursday that China's health crisis involving a novel coronavirus was an "emergency" there but didn't constitute one internationally.
"Now is not the time," Didier Houssin, chair of the committee, said during a press conference. "It's a bit too early to consider that this event is a public health emergency of international concern."
A new strain of coronavirus, temporarily named "2019-nCoV," originated in Wuhan, China, but has since spread to at least five other countries, including the United States. This is the first time it has been found in humans. It most closely resembles severe acute respiratory syndrome, or SARS, and its ability to spread from one person to another has raised concerns that it could turn into a significant international outbreak.
"Human-to-human transmission of the disease has appeared, and the virus is likely to mutate. There are risks of the further spread of the disease," Li Bin, vice minister of China's National Health Commission, said in a statement.
After the virus, which causes a type of pneumonia, spread outside of China's borders, the WHO assembled an emergency committee, consisting of 16 members and five advisers, to determine if a coordinated international response was needed. The committee first convened on Wednesday but decided it needed more information, prompting another meeting on Thursday.
As was the case on Wednesday, committee members were split on whether the situation constituted an international emergency but ultimately decided it did not. However, WHO Director-General Tedros Adhanom Ghebreyesus said Thursday's decision was not final and advised countries to continue to take precautions to prevent the disease's spread.
The State of the Novel Coronavirus
There have been 584 cases of coronavirus around the world, according to Ghebreyesus, and 17 deaths. Of those cases, 575 and all of the deaths were reported in China. Additional cases have been reported in Japan, the Republic of Korea, Singapore, Thailand, the United States and Vietnam.
Ghebreyesus said that about one-quarter of people who were diagnosed experienced "severe" symptoms and that most people who were killed had underlying health conditions that weakened their immune systems.
Since this strain of coronavirus hasn't been detected in humans before, the situation remains "unclear," according to the U.S. Centers for Disease Control and Prevention (CDC), although officials still believe the risk to the American public is low. Those who have traveled to China within the past 14 days and experience symptoms of the virus, including fever, coughing and trouble breathing, should seek medical care immediately.
Ghebreyesus said it's likely there will be more cases in China and other countries.
What Happens During a Public Health Emergency of International Concern?
When the international spread of a disease could endanger the health of the international community, the WHO can decide it is a public health emergency of international concern. To be considered a PHEIC, the event must also potentially require a coordinated international response.
Before declaring a PHEIC, an emergency committee meets and then advises the WHO director-general on the state of the situation. The panel's recommendations would include measures for the place where the disease originated and how to prevent or reduce the disease from spreading internationally.
Those in favor of declaring a PHEIC pointed to the evolution of the epidemic, the severity of the disease and the number of cases, according to Houssin. Those who argued against it said that it was too early to make the declaration because there were a limited number of cases outside of China's borders and that Chinese authorities were already taking steps to contain the disease.
Although a PHEIC wasn't declared, Houssin advised countries to "be ready to cope" with additional cases. He added that the global community should be prepared for a "potential evolution of the epidemic that may require" declaring a PHEIC.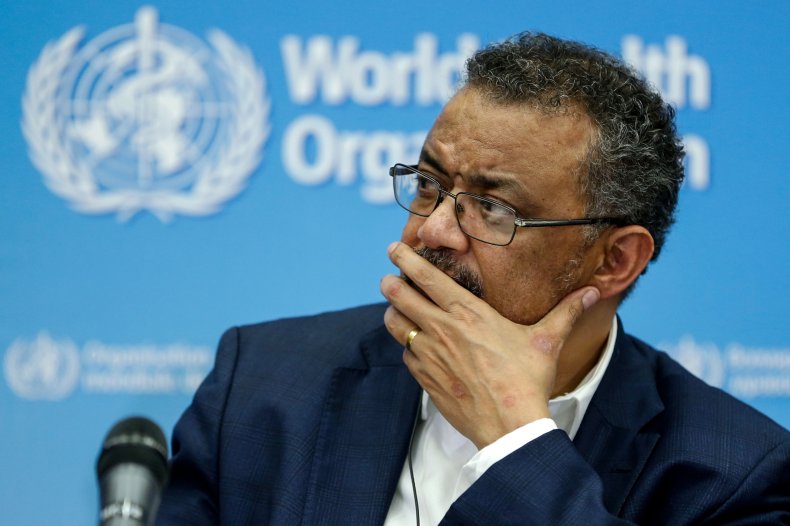 Steps to Prevent the Coronavirus From Spreading
To try to curb the disease from spreading, the Wuhan government suspended the city's public transport system, prohibiting residents from leaving. Also, everyone in public places must wear masks.
"We hope they will be effective and short in their duration," Ghebreyesus said on Thursday.
The WHO recommended that everyone wash their hands with soap, cough into their elbows and ensure all meat is properly cooked before consumption.
On Friday, the CDC implemented health screenings for passengers from Wuhan flying into San Francisco Airport, John F. Kennedy Airport in New York and Los Angeles International Airport. They later added screenings at Chicago's O'Hare International Airport and Hartsfield-Jackson Atlanta International Airport. The CDC also recommended people avoid "nonessential" travel to Wuhan, noting on its website that Chinese officials have closed transport into and out of Wuhan.
Ghebreyesus advised all countries to have measures to detect the virus. Houssin expanded that recommendation to include being able to trace cases, thereby limiting the epidemic's ability to spread.
What's Still Unknown About 2019-nCoV
As of Thursday's press conference, the WHO knows the virus can cause severe diseases that can kill someone, but for most people, it causes milder symptoms. The organization also knows that human-to-human transmissions are limited to family members and health care workers. So far, there is no evidence of the virus being transmitted between people outside of China's borders.
But Ghebreyesus said there's "still a lot we don't know," including the source of the virus, how easily it spreads and its clinical features or severity.
"WHO is working with partners in China and other affected countries to fill the gaps in our knowledge as quickly as possible," he said.