New COVID Fears Are Reviving Governments' Worst Instincts | Opinion
For a while there, it looked like we were on the COVID exit ramp. Now it seems we're likely to exhaust the Greek alphabet labeling variants that ripple outward from the coronavirus nucleus, keeping us awash in concerns over how to react to each new strain.
The Omicron variant has yet to fully introduce itself. Our understanding of its transmissibility and severity remains sketchy at best. But that hasn't kept it from leading daily newscasts that fill our ears with nervous speculation and fill the minds of global leaders with fresh incentives to shut down people's lives in response.
Europe is buzzing with various lockdown plans, focused mostly on the unvaccinated. Austria has already penned in its unvaccinated citizens. Germany is on track to follow suit, with vaccination mandates to follow. Greece has already announced mandates for anyone 60 or over, beginning next month.
A few weeks ago, when it briefly appeared that COVID was waning from our lives and from the headlines, one could compile a list of our hard-learned lessons: lockdowns were wrong, vaccination mandates actually fuel hesitancy and the pursuit of virus eradication through economic and social suicide was something we should never attempt again.
Well, here come more lockdowns and government vaccine mandates. There is no shortage of leaders who have apparently learned nothing.
For now, President Joe Biden is rolling out an agenda of less strident policies, including travel restrictions of the type enacted by Donald Trump, which drew accusations of racism and xenophobia from then-candidate Biden. His "winter plan" also includes a focus on testing and encouraging booster shots.
Americans want to believe that the Biden administration will not again destroy the fabric of normal life in a futile attempt to "beat the virus." But with Dr. Anthony Fauci still employed as Biden's chief medical adviser, such confidence is difficult.
On the Nov. 28 edition of ABC's This Week, George Stephanopoulos asked Fauci: "Should we expect to be seeing more lockdowns again, new lockdowns, more mandates?"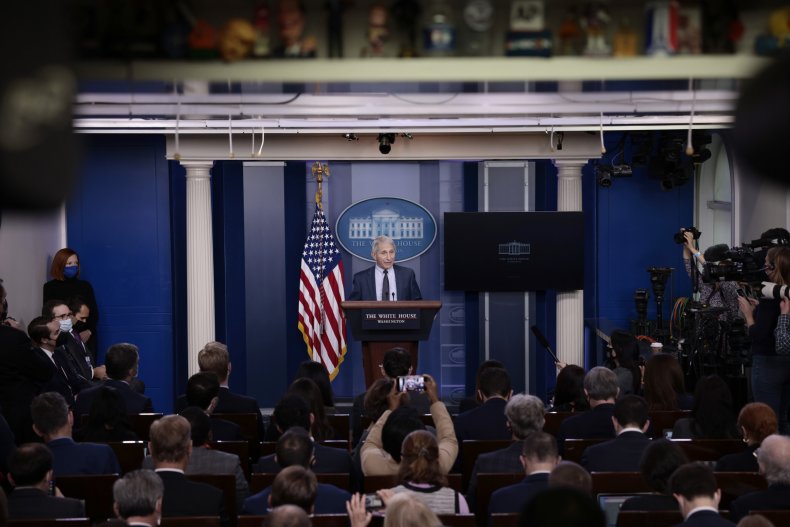 Fauci stopped short of promising the return of such nightmares, but he did not rule them out. He told Stephanopoulos that we ought to "prepare for the worst," adding: "Let's see what the information we're getting in real time tells us. We'll make decisions based on the science and the evidence the way we always do. But you want to be prepared to do anything and everything."
But it was not "science" that informed the 2020 decision to destroy countless livelihoods, interrupt kids' educations, murder untold numbers of businesses and throw a national election into doubt. It was the imprudence of policymakers who refused to account for the basics of life cherished by every American in the face of virus concerns. And some countries had it worse than we did.
Politicians allowed panic to blind them to the complexities of everyday life—the workdays and family structures that are the oxygen we breathe as a free people. Millions of jobs were dashed against the rocks and deemed "unessential" by a class of people who faced zero risk of seeing their own jobs evaporate. From government to media, cheerleading grew for solutions that wrecked the lives of working adults and school-age children. Anyone daring to stick up for businesses on the chopping block was condemned for favoring "profits over people."
Well, let's talk about people. To be sure, we wanted to reduce the number of people dying of COVID. But in the name of that goal alone, how many lives did we destroy in other ways? How many households were economically wrecked? How many kids' educations derailed, causing damage that may not be understood for decades? How many people died alone as relatives were held at bay, forced to reach out only via video call?
Obsessive risk avoidance became the only acceptable evidence that any of us cared about our fellow citizens. This was a perverse irony; the wisest, kindest ideas were always those that balanced stemming the spread with preserving as much of normal life as possible.
Now, as we enter a third calendar year that is certain to drip with coronavirus concerns, the panicked tone of media and governments' knee-jerk return to autocracy reinforce every suspicion that the ruling classes preaching to us about science and safety actively crave the suppression of basic rights.
In America, the entrenched Democratic Party plainly embodies those instincts but is restrained by a survival urge. Biden shares with Senate and House leadership at least residual recognition that the American people have about had it with barriers to their travels and life choices. But calamitous prospects teased in newscasts and floated by politicians and their appointees should give every citizen pause. While keeping the virus at bay has been no small challenge, dissuading authoritarian leaders may be an even steeper climb.
Mark Davis is a talk show host for the Salem Media Group on 660AM The Answer in Dallas-Ft. Worth, and a columnist for the Dallas Morning News and Townhall.
The views expressed in this article are the writer's own.