Almost two years into a punishing pandemic, as vaccination rates creep higher and the number of COVID-19 deaths declines in many countries, many people are asking how much longer will it be before we can return to normal. While there have been causes for optimism, this crisis has seen its share of false dawns, not least is the recent emergence of the new Omicron variant, which has revived fears and increased doubt.
Let's look at an example from Japan. Remember the summer Olympics this year? The number of COVID-19 cases in Japan at the time of the Tokyo Games—which many international media outlets cautioned would be a super-spreader event—was low by global standards. But now it's fallen off a cliff. From a peak of 26,000 cases on a single day in late August, the number of reported new infections nationwide shrank to an average of just 91 per day in the fourth week of November. In Tokyo, a city of 14 million residents, new cases dropped significantly to around 14 per day. On Nov. 7, the number deaths nationwide was zero, a first since August last year.
With the recent confirmation of the Omicron variant, Japan has adopted a number of new provisional measures out of an abundance of caution. These include the prohibition of entry into Japan by foreign nationals from anywhere globally, and strict quarantine measures for Japanese nationals arriving from countries and regions where infections have been confirmed. Domestically, basic infection control measures have remained the same. Authorities pay special attention to every new infection to monitor and limit the spread of each variant.
The Japan model, if I may call it that, offers both good and bad news for those who are desperate to throw away their masks and abandon precautions against contagion. The good news is that if you vaccinate enough people, you don't have to do much to keep COVID-19 under control. The bad news: You probably still have to do a little bit.
Keeping some anti-infection measures in place, such as mask wearing, has been an important part of Japan's approach to controlling the pandemic, even as vaccination rates have risen sharply. The government and health experts believe that precautions should stay in place as this has been proven to prevent asymptomatic transmission.
To be clear, vaccines are working. After a slow start, Japan is now one of the most vaccinated countries by percentage of population in the OECD, with 78.05 percent of the population having received at least one dose as of Nov. 3, and 73.15 percent having received two doses. Older adults, who started getting their shots first, have a vaccination rate of more than 90 percent. Early talk of vaccine hesitancy among the young seems to have been exaggerated, and hundreds of thousands of people are still getting jabbed each day.
The fact that Japan is using mRNA vaccines is likely providing an extra layer of safety—they've been shown to be the most effective at preventing infection. In any case, the link between Japan's success in getting people vaccinated and the all-but-vanishing of COVID is clear.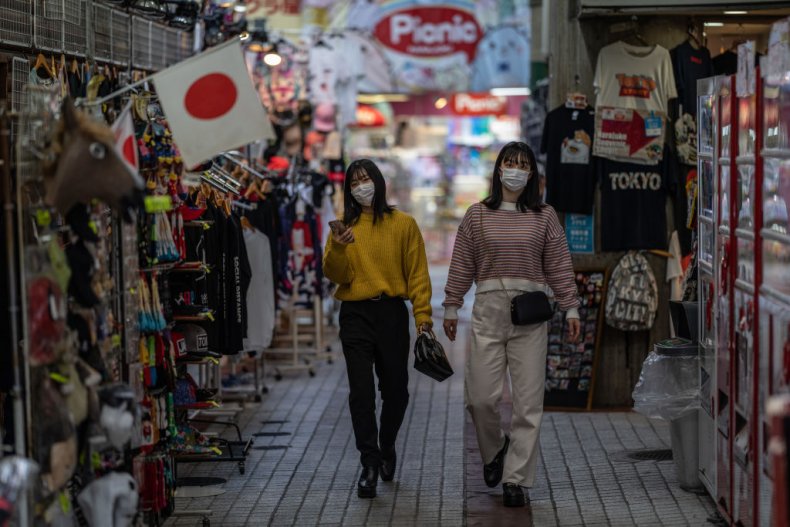 But that doesn't mean the Japanese are rushing to toss our masks.
Basic, common-sense infection-control measures are still widespread in Japan, and easing them is likely to remain a gradual process. That's in part because they've served us well: Japan has never imposed a mandatory lockdown, and most businesses have kept operating throughout the pandemic, albeit with limits on things like opening hours or the serving of alcohol in restaurants. The government declared what it termed a "state of emergency," but it was far from a curfew or a stay-at-home order. The streets of Tokyo have looked fairly normal throughout the crisis, except for those ubiquitous masks.
We've also seen what happens in countries that try to normalize too quickly. Britain, for instance, eased its COVID restrictions in late July, when its vaccination rates were 53 percent (one dose) and 68 percent (two doses). Israel did the same in early June, when its rates were 55 percent and 59 percent. Both countries have seen a resurgence in infections.
In Japan, the government waited until the end of September to lift its "state of emergency" declaration. At the time, 70.73 percent of residents had received at least one shot (60.06 percent had gotten two shots). But many restrictions remained in place at the local government level, and the (technically voluntary) limit on serving alcohol continued until late October. It was not until Oct. 25 that most restrictions on businesses were lifted; vaccination rates at the time were 70.45 percent and 77.1 percent. Even now, most shops, restaurants and public-transport operators ask customers to wear masks, disinfect and avoid situations where transmission risk is high. The public has internalized the so-called three Cs: closed spaces, crowded places and close-proximity conversations, all of which are to be kept to a minimum.
Every country, community and individual has a different tolerance for risk, and the occurrence of new variants like Omicron will likely result in new policy decisions to control the spread of infection. Not everyone will be willing or able to follow the Japan model of comprehensive vaccination combined with slow, step-by-step easing of infection-control measures. But I believe the model deserves attention. COVID-19 isn't going to disappear altogether, and a range of factors—colder weather, the easing of international travel restrictions, waning immunity from vaccinations—mean a new wave of infections could strike. Meanwhile, vaccine disparities between rich and poor countries remain.
Vaccines work, but so far they aren't enough. By maintaining a few basic infection control measures, such as avoiding maskless socializing in crowded indoor spaces—it is possible to return to "almost normal" while keeping COVID-19 under control.
Haruka Sakamoto, MD MPH, PhD, is a primary care physician and project researcher at the department of global health policy, Graduate School of Medicine, University of Tokyo. She is also a graduate of Sapporo Medical University and Harvard University. Sakamoto has had a long career in government, medical practice as well as acting as an advisor to the World Health Organization, the Gates Foundation and other international groups. Her current research focuses on health system strengthening, health care financing and politics in global health.
The views expressed in this article are the writer's own.