New Crocs Shoe with Fanny Packs Attached Sparks Mixed Reactions From Twitter Users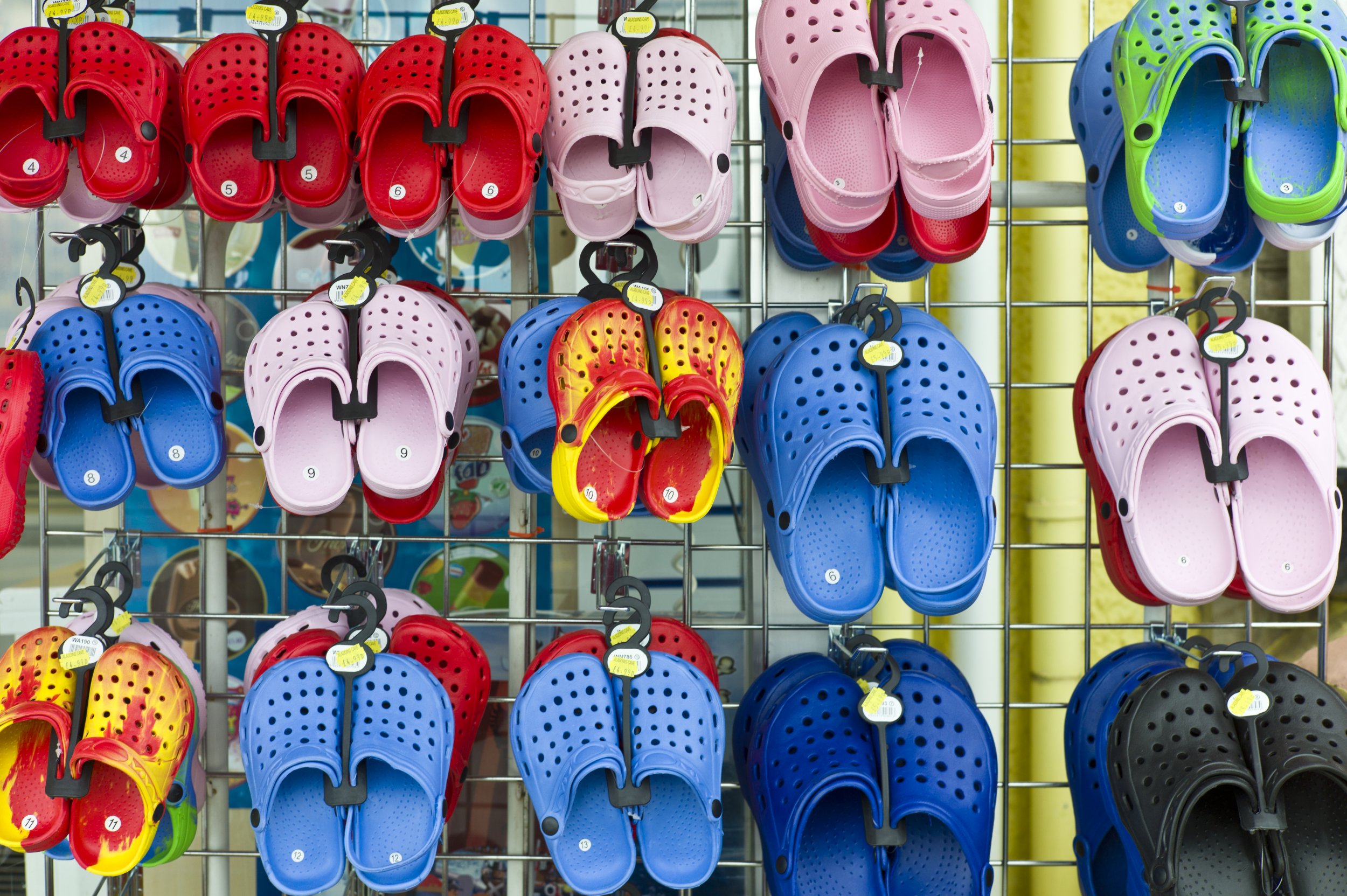 Crocs newest creation is a head-scratcher, to say the least. The footwear maker unveiled a new shoe with mini fanny packs attached to the confusion of many opposers on Twitter.
Crocs' latest innovation is a collaboration with Japanese brand, Beams. The shoe comes in a seafoam green shade with purple fanny packs or purple with seafoam green-colored fanny packs. It retails for $53 USD.
"In addition to the oversized Jibittsu charm that 'Classic Clog' which is a standard model of Crocs is arranged, and the character of 'Beams' is given," the product's description reads via Beams' website. "It is one pair equipped with the zipper type mini bag which can be opened and closed. It is the finish of the impact preeminent by vivid coloring."
With the shoe's arrival, images of the item swiftly hit social media. Twitter users were mostly unamused with Crocs and Beams' collaborative effort
Washington Post's Emily Guskin argued that the shoe is "not a fanny pack if it's on your feet." Another individual suggested society has "peaked " because of Crocs' newest addition. A third person posed the question: "Who came up with this idea?"
Tess Owen of Vice News said they were previously "anti-croc," but this new collaboration "might be a game changer." Another person shared they were "seriously contemplating buying Crocs this morning" while sharing a link to Business Insider's report about the new Crocs shoe.
"Stop the presses," one user tweeted. "Just when you think Crocs couldn't get any more ridiculous, now you can get 'em with fanny packs LOL!"
Representatives for Crocs and Beams did not immediately return Newsweek's request for comment.
Crocs is no stranger to unusual collaborations. In May 2018, it was announced that Crocs would be teaming up with Alife to debut a sock-sandal version of the Crocs shoe that retails for $140. Luxury brand Balenciaga collaborated with Crocs to unveil a fashion-forward version of the clog shoe in 2017, which costs a whopping $679.
Post Malone, a rapper known for songs like "Better Now," created a shoe line for Crocs in November 2018 that sold out within 10 minutes, according to GQ. When Malone joined forces with Crocs a second time in December 2018, CNN reported that the line also sold out in 10 minutes. The clog shoes retailed for $59.99.
The first-ever Crocs shoe hit the market in 2002. While the foamy shoe has often been regarded as "ugly," the billion-dollar footwear company has found success as of late through a devoted teen fanbase.
"The first thing I'll say is it wasn't an accident," Crocs CEO Andrew Rees said on a call with investors in November 2018, according to Quartz. "We've been focused on igniting the teen customer for a period of time now."