New Custom Vintage Land Rover SUV Can Outrun a Tesla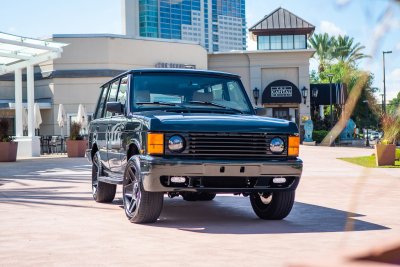 E.C.D. Automotive Design has revealed a revamped Range Rover Classic with an engine that can outrun a Tesla, known as Project Mercer.
The firm is a vehicle customizer that restores classic luxury vehicles adding modern performance. Each vehicle produced by E.C.D. is a one-off that is designed for an individual client.
This vintage classic is supercharged by a powerhouse eight speed automatic LT4 engine with 650 horsepower and 660 torque – making it one of the fastest vintage SUVs on the road.
"For a vehicle that is shaped a lot like a box on wheels, we're proud of how we were able to build in such incredible horsepower," Co-Founder of E.C.D. Tom Humble said.
"The client wanted speed, and our expert team at E.C.D. had the skills to overhaul this decades-old RRC into one of the fastest things on the road for its vehicle class."
Project Mercer can go from zero to 60 mph in just 5.03 seconds. In a head-to-head against another E.C.D. 's electric Range Rover Classic, Project Ski, Project Mercer's classic engine beat out the Tesla drivetrain in to 60 mph off the line by just .41 seconds.
This unique build is painted in a glossy Epsom Green with black accents throughout, including a pinnacle-style grille and bumper resting on Pirelli Scorpion Zero tires with 20-inch matte black Kahn Mondial wheels for optimized on-road performance.
Inside, the classic Land Rover SRS wheel, original captain's chairs and dashboard are all wrapped in Sandpiper Garrett leather while the tailored five-seat design included Expresso Garrett leather with tan-colored single vertical diamond stitching on the bucket of the seats.
Sticking with the E.C.D.'s mission of a modern luxury car while maintaining the heritage of the old Range Rover Classic, the Project Mercer's tech upgrades include a floating infotainment screen with Apple CarPlay compatibility, Bluetooth, Wi-Fi, a wireless charger smartphone charger, backup camera, and sensor and blind spot assistant.