New Dad Leaving for Four-Day Bachelor Party Sparks Debate: 'Selfish'
A pregnant woman has sparked debate after she shared her concern that her husband will be going away for a bachelor party and leaving her alone with their new baby.
In a post on the London-based discussion site Mumsnet, user Caz191 explained the situation.
"First baby due in mid-May, my husband has been invited on an abroad stag do in September," she explained. "Obviously I'm fine with him going but it originally it was just Friday-Sunday, he's just confirmed the dates and it's Thursday-Sunday. Plus I don't think he'll be very helpful for at least a day on his return."
Bachelor parties are a popular pre-wedding tradition, and data collected by the Wedding Wire reports that the average bachelor party has eight guests and often lasts for two or more days, with one in three grooms-to-be celebrating for over three days.
Men are nearly twice as likely to visit Las Vegas for a bachelor party than women for a bachelorette. The average cost of a one-day bachelor party is $813, rising to $1,362 for a five-day event. One in 20 will spend more than $4,000 on their pre-wedding celebrations.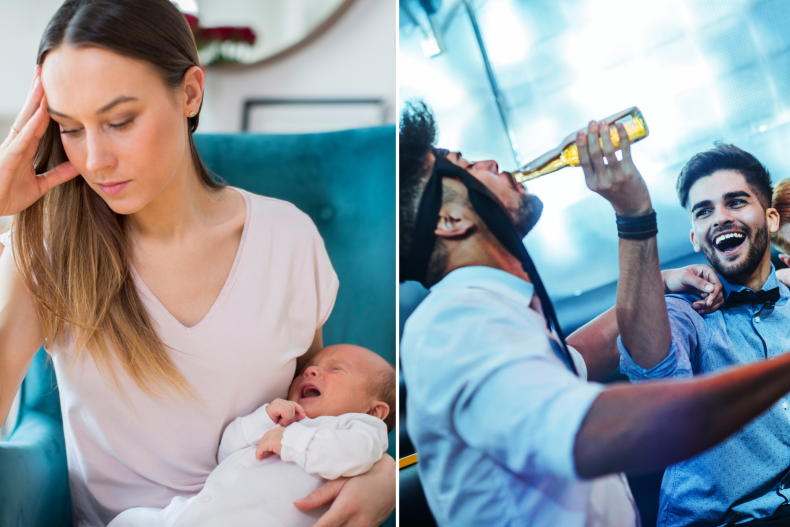 The mom-to-be expressed her concern at being left to care for their newborn baby alone while her husband attended the party.
"I know the baby will be 4 months by then but would it be unreasonable for me to ask him to only do 3 nights?" she asked. "I don't know if I'm being OTT with it being my first baby and it is only one extra night than we thought."
Young mom and founder of AnnaRose Fit & Healthy AnnaRose Mongiello-Ciminera told Newsweek: "In my eyes, the best support to have is from your partner to help you feed the baby at night so mommas can get their sleep. To have food taken care of so the mother is well nourished—being she is exhausted."
"He also has a work conference in September too so will be away 4-5 nights then which is unavoidable," said the poster. "I know I'd manage on my own but I don't really want to, not sure if I'm being a bit selfish."
In hundreds of comments, Mumsnet users shared their thoughts and were split on the issue.
One said: "My husband travelled a lot for work when ours were babes. It's a hassle but one extra night really doesn't make that much difference."
While another Mumsnet user said: "It's a one off and baby will be 4 months by then so you'll know what you're doing."
Unfair Arrangement
But others agreed that it was unfair for the mom to be left alone while her husband went away. One commenter said: "When is your time off? It seems a bit one sided."
Another Mumsnet user slammed the husband and said: "He's got a baby now. Life will be different. It's a shame you even have to ask him, he should be offering to cut the trip short."
"Is it ok to be a bit worried? Sure," said Mongiello-Ciminera. "But when there's a will, there's a way. Find a compromise—leave her money for a take out and/or cook food in advance and leave it for her. Ask a family member to come by and check on her. Talk to your partner and prepare any worries that you might have in advance."
Newsweek wasn't able to verify the details of the case.
If you have a family dilemma, let us know via life@newsweek.com. We can ask experts for advice, and your story could be featured on Newsweek.