New Defense Chief Will Hit the Air Running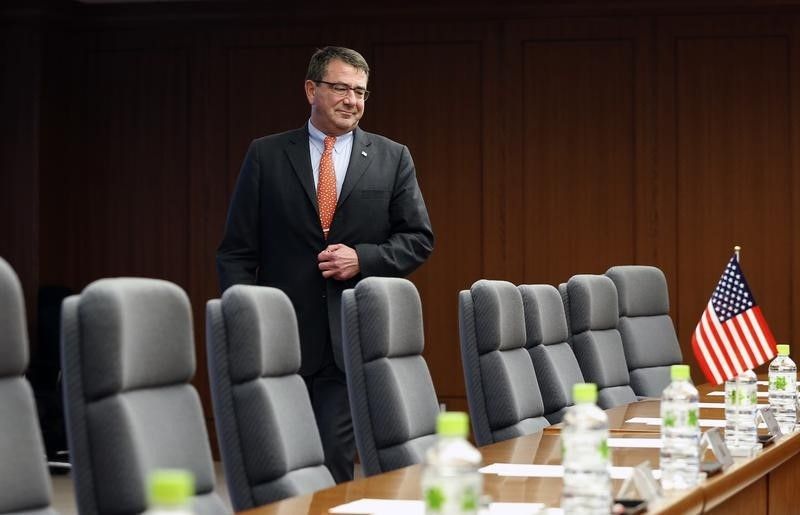 Ashton Carter, the former senior Pentagon official said to be the top choice to succeed Defense Secretary Chuck Hagel, is going to have a big and thankless job ahead of him if history—and a telling congressional hearing Tuesday about the war in Syria—are any guide.
Administration officials told Newsweek that President Barack Obama sees Carter as a "leading contender" for the defense chief nomination following his decision last week to fire Hagel, whom Obama saw as ineffective in dealing with a series of unexpected military challenges, including the escalating fight against ISIS militants in Syria and Iraq, the deteriorating situation in Afghanistan and Russia's aggression in Ukraine. Hagel, who will stay on the job until the Senate confirms his successor, also clashed with the White House over the impact of deep defense cuts and the closing of the Guantanamo Bay detention center.
Earlier, several news organizations, including The Washington Post, CNN and The Associated Press, reported that Obama had decided to nominate Carter, who served as the top deputy to Hagel and his predecessor, Leon Panetta, until a year ago, when Carter stepped down. White House officials said Obama had not yet settled on Carter as his nominee, describing him as the "leading contender."
Analysts pointed out that taking on the job of defense secretary for the last two years of a president who has always maintained tight control over foreign and defense policy is likely to be a challenge for the next Pentagon chief. Both Panetta and his predecessor, Robert Gates, complained about White House interference in their respective memoirs after they left the job.
But Anthony Cordesman, a defense analyst at the Center for Strategic and International Studies, said Carter, who has watched the way the administration operates from within the Pentagon, has an advantage over his predecessors.
"He knows what he's getting into, which is not a bad position to be in," Cordesman told Newsweek. "Most people who become secretary have not dealt with a White House before. They don't really know the president. Sometimes it works out well; sometimes it doesn't."
Cordesman added, "Carter is seen as a pragmatist. So to walk into this job with the background that he has really will make a difference."
This isn't the first time that Carter has been a top candidate to replace a departing defense secretary. In 2013, he was widely seen as Panetta's likely successor, but Obama chose Hagel instead. Carter, who earned a physics degree from Yale and whose focus at the Pentagon included the application of cost-saving science and technology solutions in hard budgetary times, retired in December of that year.
Prior to his position as the Defense Department's No. 2 official, he served as the Pentagon's top weapons buyer. It was his job to push for the best weapons to help U.S. troops vanquish their enemies and stay alive on the battlefields of Afghanistan and Iraq. These included drones to monitor the movements of enemy forces and mine-resistant trucks, with their V-shaped hulls that helped deflect the blasts of roadside bombs.
During his last year at the Pentagon, Carter was given the task of reducing the Defense Department's budget after a decade of constant growth that brought it to nearly $700 billion—more than double its level before the September 11, 2001, terrorist attacks and fully half of all of the government's discretionary spending.
Like others before him, Carter saw slowing the growth of soldiers' pay and charging more for the military's TRICARE health care system as ways to cut costs, but congressional opponents thwarted those proposals. Budgetary analysts have warned that reducing the military's personnel costs is critical if Pentagon spending is to be brought under control.
If Carter gets the nomination and wins confirmation, he will oversee the unexpected escalation of the U.S. military role in fighting ISIS militants in Iraq and Syria—a responsibility that is likely to collide with deep defense cuts planned for fiscal 2016. Republicans, who will control both the House and Senate when the 114th Congress convenes next month, are expected to resist those cuts and demand even greater defense spending—a posture that whoever succeeds Hagel is likely to endorse.
But the next defense secretary is unlikely to catch a break from congressional critics of Obama's strategy against ISIS. The administration is weighing a new strategy, which could include the creation of a buffer zone inside Syria along a portion of the 550-mile Turkish-Syrian border and the use of Turkish special forces to serve as ground spotters for U.S.-led airstrikes, The Washington Post reported Tuesday.
At a hearing of the House Foreign Affairs Committee, both Republicans and Democrats took administration officials to task over what they portrayed as unfocused and insufficient efforts to prevent Europeans and Americans who have fought with ISIS in Syria from returning to their home countries and carrying out terrorist attacks. Some 2,500 Europeans and more than 100 Americans have gone to Syria to fight with ISIS and other groups battling to overthrow the authoritarian regime of President Bashar Assad, according to the CIA.
Some lawmakers were particularly concerned that one of the witnesses, Ambassador Robert Bradtke, a senior State Department adviser on the threat posed by such foreign fighters, spoke no Arabic and had no expertise in the Middle East.
"The region is unravelling," said Democrat Gerald E. Connolly of Virginia. "This is a long-term challenge. We have to have expertise in the region."