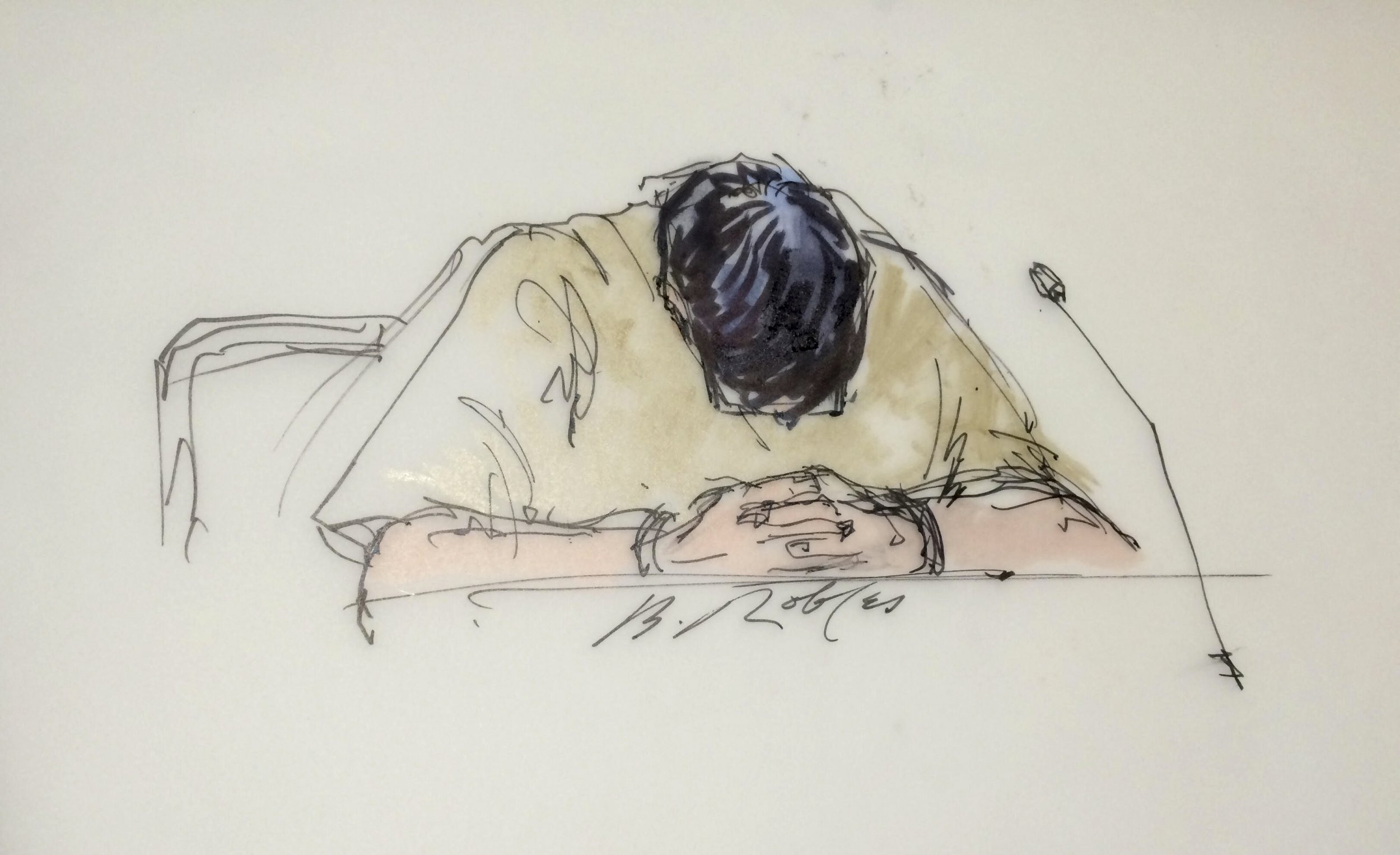 As he appeared in a California court facing terrorism-related and other charges, further details emerged about San Bernardino gunman Syed Rizwan Farook's longtime friend, who owned the guns Farook and his wife used to kill 14 people at a holiday party earlier this month.
In his first court appearance, which lasted 10 minutes, Enrique Marquez Jr., 24, appeared disheveled yet calm. His short black hair fell onto his forehead, he had stubble on his face and the pockets of his black pants, which he wore with a beige T-shirt, were turned out.
With his handcuffed hands resting on his stomach, Marquez leaned back in his chair and swiveled back and forth as the judge read him his rights. He responded to questions with one-word answers before entering U.S. marshals' custody.
The charges against Marquez are the first to emerge in relation to the mass shooting, which is the deadliest attack in the U.S. since September 11, 2001. They include conspiring to support terrorists and illegally purchasing the two assault rifles used during the mass shooting. His bail hearing was continued to Monday.
Court documents released on Thursday provide details about deadly plots Marquez and Farook planned, but never carried out, in 2011 and 2012. The two conspired to attack Riverside City College, where both men were formerly students. They intended to throw pipe bombs into the college's crowded rooms, including the library and cafeteria, specifically from upper floors. The men also identified a stretch of 91 Freeway that had no exits and strategized to throw pipe bombs to stop rush-hour traffic and gun down fully stopped motorists, according to the documents.
The court documents reveal a conversation Marquez had via Facebook chat, which took place less than a month before the deadly December 2 shooting.
"Involved in terrorist plots, drugs, anti-social behavior, marriage, might go to prison for fraud, etc," he wrote.
At the time of the shooting, Marquez, a former licensed security guard, was employed as security at a local Wal-Mart and as a doorman at a bar in Riverside, California.
He had another source of income—Marquez is also being charged with immigration fraud for allegedly marrying a Russian woman so that she could become a legal U.S. resident. He made $200 a month off the scheme. The marriage also made Marquez and Farook in-laws. Documents say that the "couple" did not live together, as the woman lived with her actual boyfriend. Text messages between the two show they were nervous about an upcoming interview with immigration officials, as they hadn't spent much time together.
Farook and his wife, Tashfeen Malik, who left behind a 6-month-old child, died in a shootout with police on December 2 following their attacks.