Disney's New Riviera Resort Unveiled: Everything You Need to Know
Disney's Riviera Resort, a new resort at the Walt Disney World Resort complex in Florida, has been unveiled.
The new resort is the company's 15th Disney Vacation Club property and aims to immerse guests in "the grandeur and enchantment of the European Riviera," the company said in a statement.
Guests will be welcomed by European-themed decor throughout the property, complete with a "palm tree-lined boulevard, grand archways, porticos, cascading water features, and towers and terraces," while the resort's pools embody a Mediterranean theme such as at the Riviera Pool, with its colorful sun umbrellas and lounge chairs that aim to create "the feel of swimming and playing along the Mediterranean coast," the company notes.
Children may enjoy the S'il Vous Play attraction, a "whimsical fountain" featuring characters from Disney's Fantasia film, which emulates the grand public fountains seen in Europe with a patina and limestone-inspired design.
The new property offers 300 accommodation spaces including deluxe studios, one- and two-bedroom villas, grand villas (sleeping up to 12 guests each) as well as a new intimate studio for two—Tower Studios—located in the tower of the resort. The Tower Studios features a queen-sized bed stored inside a built-in wall unit and tucked away to create more lounge space. Rooms at the resort are currently priced from $356 per night, according to the resort's website.
The resort is decorated with more than 40 signature art pieces created for the new property, including "unique Disney character art inspired by the renowned artistic heritage found along the shores of the European Riviera," while other featured works included posters of Disney films as released in Europe, archival photography of Walt Disney's travels through Europe and books that Walt Disney gathered on his journeys, the company noted.
Guests can also travel to Disney theme parks via new "aerial gondolas" installed with the latest resort. The Disney Skyliner is a new "state-of-the-art gondola system" that connects Disney's Hollywood Studios and the International Gateway entrance at Epcot with Disney's Riviera Resort as well as Disney's Art of Animation, Caribbean Beach and Pop Century resorts.
Dining venues at the new resort include rooftop restaurant Topolino's Terrace—Flavors of the Riviera, which offers dishes showcasing ingredients from the South of France and the coast of Italy, the company states. For light bites, guests can head to Le Petit Cafe, which offers Parisian delicacies or lounge at the open-air Bar Riva by the pool.
The new property officially opened its doors on Monday, with the company livestreaming its grand opening ceremony. Several Disney fans have taken to social media to share their excitement for the new resort as well as their favorite memories of visiting Disney's parks and resorts, using the hashtag #disneyparkslive, which has been trending on Twitter.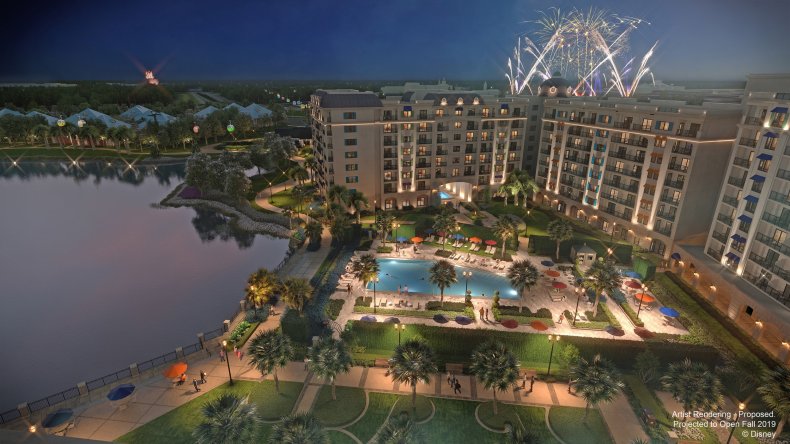 "Did you watch this morning's @DisneyParks Live for the opening of the #DisneyRiviera Resort? Can't wait to stay there in February! Looks amazing! #DisneyParksLIVE #DisneyCreators," wrote @ANightOwlBlog.
"Thank You @DisneyParks for a magical morning at @WaltDisneyWorld Resort in @VisitOrlando @VISITFLORIDA! @JennFickley @lol4MarkDaniel @WDWGuestService @DisneyParks @shopDisney #DisneyParksLIVE #WDW #RivieraResort #DVC ," wrote @CJthedisneygeek.
"I just want to go back to Disneyland with my best friend. I have only gone with her to Disneyland and we have a great time whenever we are there #DisneyParksLIVE," wrote @dawn_orcutt2.
Earlier this month the company opened its new Star Wars ride—Star Wars: Rise of the Resistance—at Disney's Hollywood Studios in Florida while details of its first-ever Mickey Mouse-themed ride, also opening at Hollywood Studios, were also unveiled.
The new Star Wars ride will also be opening at The Disneyland Park in California on January 17, 2020.