New Docs Shed Light on Cold War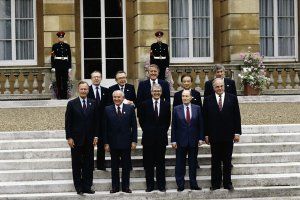 During a few tumultuous months in 1989, Soviet tanks pulled out of Eastern Europe, communist governments there collapsed, the Berlin Wall fell—and the Cold War ended without a shot fired. Figuring out why it happened so fast and so peacefully will occupy historians forever, and a new 700-page collection of documents will be essential to their understanding. Masterpieces of History: The Peaceful End of the Cold War in Europe, 1989 is a treasure trove of the most secret discussions by leaders of the Soviet Union and the West that year, and the first time they've all been pulled together. Publication of the 122 documents, and hundreds more online, is the climax of a 15-year effort by the National Security Archive, the contemporary-history research project at George Washington University.
The documents show leaders on both sides of the standoff preoccupied with "instability"—a term President George H.W. Bush uses repeatedly—after the Soviet withdrawal from Central Europe. ("Look at how nervous we are," Mikhail Gorbachev told President Bush at their Malta summit.) They also detail European fears of a unified Germany. Interestingly, though, most of the documents come from European and Russian archives; almost none come from the U.S. because of tougher declassification procedures introduced, ironically, by Bush's son, President George W. Bush, after 9/11. "We are supposed to be the open society, committed to open government," says Tom Blanton, director of the archive. "But for the last 10 years, our system for declassifying government documents has basically ground to a halt."
Almost all of Gorbachev's papers have been released by the foundation he set up to house them. Then–German chancellor Helmut Kohl decided unilaterally in 1998 to publish key documents from 1989–90 without asking permission of the foreign leaders who feature in them. The main American repository of papers from that period is 41's library in College Station, Texas. Three years ago, Blanton's team requested transcripts of meetings and phone calls Bush had with Gorbachev, versions of which are already available in Moscow. As the archive's new compilation was published last week, Bush's library finally responded. Of 576 relevant pages, 493 were deemed to be still classified. Warren Finch, director of the library, cites State Department control over the procedure. "We have a queue [of requests] here; they have a queue there," he says. "So everything takes time."
The Obama administration has set up, within the National Archives, a "declassification center" to streamline the process. Due to the backlog of requests, "Americans are being denied the ability to hold government officials accountable," says David Ferriero, the U.S. archivist. But the new center got started only in May, and its authority over presidential libraries has yet to be tested.
New Docs Shed Light on Cold War | World