A Photojournalist's Most Prolific Period, Set to Jazz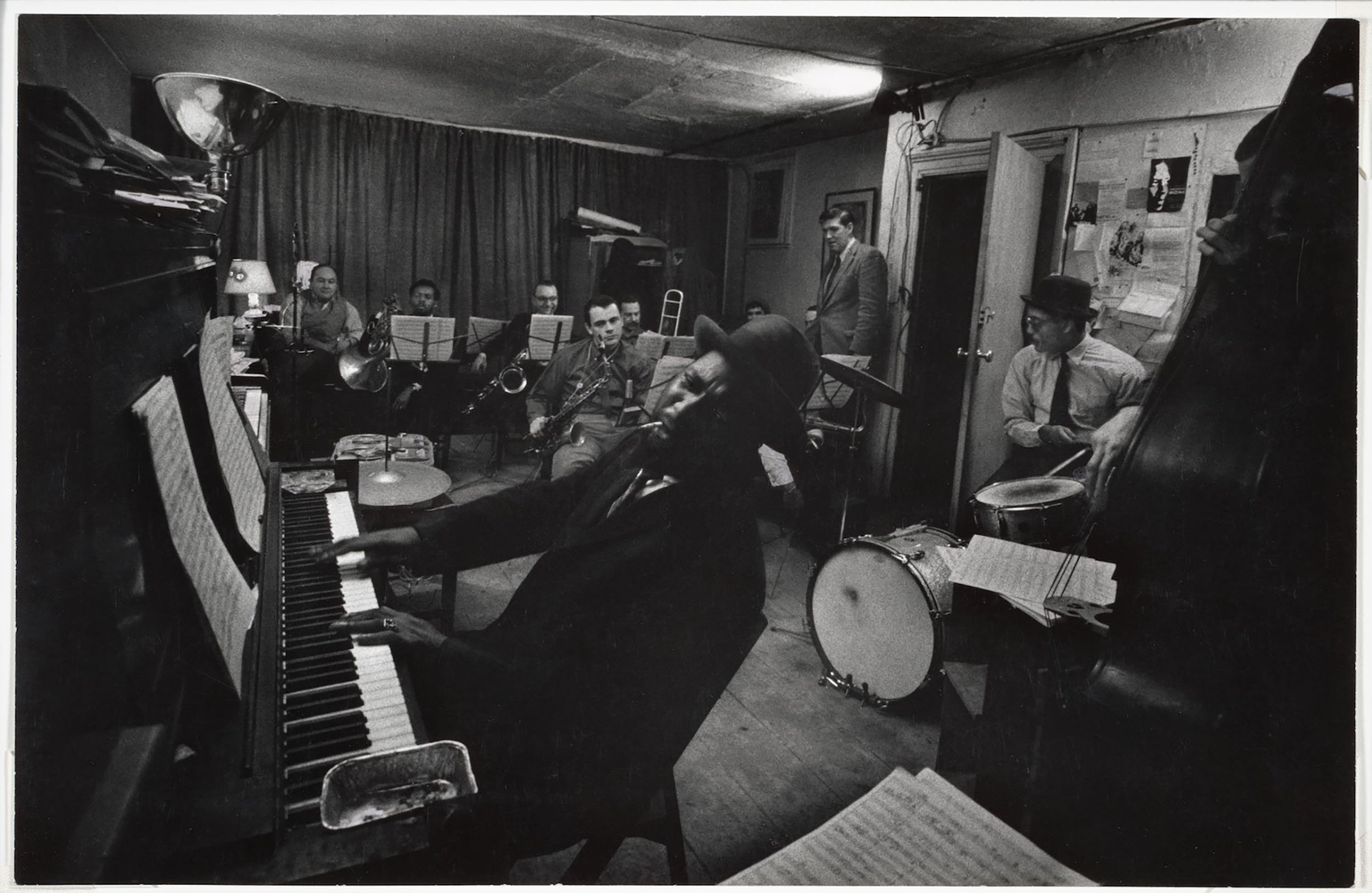 For some of America's most preeminent jazz musicians, the loft building at 821 Sixth Ave. was a destination worth climbing fire escapes and crossing rooftops to reach. Thelonius Monk dropped in to play piano alongside his band. Zoot Sims was there, blowing life into his saxophone as listeners swooned nearby. Salvador Dalí showed up to share drinks with socialites and streetwise musicians alike. The loft was a hub of musical activity, a haven for artists and a waystation for touring musicians on their way through New York. Some stayed weeks at the loft as a way to reinvent their careers; others stopped by for a loose, late-night practice session where they could stretch out in ways they never could onstage. It was the scene for much of the innovation that would typify American jazz's last golden age—the music created there was the product of free-wheeling performances without the pressures of an audience.
Now we know, however, that there was an audience the whole time, its sole member being photojournalist W. Eugene Smith. The storied LIFE photographer's work from within the Sixth Avenue loft surfaced in the late 1990s, discovered in a sealed box in an archive in Arizona. The trove was massive: tens of thousands of photographic negatives and over a thousand reels of tape that contained about 4,000 hours of recordings—from jam sessions to radio broadcasts to the urban hum of Manhattan's Flower district, where the loft was located. Smith, who died in 1978, never published any of the work during his lifetime, and it remained unseen for decades after his death.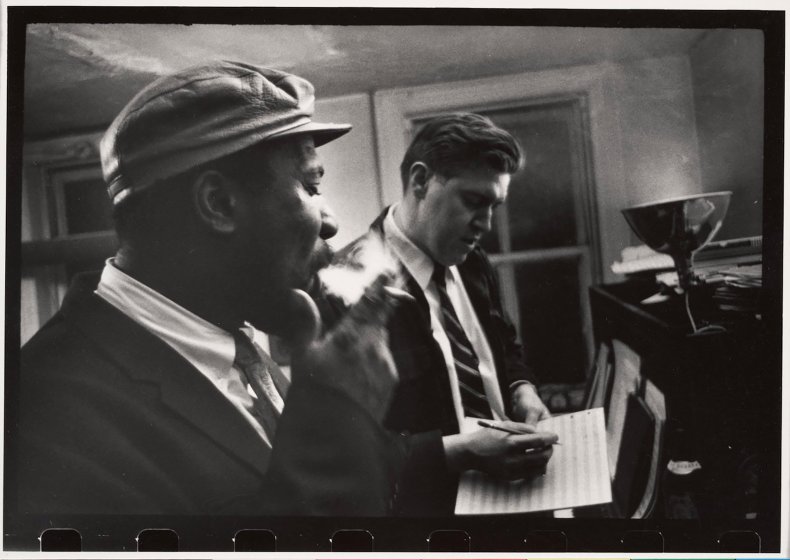 A new documentary, The Jazz Loft According to W. Eugene Smith, reveals just what the world had been missing all that time. Smith, considered the "father of the photo essay" after publishing stories like "Country Doctor" and "Spanish Village" in LIFE, moved to the loft in 1957 and lived there until 1971. Enthralled by the place as soon as he arrived, he made documenting its inhabitants and the music they made his next project, his dedication to it mirroring the same sort of relentless dedication he gave to the subjects of his photo essays.
To record the 1,740 reels of tape that bore witness to life in the building, he rigged the place with microphones—at one time he had an elaborate switching system to capture music on each floor, extending outside the boundaries of his own apartment. Residents interviewed in the documentary remember seeing the occasional drill bit emerge through a floorboard—it was Smith, pushing a microphone from the room below.
The documentary is radio station WNYC's first film effort. It had its premiere on October 18 in New Orleans and screened at the NYC DOC festival in November. Sara Fishko, a WNYC radio host and producer as well as a culture reporter for the radio station and the film's director, previously produced a 10-part radio series on the Jazz Loft for WNYC in conjunction with Smith archivist Sam Stephenson, who published a book on Smith's time at the loft in 2008. The film uses Smith's expansive coverage of the building as a guide, focusing in on the moments where he kept the recorders rolling and his camera at the ready. The resulting vignettes are as rich and intimate as any of Smith's photo essays.
By the time Smith arrived at the loft at 821 Sixth Ave., it was already a bustling artistic community—one of several such buildings in the area, though as it turned out, the one that attracted the most star power given its well-credentialed renters. Among them were Juilliard professor and jazz arranger Hall Overton, who brought two pianos with him and moonlighted by teaching music lessons. It was because of Overton, and a few other well-connected members of New York's jazz and art scenes, that luminaries began to visit the building. A visit by Charlie Parker was infrequent but cherished; Charles Mingus stopped by from time to time; residents recall Zoot Sims once challenging a few fellow saxophonists to an all-night jam session, the sunrise revealing several collapsed instrumentalists at Sims's feet as he continued to solo. Smith became "so much a part of the scene" that his presence went unnoticed, remembers bassist Steve Swallow, and the photographer's unobtrusive persistence lent immediacy and raw emotion to the images he produced.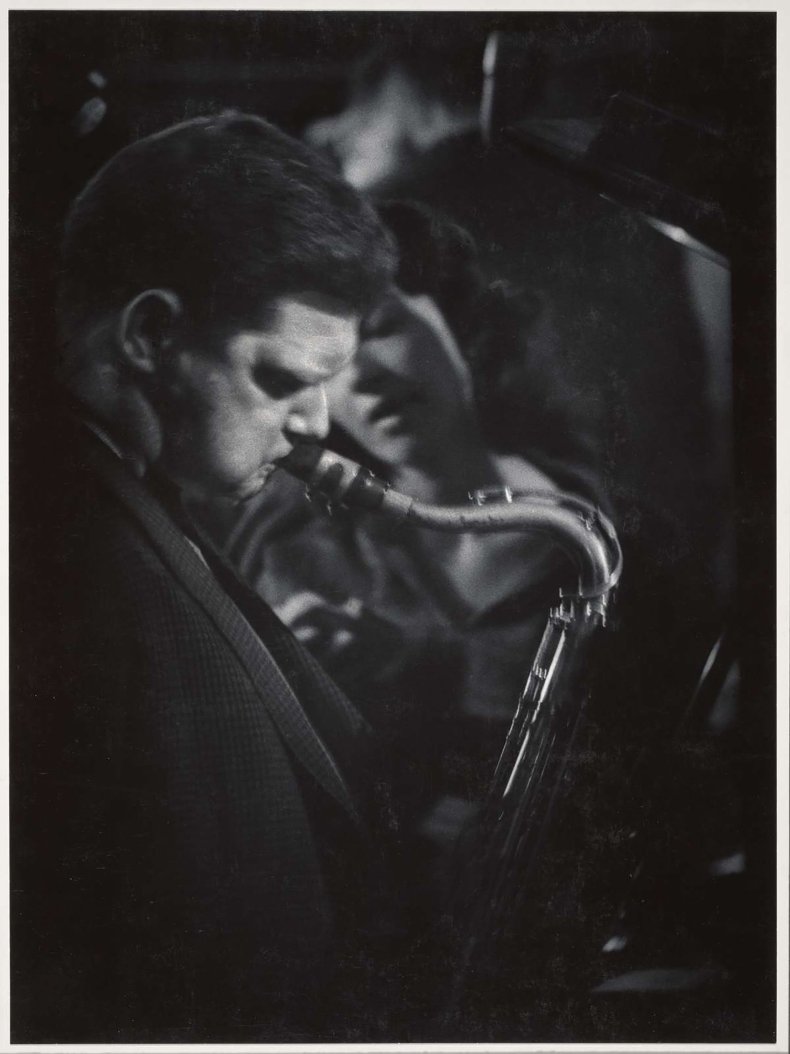 It's a rawness that was familiar to Smith. After quitting his coveted staff position as a LIFE magazine photographer, and overshooting a subsequent assignment from the Magnum photo agency (it sent him to Pittsburgh for three weeks to shoot 100 images for the city's bicentennial in 1955; he shot 17,000 over the course of a year), he returned to his family and home in Croton-on-Hudson, New York. As he began editing and printing the work from Pittsburgh, his personal life began to unravel. His work schedule, full of travel and late hours—Fishko, in her radio narration, says he was "always on deadline, or just recovering from one"—was at odds with taking care of his family, both logistically and financially.
His obsession forced Smith's wife Carmen to take on most of the parenting responsibilities, and eventually the photographer fled the family altogether in order to move to New York City—leaving Carmen and the children with a house they would later have to sell to pay the tax debts it had incurred over the years. The cost of pursuing his idea of photographic genius was the rupture of his family and the collapse of his personal life. Ironically, though, it was a set of circumstances the night owls he shared the Jazz Loft with could understand perfectly.
"They embraced him because they saw in him this obsessed person who worked all night, and he felt the same way about them," Fishko says. "The other interesting thing about that is that both photography and jazz are arts that seem to happen almost magically in the spur of the moment. And these tapes and photographs show that both Gene and these people were working all night, proving once again that it's all very well to do something in the spur of the moment, but you have to be ready. You have to be practiced to do it."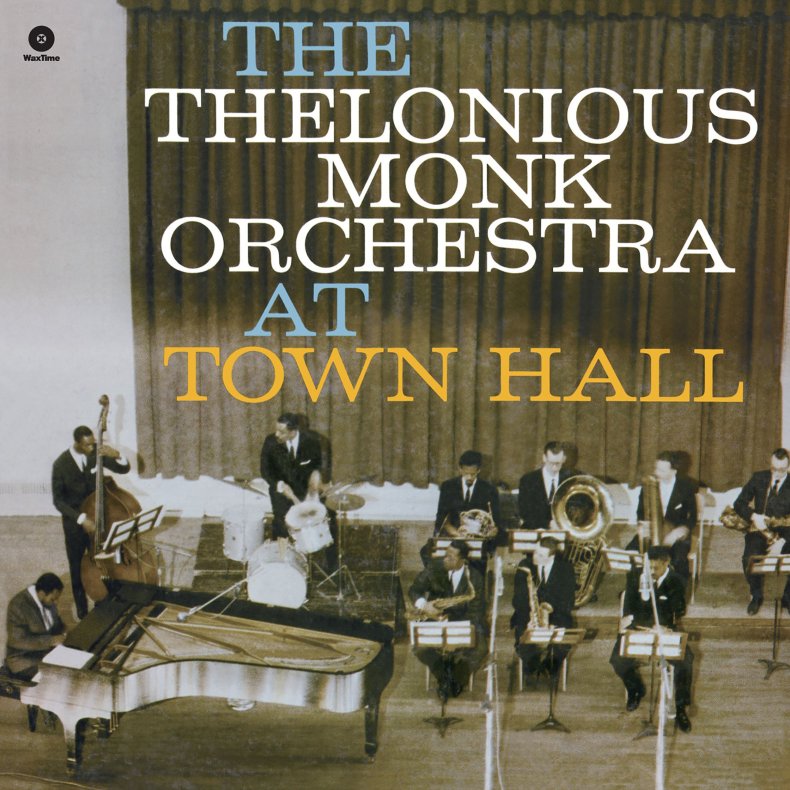 There is a sense of urgency to Smith's work from the Jazz Loft. The era he covered was musically crucial—the late 1950s produced many of the genre's greatest recordings—and his residency at the loft yielded the same empathetic, affecting images that populate his groundbreaking photo essays. The materials that appear in The Jazz Loft According to W. Eugene Smith represent a multimedia, genre-defying body of work—the largest such example of his career, though the only major one left unpublished. But the pictures and sounds, now fused as moving images, display rare moments from the lives of the musicians he captured, suspended eternally in the amber of Smith's dramatic lighting and painterly compositions.
This article originally misspelled the first name of Sara Fishko.