New Dolphins Coach Scoffs at Race Questions: 'I Identify as a Human Being'
The new football head coach of the Miami Dolphins, who has a Black father and a white mother, says he finds it strange "identifying as something."
Mike McDaniel said it's been "weird" how fixated people have been on his racial identity, during his introductory press conference on Thursday. McDaniel's hiring comes as the National Football League (NFL) has been under fire for its lack of minority head coaches.
"It's been very odd, to tell you the truth, this idea of identifying as something," McDaniel said when asked about his racial identity. "I think people identify me as something, but I identity as a human being and my dad's Black."
Though McDaniel identifies as just "human," during a time when the NFL is facing racial backlash, he doesn't want to focus on his race. Yet, many have mistaken him as a white man.
Writer Sean Beckwith with Deadspin wrote an article last month campaigning for NFL teams to hire minority candidates, saying McDaniel was taking the coaching position from deserving Black men.
"Mike McDaniel, the San Francisco 49ers offensive coordinator who has gone viral for his 'adorable' news conferences featuring references to Mike Jones and engaging answers, is ticking off all the boxes to be the next trendy, young, white guy who takes a head coaching position before one of the many deserving Black candidates," Beckwith wrote.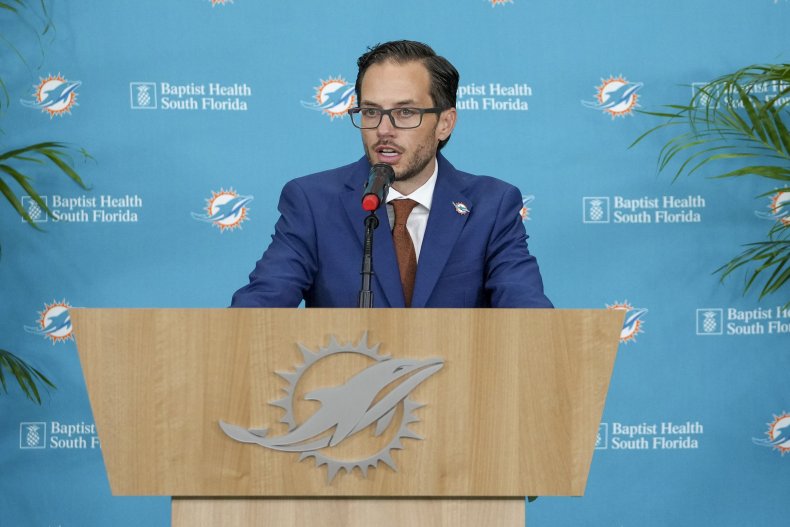 When Beckwith learned of McDaniel's background, it posted an editor's note: "We learned after the publication of this article that 49ers OC Mike McDaniel, whom we describe as a 'white guy,' is in fact biracial. ... We regret the error."
McDaniel's misidentification opened the opportunity for him to address the league's treatment of minorities through the lens of a biracial man, though he hasn't spoken out about it. ESPN commentator Stephen A. Smith said McDaniel's hiring doesn't address the NFL's coaching issue with Black men.
"That's how he identifies as multiracial, OK fine. This was a conversation, last week, about Black men, not getting jobs in the National Football League as head coaches," Smith said as his First Take co-host Molly Qerim clarified that McDaniel's father is Black. "I'm not knocking him. I wish him nothing but the best."
Although McDaniel is a minority, many people have questioned his blackness. He doesn't want to make it that big of a deal, despite the fact that the NFL requires teams to interview at least two external minority candidates for head coaching jobs.
"It's weird that it comes up because I've just tried to be a good person," McDaniel continued. "And I think my background opens my eyes a little bit. I don't have any real experience with racism because I think you identify me as something close to — I don't know. I know my mom experienced it when she married my dad. I know my dad experienced it and that's in my family. But I guess that makes me a human being that can identify with other people's problems."
McDaniel replaces Brian Flores, who was fired last month despite leading the Dolphins to a 24-25 record over three years. Flores is suing the NFL, the Dolphins, the Denver Broncos and the New York Giants, accusing them of racist hiring practices for aspiring coaches.