New Dr. Seuss Collection Brings Back Horton and Some Other Favorite Characters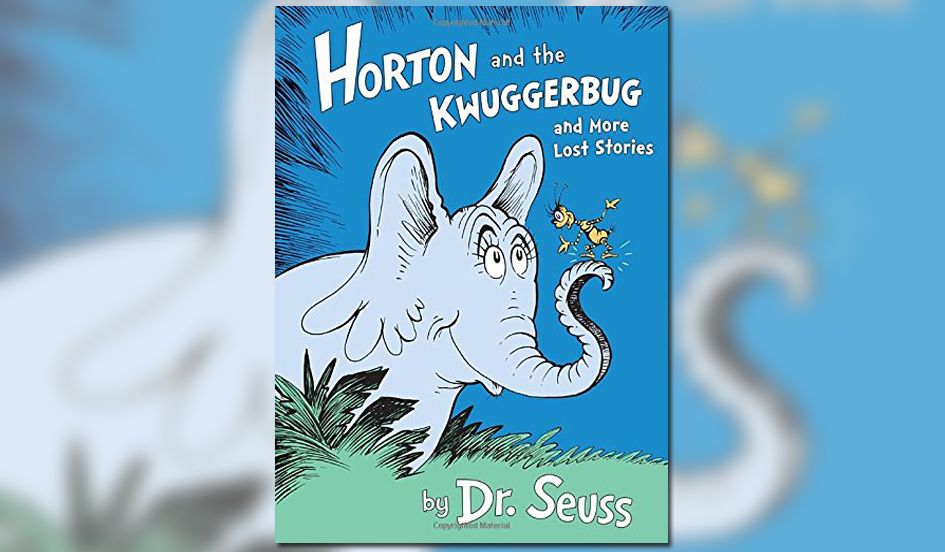 Four Dr. Seuss stories you don't likely remember
Will hit bookstore shelves on the ninth of September!
In the last sixty years these tales haven't been seen.
But how could it be so? What could it mean?
Well, it means more Seuss for you and more Seuss for me—
Four more new lost stories! Not one, two or three.
They've got Horton and Marco from Mulberry Street
And a whole different Grinch for us to meet.
The week after Labor Day will have so much in store
In that wonderful Seussiverse we all love to explore.
Horton and the Kwuggerbug and More Lost Stories comes courtesy of Charles Cohen, the leading authority on all things Seuss. Cohen studied English literature at Haverford College in Pennsylvania and, after graduating from Tufts University School of Dental Medicine, settled in Northampton, Massachusetts—just 20 miles from the hometown of the children's author of whom he would one day write a biography.
Cohen is a practicing dentist and, in his free time, a research hobbyist. His interests over the years have included bourbon, the history of baseball cards and the worst baseball players of all time. Usually Cohen finds out everything he wants to know about a topic in about six months, but that was not the case when he became interested in Theodor Seuss Geisel following his death in 1991. Not only was there a lack of readily available information about the man behind the pen name, but there was a great deal of misinformation about the author—and Geisel was often the one responsible for it. "He was a storyteller and a practical joker," Cohen tells Newsweek, "and when he was asked questions, he often placed a great deal more importance on how much fun the story was than how truthful it might be." For example, in a 1982 interview at the San Diego Museum of Art, Glenn Edward Sadler asked Geisel about the source of his inspiration as a writer and an artist, and Dr. Seuss replied, "I get all my ideas in Switzerland near the Forka Pass. There is a little town called Gletch, and two thousand feet up above Gletch there is a smaller hamlet called Uber Gletch. I go there on the fourth of August every summer to get my cuckoo clock repaired. While the cuckoo is in the hospital, I wander around and talk to the people in the streets. They are very strange people, and I get my ideas from them."
While that was an obvious joke, sorting fact from fiction wasn't always so easy. Cohen discovered that Geisel told conflicting stories even to the people with whom he was closest. For example, the story that Geisel told his second wife about the genesis of Horton Hatches the Egg, which was published 28 years before they married, began with the author "leaning back in his swivel chair, holding the tracing paper on which the first Horton was placed," the widowed Audrey Geisel told Parade magazine in 2004. "He held it up to the window, and there was a lovely pine outside. And he saw the ridiculosity of the elephant, Horton, sitting in the tree. That's how Horton hatched the egg." Cohen dug a little deeper, however, and found that the construction of the house with that view of the pine began in 1948, and Horton Hatches the Egg was published in 1940. The Horton-genesis story Geisel told his biographers, Judith and Neil Morgan, with whom he had been friends for three decades, didn't stand up to Cohen's scrutiny, either.
The challenge of figuring out what was true about the children's author drove Cohen to spend more than 25,000 hours studying the life and work of Ted Geisel. Over the course of his research, he kept seeing references to Dr. Seuss stories that he'd never heard and at first thought were just more misinformation. A trip to the magazine archives of the Boston Public Library proved otherwise. There, in Redbook issues from the 1940s and 1950s, Cohen discovered approximately 30 Dr. Seuss stories that had never made it into books. The illustrations, though tiny, were unmistakably Seussian, as were the themes, settings, characters, morals, rhythm and rhyme of the stories.
Feeling "as giddy as when [he] brought home a new Dr. Seuss book from the library as a kid," Cohen photocopied the pages and began collecting all of the magazine issues in which these stories appeared. He wondered why no one knew about them, and, wanting to share his discoveries with others, Cohen bought extra copies to sell on eBay. One day, he recognized the name of a buyer: Cathy Goldsmith, a Random House publishing executive he knew had worked with Geisel.
A year after that contact was established, Cohen's phone rang, and it was Kate Klimo, then vice president and publisher of Random House/Golden Books Young Readers Group. "It was all very surreal to have the head of the children's book division at Random House on the phone while I had a patient getting numb in the dental chair," says Cohen. They set up a time for Cohen to welcome to his Northampton home Klimo, Goldsmith and the late Herb Cheyette, who was at that time the representative of Geisel's estate. "I was definitely supposed to prove my bona fides," Cohen says of that meeting; among the items in his Seussiana collection that helped certify his expertise was a December 30, 1968 Newsweek issue, which had a piece about a lawsuit Geisel brought against Liberty Library Corp. and Poynter Products Inc. for turning cartoon characters he had drawn for Liberty magazine into a line of plastic dolls. Cohen also showed off his collection of those toys "and similar items from a decade earlier, about which [Cheyette] was completely unaware."
After this meeting and many follow-up emails, Cohen says, "They began to think of me less as just some dentist in western Massachusetts who seems to know a strangely large amount about Dr. Seuss" and more as a bona fide Ted Geisel expert who, it just so happened, could also write. They all started to plan a book that would become the 400-page, 700-image visual biography The Seuss, the Whole Seuss and Nothing but the Seuss, which Time magazine named the Best Pop Culture Book of 2004. Cohen knew his work had paid off when he received a note from Audrey Geisel saying, "I am truly in a state of complete awe and amazement! No one…has this incredible background on Ted that you have…not anyone in his family or anywhere else." That rewarding moment was followed by another when Cohen got an unexpected call from Geisel's book editor and close personal friend, Michael Frith, "who said that he purposely avoided books about Ted, because they were such good friends and had worked together so closely for decades and the stuff he's seen was always wrong." Cohen says, "But he decided to read The Whole Seuss and was calling to let me know that I'd nailed it."
While the success of that book delighted Cohen, for him, the best thing about the biography was that it included the first of the "lost" stories. Since then, Cohen has worked with Random House on four more Dr. Seuss books, and each of them has incorporated forgotten tales from Redbook and other magazines. Three were featured in the 50th Anniversary Retrospective edition of How the Grinch Stole Christmas (2007) and two others made it into the 50th Anniversary Retrospective edition of Yertle the Turtle and Other Stories (2008). The first collection composed entirely of stories Cohen rediscovered, The Bippolo Seed and Other Lost Stories, was published in 2011. It included seven of the "new" old tales and rose to the top of the New York Times best-seller list.
Random House is hoping for a repeat performance from Horton and the Kwuggerbug and More Lost Stories, the first 250,000 copies of went on sale September 9. The book features an eight-page introduction by Cohen and four stories written and illustrated entirely by Dr. Seuss. "Horton and the Kwuggerbug," "Marco Comes Late," "How Officer Pat Saved the Whole Town," and "The Hoobub and the Grinch" are stories Cohen ties together through the theme of "new experiences with old friends." We're reunited with our favorite faithful elephant, who learns that "a deal is a deal" when a selfish little Kwuggerbug tries to exploit him; Horton must bear the brunt of the journey to the Beezlenut tree (the fruits of which are mentioned in both Scrambled Eggs Super! and Horton Hears a Who!), while the freeloading despot "just [sits] there and [bosses], 'You hustle, now! Hustle! / I'll furnish the brains and you furnish the muscle." In another story, we reconnect with our imaginative friend Marco from Mulberry Street, whose tale that he tells to his teacher Miss Block about why he arrives at 11 o'clock is like a Ted Geisel response to an interview question: as entertaining as it is implausible. "How Officer Pat Saved the Whole Town" also takes places on Mulberry Street and features some wonderful illustrations and the same kind of slippery-slope/domino-effect mounting drama that makes us love the nursery rhyme "There Was an Old Lady That Swallowed a Fly." The last story in the collection features an anti-consumerist message and a grinch—but not the same one that stole Christmas. Though the shortest piece in the book, this may be the one that hit closest to home for the author; in the introduction, Cohen informs us of how weary Geisel became of consumer culture and his role in it as an advertising artist. Apparently, Geisel started incorporating Grinch-like figures in the last few billboard ads he drew before his contract was terminated when he wrote and illustrated a pamphlet supporting a ban on billboards.
"I can't describe how remarkable it feels to have played a part in giving people ready access to these works again," says Cohen, who adds thatHorton and the Kwuggerbug and More Lost Stories may be the last collection of its kind. "Although there are a dozen more 'lost' stories, that doesn't mean that the copyright issues can be resolved," he explains.
For his next Seuss project, Cohen hopes to re-create a version of the first book Geisel ever tried to get published. No publisher wanted to take a risk on a young, new author during the Great Depression, so Geisel sold the illustrations—"likely individually to a variety of different people," says Cohen. Working from newspaper descriptions of exhibits at which Geisel displayed the work, Cohen has found other Seuss illustrations of the same characters from that first book. It takes a bit of investigative work to track down Seuss artifacts, but that's part of what makes it fun for Cohen.
"The whole point is to find them, salvage them, preserve them for posterity, and let the public enjoy them once again," he says.