New Drug That Helps Identify Ovarian Cancer Is Approved by FDA
The Food and Drug Administration (FDA) on Monday announced the approval of a new drug that could help doctors detect ovarian cancer and improve surgical outcomes.
Pafolacianine, marketed under the brand name Cytalux, is administered as an intravenous injection just before a patient undergoes surgery to remove ovarian cancer tissue. The drug binds to a specific protein produced by ovarian cancer cells, allowing surgeons to see the cancerous tissue glowing under fluorescent light in the operating room.
Ovarian cancer treatment typically involves surgery to remove as much cancer as possible, followed by chemotherapy and other treatments intended to attack malignant cells and stop cancer from spreading. Surgeons currently rely on pre-surgerical imagining, as well as detecting cancer with the naked eye or identifying it by touch during surgery.
"The FDA's approval of Cytalux can help enhance the ability of surgeons to identify deadly ovarian tumors that may otherwise go undetected," Dr. Alex Gorovets, deputy director of the Office of Specialty Medicine in the FDA's Center for Drug Evaluation and Research, said in an FDA release.
"By supplementing current methods of detecting ovarian cancer during surgery, Cytalux offers health care professionals an additional imaging approach for patients with ovarian cancer," Gorovets added.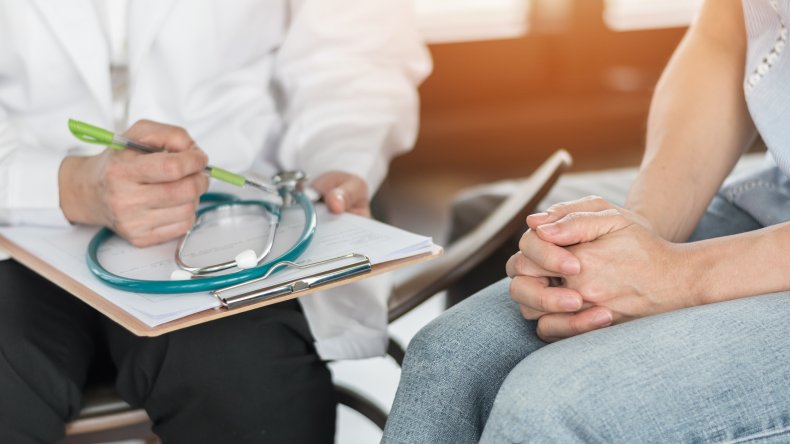 A study that involved giving the drug to 134 ovarian cancer patients aged 33 to 81 found that 26.9 percent had a cancerous lesion detected that would not have been noticed using standard techniques. The most common infusion-related side effects of the drug included nausea, vomiting, abdominal pain, chest discomfort and itching.
"Complete removal of all malignant tissue is the goal of ovarian cancer surgery, however identifying all lesions can be challenging," Dr. Janos L. Tanyi, an associate professor of Obstetrics and Gynecology at the University of Pennsylvania and an investigator during Phase 2 and 3 studies of the drug, said in a statement.
"In the Phase 3 study, additional cancer was detected in 27% of patients, showing great promise in the ability of CYTALUX to help surgeons identify malignant lesions that may otherwise be missed during surgery," Tanyi stated.
Patients given Cytalux need to avoid folate, folic acid or supplements that contain folate for 48 hours before they are given the drug, as the protein that the drug binds to are folate receptors. The FDA also noted that the drug could cause harm to fetuses if administered during pregnancy.
Ovarian cancer is the most deadly form of cancer affecting the female reproductive system, according to the American Cancer Society. The organization estimates that 21,410 new cases of the disease will be diagnosed by the end of 2021—90 percent of which will be epithelial ovarian cancer, the type with the worst prognosis. Around 13,770 women are expected to die from ovarian cancer this year.
Treating ovarian cancer with techniques that allow "improved visualization of tumors during surgery is a "good model," according to William G. Cance, MD FACS,
Chief Medical and Scientific Officer for The American Cancer Society. Cance told Newsweek in a statement that although multiple similar "approaches" were being tested, Cytalux was "one of the first successful attempts at being able to visualize ovarian cancers that were not able to be detected" during surgery previously.
"Significant progress has been made in ovarian cancer," said Cance of the tools available to doctors who treat the disease currently when compared to 20 or 30 years earlier. "The development of precision-targeted therapeutics and the use of immunotherapy in ovarian cancer care are being moved to the forefront of care and being tested in multiple clinical trials."
Update (11/30, 6:27 p.m.):This article has been updated to include a statement from Dr. William G. Cance.