New Emails Undercut Trump's Claim About When Ukraine Knew About Withheld Aid
New evidence shows that Ukraine became aware of the hold on nearly $400 million in U.S. military aid much sooner than President Donald Trump, his legal defense team and Republican allies had maintained during the impeachment trial.
Emails obtained by the legal blog Just Security suggested Ukrainian officials became aware of the hold at least a week before the publication of an Aug. 28 Politico story, an article that Trump and his supporters have repeatedly pointed to as the date Ukraine first became aware of the delayed money.
The emails showed that a top Department of Defense (DoD) counsel asking his counterpart at the White House Office of Management and Budget (OMB) about the withheld aid Aug. 22. This came as a congressional delegation learned of the hold during a trip to Ukraine earlier in August and wanted answers from DoD about it.
The unredacted messages between DoD's Edwin Castle and OMB's Mark Paoletta also detailed the extent to which OMB misled and lied to a Congressional watchdog that determined the withheld aid was illegal.
The news further undercuts the narrative by Trump, his legal defense team and Republicans, all of whom have argued Ukraine could not have linked the aid and a request to investigate former Vice President Joe Biden because Ukraine was unaware the aid was being withheld.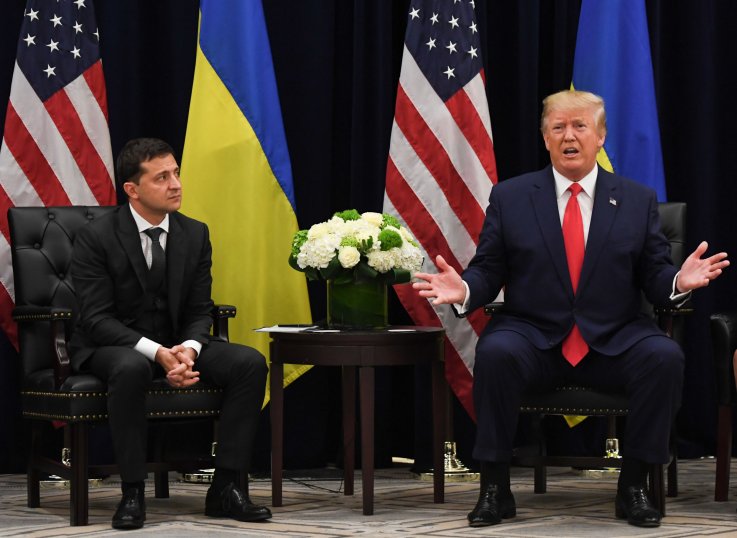 "President Zelenskiy and high-ranking Ukrainian officials did not even know—did not even know—the security assistance was paused until the end of August, over a month after the July 25 call," Deputy White House counsel Mike Purpura argued during the Senate impeachment trial. It concluded last week with Trump's acquittal.
Prior to the Just Security story, several revelations undercut the GOP claim about Ukraine's unawareness to the assistance hold: a former top Ukraine official told The New York Times they learned of the hold in July and a senior DoD official testified in the House impeachment inquiry that Ukrainian officials were aware in July.
"We had this information," Olena Zerkal, former deputy foreign minister of Ukraine, told The Times. "It was definitely mentioned there were some issues."
Deputy Assistant Secretary of Defense Laura Cooper was the U.S. official who testified similar information in the inquiry hearing.
"On July 25, a member of my staff got a question from a Ukrainian Embassy contact asking what was going on with U.S. security assistance," she told lawmakers. July 25 was the same day as Trump's now-infamous phone call with Ukrainian President Volodymyr Zelensky.
In addition, text messages revealed as part of the inquiry showed that former special U.S. envoy to Ukraine Kurt Volker told a top aide to Zelensky just hours before the July 25 phone call that a White House visit was conditioned on announcing the political probes.
New Emails Undercut Trump's Claim About When Ukraine Knew About Withheld Aid | Politics