A new set of disability-themed emojis has been approved for use by the Unicode Consortium—the global non-profit organization which provides standards for the ubiquitous symbols.
Among the new characters are a woman in a motorized wheelchair, a deaf person, a man with a probing cane, a guide dog, an ear with a hearing aid, and a prosthetic leg.
The disability-themed emojis form part of Unicode's updated list for 2019, which includes 59 new icons with a total of 230 variants (for example, different skin colors.) It is expected that they will be available for use by the second half of this year.
Unicode's decision to include the themed icons came after a request from tech giant Apple to better represent individuals with disabilities.
"Currently, emoji provide a wide range of options, but may not represent the experiences of those with disabilities," the company wrote in a letter to Unicode last March. "Diversifying the options available helps fill a significant gap and provides a more inclusive experience for all.
"One in seven people around the world has some form of disability, whether that be a physical disability involving vision, hearing, or loss of physical motor skills, or a more hidden, invisible disability," the letter continued.
"The current selection of emoji provides a wide array of representations of people, activities, and objects meaningful to the general public, but very few speak to the life experiences of those with disabilities."
As part of their request, Apple submitted 13 designs which it had developed in consultation with the American Council of the Blind and the National Association of the Deaf, USA Today reported. The latest additions have been welcomed by disability rights campaigners.
"Love them or hate them, emojis have become part of our everyday digital lives," Phil Talbot, from the U.K. disability charity Scope, told Newsweek. "Social media is hugely influential and it's great to see these new disability–inclusive emojis. Up to now disability has been greatly underrepresented. We'd also like to see greater representation of disabled people and disability across all parts of the media and social media."
Unicode—a consortium consisting of representatives from various technology companies—ensures that standards are maintained, and that text is legible between different devices and apps. Platforms which use Unicode emojis have the freedom to play with the designs, however, sufficient similarities must be retained between products.
There were other notable additions in the set of new characters, including interracial couples—which were proposed by the popular dating app Tinder—as well as a drop of blood that can be used to symbolize blood donation or menstruation.
"For years we've obsessively silenced and euphemized periods," Lucy Russell, from women's rights charity Plan International, which campaigned for a period-themed symbol, told the BBC. "An emoji isn't going to solve this, but it can help change the conversation. Ending the shame around periods begins with talking about it."
Other inclusions in the updated list are a sloth, garlic, falafel, an ice cube, a Hindu temple, a parachute, a ringed planet, a kite, a one-piece swimsuit and an axe.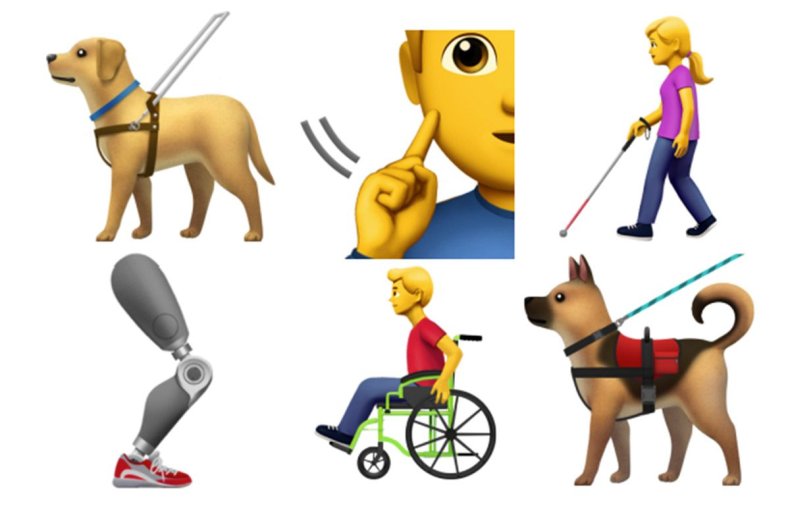 This article was updated to include comments from Phil Talbot.