Former New England Patriots tight end Christian Fauria believes the six-time Super Bowl winners will be better off without Tom Brady.
The veteran quarterback brought the curtain down on a two-decade spell in New England in March, leaving the Patriots to sign a two-year, $50 million deal with the Tampa Bay Buccaneers as a free agent. Brady's departure from New England sent shockwaves throughout the NFL and marked the end of football's most successful dynasty.
Since drafting Brady in 2000, the Patriots have reached nine Super Bowls, winning six of them, and topped the AFC East for 11 consecutive seasons. In comparison, the franchise had played for the Vince Lombardi Trophy just twice in the four decades before Brady and Bill Belichick arrived in New England in 2000.
Fauria, however, believes his former team made the right call by parting ways with its legendary quarterback.
"They're better off without him. It has nothing to do with Brady's skillset. It's not because he's not good or he can't throw it or he's lost some speed on his fastball," Fauria, who played alongside Brady for four seasons and won Super Bowl XXXVIII and XXXIX with the Patriots, said on the Ordway, Merloni & Fauria show on New England radio station WEEI-FM.
"It's because where he was in his career, his age, what he wanted to achieve and what the Patriots were trying to achieve were completely different. So it was never going to work out. They were never going to see eye to eye.
"This offense is not going to be able to move forward with Brady as the quarterback, not because he sucks. Those throwaways were important. It's because he wasn't willing to adapt. There's the difference. He wasn't willing to let [wide receiver] N'Keal Harry grow."
Fauria then elaborated on his view, suggesting that both Belichick and Patriots offensive coordinator Josh McDaniels "were just ready to change" and move on from Brady.
He explained that the six-time Super Bowl's ferocious will to win made him unlikely to take risks and could hinder the development of the Patriots' offense.
Brady, Fauria continued, is "a veteran quarterback who wants to win and throw the football and is not willing to take risks and doesn't want his stats being messed with."
Throughout his career, Brady has placed a high price on ball security, often preferring to throw the ball out of bounds rather than risking an interception—he has thrown less than 10 picks in eight of his 20 seasons in the NFL.
Fauria, however, suggested his former teammate's conservative approach could be detrimental to the plans Belichick and McDaniels have for New England's offense.
"That's the guy [Brady] that is going to delay the development of your star wide receiver who you won't throw the ball to because you don't trust him because he doesn't have a long enough track record," he continued.
"This year. Right now, the offense is better off with Tom Brady. They are better off without him this year, yes."
With 179 picks in 20 seasons, Brady ranks joint 41st in the all-time list for intercepted passes, according to Pro Football Reference figures. Of the quarterbacks still playing, only Drew Brees, Philip Rivers and Ben Roethlisberger have thrown more interceptions than the six-time Super Bowl winner.
However, of the current quarterbacks who have thrown fewer picks than Brady, only Aaron Rodgers, Russell Wilson and Joe Flacco have won a Super Bowl.
Rodgers, however, was drafted five years after Brady and did not become a starter until 2008, the same year that Flacco entered the league. By the time Wilson was drafted by the Seattle Seahawks, meanwhile, Brady already had three Super Bowl rings, two MVP and two Super Bowl MVP crowns to his name.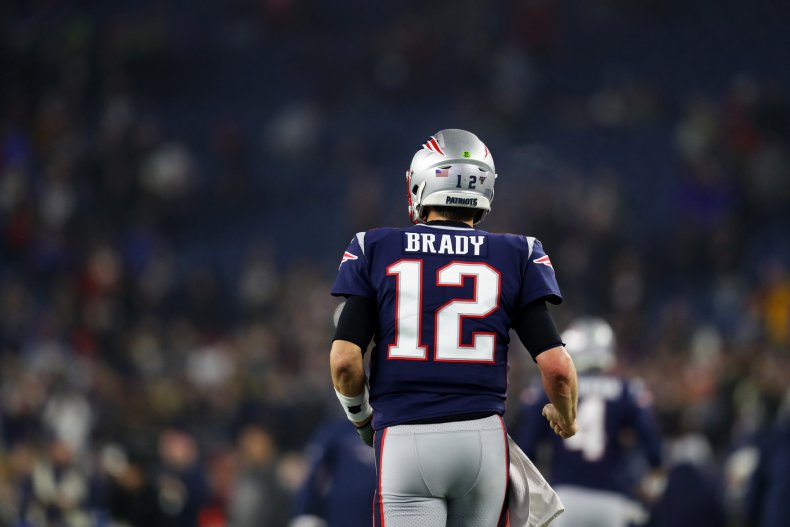 Uncommon Knowledge
Newsweek is committed to challenging conventional wisdom and finding connections in the search for common ground.
Newsweek is committed to challenging conventional wisdom and finding connections in the search for common ground.
About the writer
Dan Cancian is currently a reporter for Newsweek based in London, England. Prior to joining Newsweek in January 2018, he was a news and business reporter at International Business Times UK. Dan has also written for The Guardian and The Observer.