New England Patriots and Donald Trump's Love Affair, Explained: Tom Brady, Bill Belichick, Robert Kraft All Friendly With President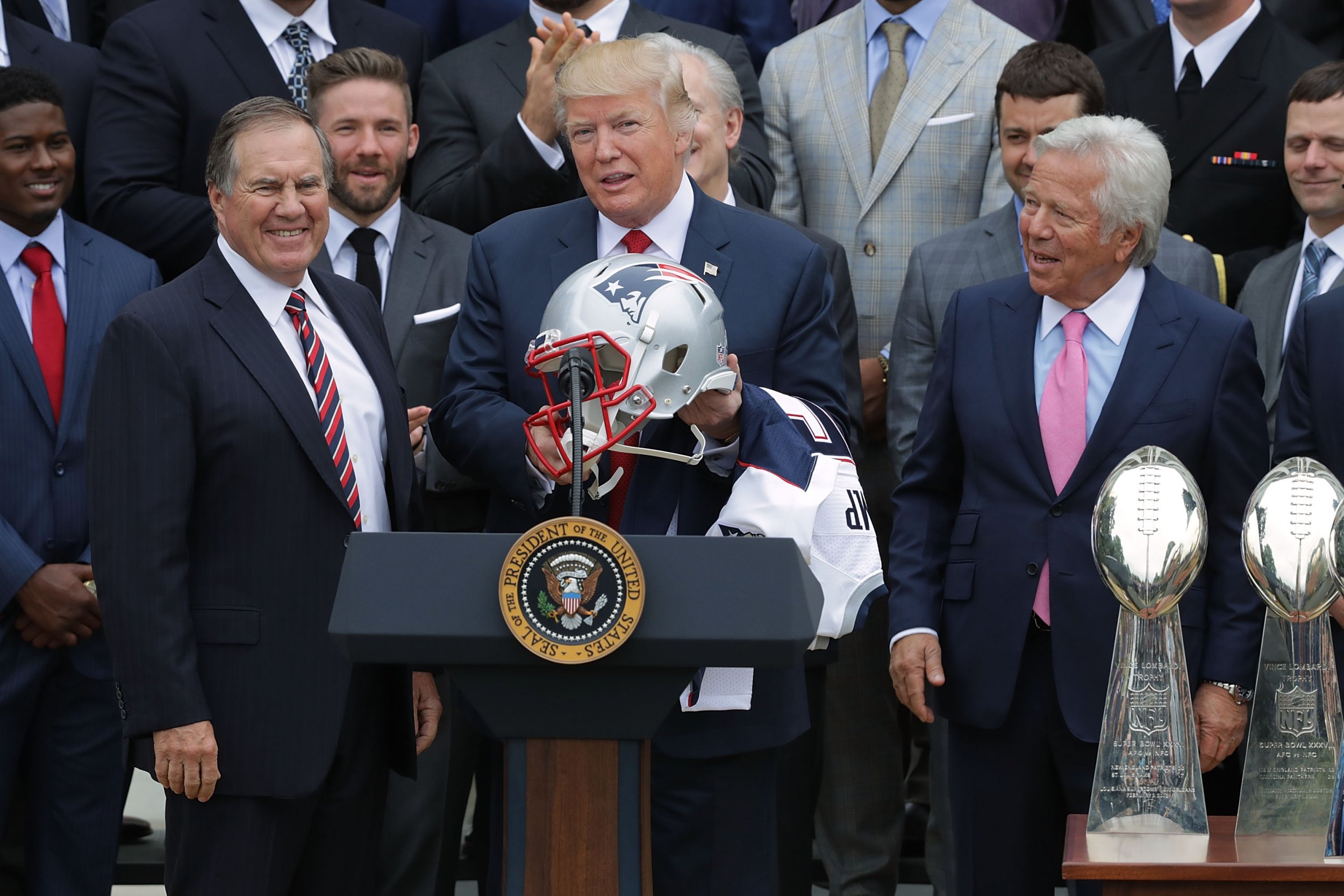 New England Patriots owner Robert Kraft praised President Donald Trump on Friday amid the build-up to the Super Bowl in Atlanta, where his franchise will take on the Los Angeles Rams.
Kraft said Trump was "working very hard to serve the best interests of the country," during an appearance on the president's favorite morning show, Fox & Friends.
NFL franchises are typically resistant to anything that could potentially be labeled a distraction—that is, in part, how they've explained Colin Kaepernick's joblessness—and Trump is nothing if not a walking, talking distraction. Yet it should come as no surprise Kraft went out of his way to talk-up the Republican president.
The holy trinity of the New England Patriots dynasty—Kraft, quarterback Tom Brady and coach Bill Belichick—have long had a cozy relationship with the former reality TV star.
Kraft has said he has known Trump for decades and that the now-president was especially kind to him when his wife died in 2011.
Brady, meanwhile, has been displaying his support for Trump dating back to 2015, when the billionaire was running for president. The quarterback widely considered to be the greatest-of-all-time displayed a MAGA hat in his locker. They'd apparently met through a Miss USA pageant and Brady defended him as his friend, while carefully avoiding taking any real political stand.
"He's a good friend of mine. He's always been so supportive of me," Brady said on local sports radio station WEEI in 2015. "He's always invited me to play golf and I've always enjoyed his company. I support all my friends in everything they do."
He has since regularly said he is friends with Trump while dodging saying anything of any real substance. Both he and Kraft, however, spoke out against Trump's many insults of players who kneeled during the national anthem in 2017—both called it divisive.
"Yeah, I certainly disagree with what he said. I thought it was just divisive," Brady said on WEEI. "Like I said, I just want to support my teammates. I am never one to say, 'Oh, that is wrong. That is right.' I do believe in what I believe in. I believe in bringing people together and respect and love and trust."
And Brady did skip a White House visit in 2017. While the quarterback said he missed the trip due to family reasons, it reportedly upset Trump. But the president is still firmly on the Patriots bandwagon.
"So, it's talent, it's chemistry—they have a great chemistry with each other—I mean, I like all three of them, as you know, I'm a very good friend with them. Coach Belichick endorsed me, you remember that?" Trump told the conservative outlet the Daily Caller in an interview this week. "Belichick is so tough and Kraft is a great guy. The three of them they just have—how good was Brady, I mean, the last game? Not the last game, the last two games. Brady plays better under pressure than he does in a regular game. I mean, that last two minutes, the way he was throwing the ball down the field—they were bullets."
Indeed, Belichick has confirmed he wrote a letter of support to Trump around election time in 2016.
Trump was so proud he read it onstage, saying it read, in part:
"Congratulations on a tremendous campaign. You have dealt with an unbelievable slanted and negative media, and have come out beautifully – beautifully. You've proved to be the ultimate competitor and fighter. Your leadership is amazing. I have always had tremendous respect for you, but the toughness and perseverance you have displayed over the past year is remarkable."
The Trump-Patriots connection runs deep and it's a safe bet that come Sunday, the man in the White House won't be rooting for L.A.
"Congratulations to Bob Kraft, Bill Belichick, Tom Brady and the entire New England Patriots team on a great game and season," Trump tweeted after the team clinched their spot in the big game. "Will be a fantastic Super Bowl!"
Trump offered no such message to mark the Rams' victory over the New Orleans Saints to seal their own spot in Atlanta on Sunday.