What Is Julian Edelman's Net Worth? The Patriots Wide Receiver Just Signed a Two-Year Extension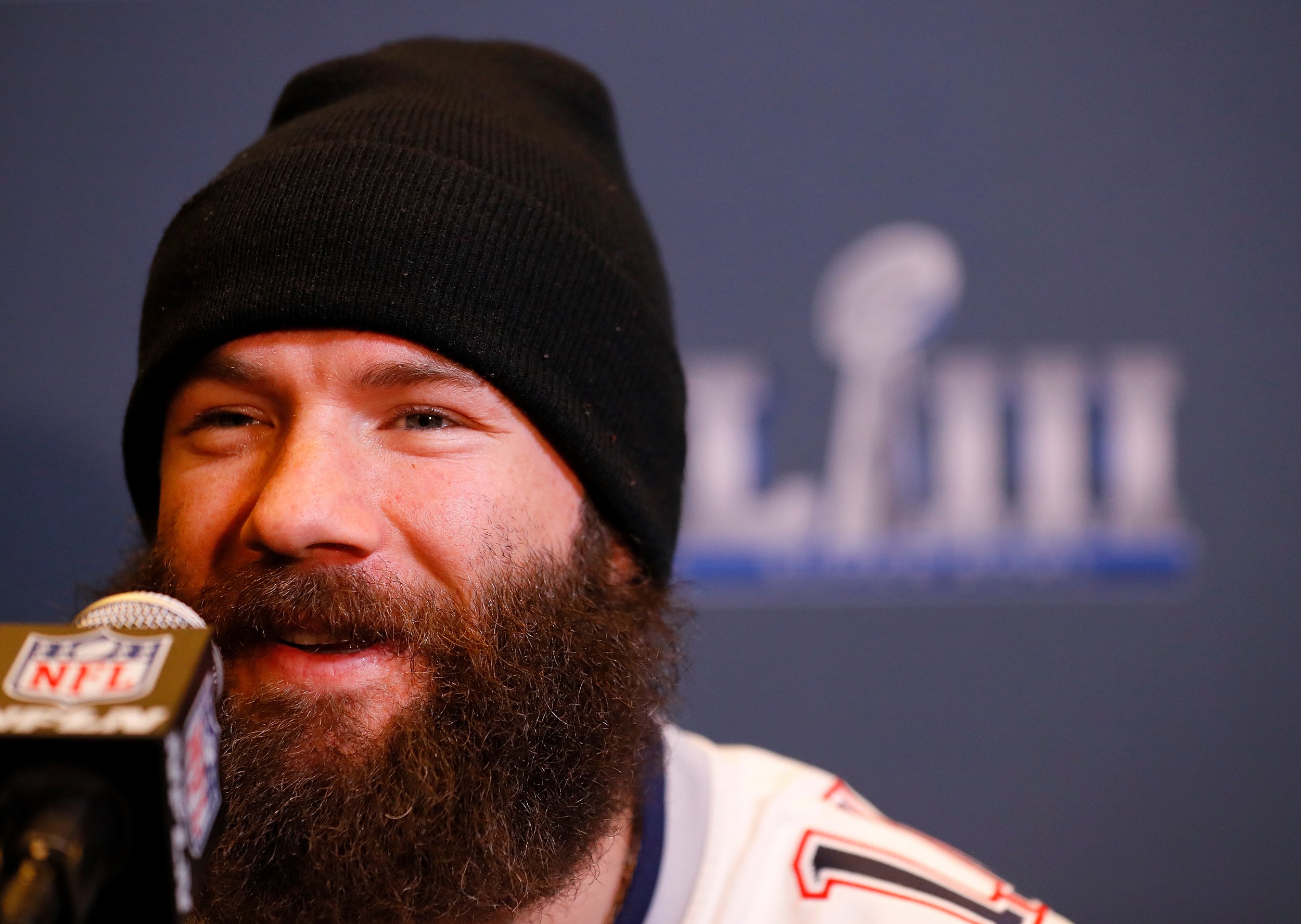 The New England Patriots' Julian Edelman signed a two-year extension on Tuesday, making his contract worth $19 million. This new contract will keep him with the Patriots through 2021, giving his net worth a sizeable bump.
The contract guarantees Edelman $12 million over the two-year deal with a base annual salary at $2 million, according to ESPN. He'll receive a $500,000 workout bonus and $375,000 in roster bonuses, among other incentives.
The deal for the veteran Patriots wide receiver all but guarantees he'll be able to retire with the team he was first drafted to in 2009. Over the course of his career, Edelman has earned three Super Bowl rings and was named the Most Valuable Player during this year's Super Bowl LIII, where he had 10 catches for 141 yards in this year's win against the Los Angeles Rams.
His MVP Super Bowl win was made extra sweet after being sidelined during the previous season because of an injury.
"I didn't see that coming, really," Edelman told Good Morning America after the Patriots Super Bowl win. "I was just so happy we won the game. It's tough football. We had a resilient group out there that just kept hitting at the door and finally it broke when it had to and we were able to sneak away with a win."
Before the announcement of the new contract, Edelman had a net worth of $25 million, according to Celebrity Net Worth. This included his NFL earnings and money made from his three published books, Flying High, Flying High 2 and his memoir, Relentless. With this new contract, Edelman's net worth could reach $40 million.
But Edelman's net worth could take a hit like it did early 2018 when the wide receiver was hit with a four-game suspension for testing positive for performance-enhancing drugs. He appealed the decision, but the NFL ultimately upheld the decision. The suspension cost Edelman nearly $1 million in fines. He was also fined for attacking player Deone Bucannon in 2016.
Born in Redwood City, California in 1986, Edelman played for Kent University and the College of San Mateo as a quarterback before being drafted by the Patriots during the seventh round of the 2009 NFL Draft. He is ranked one of the most productive receivers in NFL history, but his trajectory from college quarterback to history-making NFL wide receiver wasn't easy. He credits his relationship with his Patriots teammate, Tom Brady, as the reason he has been a success.
"To comprehend the reason that I am where I am in the NFL right now is in large part thanks to Tom Brady," Edelman told Forbes in 2016. "The trail and grind that we have put in together during off-season is very important."