New England Patriots Wide Receiver Antonio Brown Accused of Raping Former Trainer in 2018
NFL wide receiver Antonio Brown has been accused of raping his former trainer, according to a lawsuit filed Tuesday. Just last Saturday, Brown signed to play with the New England Patriots just three days after maneuvering his way out of a contract with the Oakland Raiders.
The lawsuit filed in the Southern District of Florida alleges Brown, in three separate incidents, sexually assaulted his former trainer, Britney Taylor. Taylor, a former gymnast, met Brown at Central Michigan University; later, he hired her as his personal trainer, according to a New York Times report.
The lawsuit alleges Brown sexually assaulted Taylor twice in June 2017 and again in May 2018. Darren Heitner, Brown's attorney, denies Brown ever sexually assaulted Taylor, and says he will do what it takes to clear the receiver's name.
"Mr. Brown denies each and every allegation in the lawsuit," Heitner said. "He will pursue all legal remedies to not only clear his name but to also protect other professional athletes against false accusations."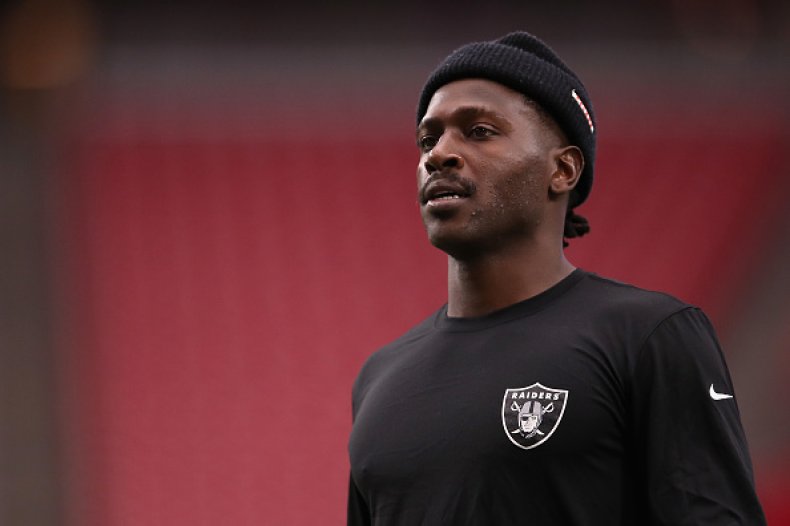 The lawsuit claims claims the first accusation in June 2017 happened when Brown allegedly exposed himself and kissed Taylor without her permission. The second time that month, Brown masturbated behind Taylor while she was watching a TV program, and eventually "ejaculated on her back," according to the Times. The report states that Brown bragged about it in text messages that are copied and attached to the lawsuit.
Taylor ceased her working relationship with Brown, who eventually contacted her to apologize, and she caved after being "swayed by his assurance that he would cease any sexual advances."
Then in May 2018, Brown forced her onto a bed and "forcibly raped her," according to the report. The lawsuit states she yelled "no" and "stop," and that she screamed as he ignored her denial.
"As a rape victim of Antonio Brown, deciding to speak out has been an incredibly difficult decision," said Taylor, who included she would cooperate with any NFL investigation. "I have found strength in my faith, my family, and from the accounts of other survivors of sexual assault."
The Times story does not say whether or not Taylor reported her accusations to police when they occurred.
Brown has been one of the top receivers in the NFL over the last eight seasons with the Pittsburgh Steelers. He was selected to seven Pro Bowls in that span and was named to the league's All-Pro team for four consecutive seasons.
This offseason, he was traded to the Oakland Raiders for two draft picks, but he showed up to training camp with frostbite on both his feet from cryotherapy. Once able to practice, he complained to the league about its new helmet rule, and he eventually got into verbal spats with Raiders general manager Mike Mayock, even threatening to assault Mayock while allegedly calling him racial slurs.
After the Raiders fined Brown $215,000 for conduct detrimental to the team, Brown asked for a release from his $30 million contract, which the Raiders granted last Friday.
One day later, Brown signed with Super Bowl champions, the New England Patriots. Brown had to sit out last weekend's game — ironically, against the Steelers — and was slated to play this weekend when the Patriots travel to play the Miami Dolphins.
Neither the league nor the Patriots have responded to the lawsuit.