Over the last several years, the tiny Gulf emirate of Qatar has waged an intense—and costly—war for the hearts and minds of conservatives and Republicans. Even as it's been a chief exporter of Islamist ideology and state sponsor of the Muslim Brotherhood, the lure of Qatar's vast oil and natural gas wealth has enabled it to win friends in unlikely places.
Qatar's public relations task has been urgent for years. In the summer of 2017, a coalition of Arab states, led by Saudi Arabia and the United Arab Emirates, began a blockade of neighboring Qatar and issued a list of demands to the ruling al-Thani family. The demands focused on its support for the Sunni Islamist Muslim Brotherhood, which the other states rightly consider a terror group, as well as for the Shiite theocracy in Iran. The coalition alleged that Qatar was using its Al Jazeera network to foment revolution in the region—something it had been doing with much success since the Arab Spring in late 2010.
For Qatar, conflict with its neighbors would be won in Washington, chiefly through the use of an army of lobbyists, media outlets and think tanks.
Recently, the Houston, Texas-based Qatar-American Institute (QAI), which describes itself as a non-profit "independent 501(c)(3) research institute," filed under the Foreign Agents Registration Act (FARA) for lobbying on behalf of Qatar, revealing it accepted $5.2 million from that nation's Washington embassy in 2019.
FARA requires American organizations and individuals that receive money from abroad with the goal of influencing the government, media or the public to disclose their spending. According to filings submitted to the Department of Justice, the QAI lists its "foreign principal" as "The State of Qatar, including through the Embassy of Qatar, Qatar National Tourism Council and Supreme Committee for Delivery and Legacy."
Tracking where that money was spent is fascinating, and the receipts illustrate how Qatar spreads its money around, covering its bases with a wide array of influencers—both supportive and opposed to President Donald Trump.
According to The Wall Street Journal, former Qatar lobbyists Nick Muzin and Joey Allaham targeted 250 key "Trump influencers"—plying them with money, junkets to Doha and other goodies—in order to influence White House policy in the Gulf.
An influence operation is the strategic use of interpersonal relationships and institutions. A long-term relationship or affiliation with an institution or person builds and solidifies the kind of goodwill that can be immensely valuable for a lobbyist to exploit. It takes surprisingly little contact and effort for a target of an influence operation to become an ally. A longtime friendship with a lobbyist, for example, can make one predisposed to trust and feel sympathy for his client's point of view.
Starting in October 2017, and lasting through October 2019, Qatar paid $180,000 to Common Sense Media Holdings LLC, the company that produces pro-Trump commentator John Fredericks' radio show. He was the Virginia chairman of the Trump presidential campaign in 2016 and is currently an advisory board member of the 2020 Trump/Pence re-election campaign.
In exchange, according to the Qatar-American Institute's FARA filing, Fredericks would provide "access to key guests"; "regular show appearances by highly ranking Qatar officials, business leaders, experts;" the broadcast of "live shows every other month at QAI to promote Qatar's progress," including its hosting the 2022 World Cup; and "regular discussions with U.S.-based and overseas Qatar officials for background and education."
Soon, pro-Trump Republican listeners in Virginia were getting a steady stream of commentary favorable to Qatar from Fredericks' show. "By March," The Daily Beast writes, "Fredericks was broadcasting from Doha, where he interviewed multiple senior government officials about a Saudi-led blockade against Qatar."
Qatar didn't just pay pro-Trump voices to try to influence American policy on its behalf; the emirate sought out prominent NeverTrump commentators frequently found on cable news criticizing the White House.
Even as Donald Trump enjoys overwhelming support from Republican voters, there's a tiny minority of Trump opponents who are nevertheless valuable to Qatar's influence-peddlers. While the party's dissident elite is very small, it punches above its weight; NeverTrump Republicans still populate influential positions on Capitol Hill, in K Street lobbying shops and—significantly—on cable news.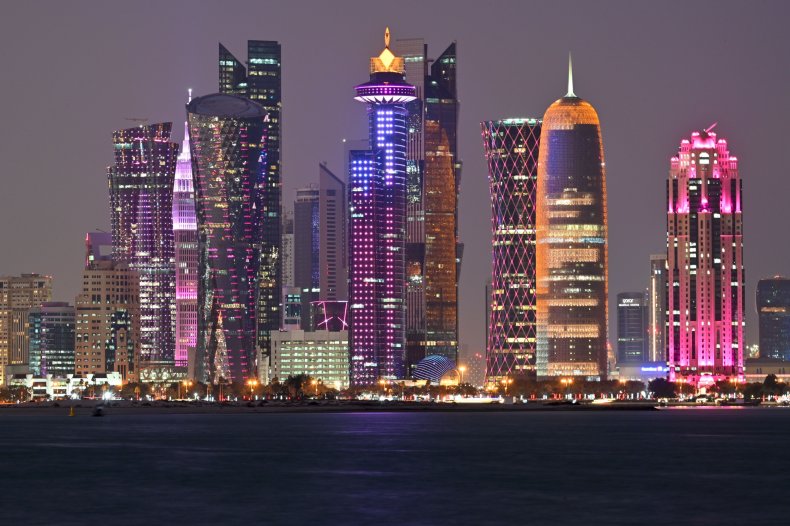 According to their FARA filings, the QAI paid more than $219,000 to Coast to Coast Strategies, which touts former Republican National Committee Chairman Michael Steele as a principal. The sum was marked as "arrangements for QALE Delegation" in late 2019, and is likely a reference to the QAI's Qatar-American Leadership Exchange (QALE) trip to the Doha Forum.
Steele and foul-mouthed NeverTrump provocateur and former GOP consultant Rick Wilson were seen in the Qatari capital for the Doha Forum in late 2018, smiling for cameras and giving pro-regime interviews for use in American social media.
When politicians or influencers are taken on lavish, all-expense-paid junkets, it's a clear example of bribery. The quid pro quo—say, on a trip to the Doha Forum—doesn't have to be immediate, and it doesn't have to be readily apparent. There is, however, a promise of some kind of profit: money, fame, career advancement or even claimed virtuousness. Wealthy nations like Qatar have the ability to extend these kinds of benefits to a great many people—and they do.
Even today, Fredericks attacks Qatar's enemies, mainly in Riyadh, and blasts the Saudi blockade of his former client. It seems that the Islamist emirate can count on him through thick and thin.
Responding to the revelation in the QAI's FARA filing, radio host Fredericks was non contrite. As if to shrug his shoulders and admit he was for sale, he told The Daily Beast, "at the end of the day, I'm in business to sell advertising."
But there is a difference between hawking a product and doing damage control for a foreign regime that funds Hamas and the Muslim Brotherhood—and has provided safe haven for Islamist terrorists from the Taliban to al-Qaeda. Or at least there should be.
David Reaboi is a veteran national security and political communications consultant. He lives in Miami Beach and tweets at @davereaboi.
The views expressed in this article are the writer's own.