California Wildfire Map, Update As Blazes Scorch Over 500 Square Miles
Fire crews in California have been battling a new wildfire that broke out on Tuesday afternoon, as almost 80 large-scale blazes continue to burn across the U.S.
The new blaze, which has been named the McCarthy Fire, was first reported near the 500 block of Mill River Lane close to San Jose at around 4:00 p.m. on Tuesday, according to a tweet from the city's fire department.
The department advised residents to shelter in place, but did not issue any evacuation orders while crews attempted to control the vegetation fire. The blaze was still burning at the time of the department's latest Twitter update, at 9:25 p.m. local time.
Fire crews were expected to continue working throughout the evening. The San Jose Fire Department added that although it did not yet know how much land had been destroyed, the area of vegetation where the blaze broke out spanned 50 to 75 acres.
The San Jose firefighters were assisted on Tuesday evening by a crew from Cal Fire and a unit from the nearby Milpitas Fire Department.
Galahad Zamora of Milpitas Fire Department told NBC Bay Area on Tuesday evening that the crews were going to struggle to contain the blaze, saying: "Our crews have been taxed. All of our units are out. We're out of personnel … we know we're going to be out here all night."
California is already struggling to contain six other active blazes that have burned 332,838 acres across the state, according to the National Interagency Fire Center. These include the large Dixie Fire, which has destroyed more than 212,000 acres and is only 23 percent contained, according to Cal Fire figures from Tuesday.
So far this year, 323 structures in California have been damaged or destroyed and 458,429 acres have been burned by wildfires, according to Cal Fire. The land burned now covers 716 square miles—an area about 100 square miles larger than London.
There are currently 79 large wildfires burning in the U.S. after a heatwave and drought in early July caused blazes to break out across the West Coast, according to the National Interagency Fire Center.
More than 21,000 wildland firefighters and incident management teams are battling the blazes, which have so far burned over 1.5 million acres across 12 states. The worst-affected states are Oregon, California and Idaho.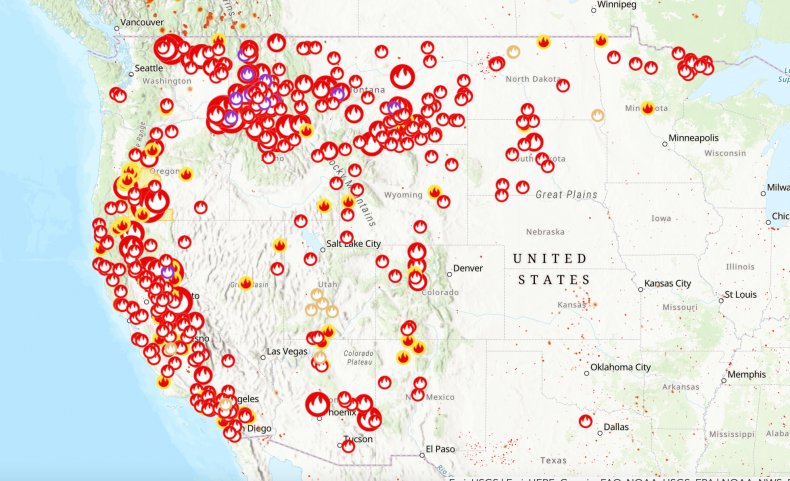 The number of active large fires has fallen from the 85 recorded on Tuesday, but many of them are expected to continue burning for the foreseeable future.
The largest active blaze in the U.S. is the Bootleg Fire in Oregon, which has burned more than 413,000 acres. It began burning on July 6 and is only 53 percent contained.
Across the United States, more acres have burned this year compared to this point in 2020 and in 2019. There were 37,009 fires affecting 3,392,053 acres recorded from January 1 to July 28, 2021, according to the National Interagency Fire Center.
That compares to 31,226 fires and 1,964,416 acres for the same period in 2020 and 25,357 fires and 3,149,811 acres in 2019.
Newsweek has contacted the San Jose Fire Department for comment.