24 New Food Items at Major League Baseball Stadiums in 2017, Ranked from Least to Most Disgusting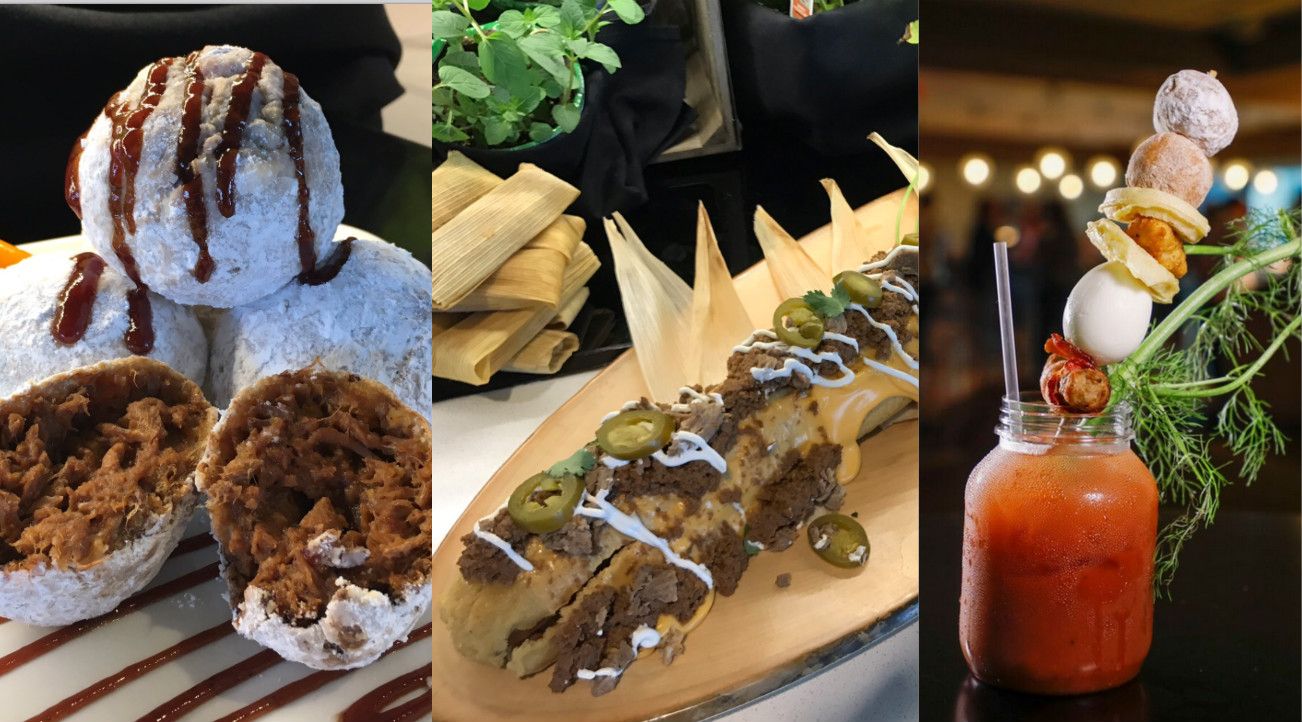 Baseball is slow. In 2016, the average game took three hours to complete, but often stretched well beyond that. Many will chalk this up to tradition, but in reality the league needs to consider ways to pare down the game to accommodate our shortening attention spans. They've kind of tried this year, by expediting instant replay and allowing teams to automatically intentionally walk opposing batters instead of having to throw four balls. But these are cosmetic changes, and it seems to be an immutable fact of life that baseball games are long and, often, pretty boring.
Related: Tony Romo could be one of the greatest ever in the broadcast booth
One of the ways in which ballparks have tried to compensate for this immutable fact is by turning their concession stands into the most disgusting laboratories of food experimentation outside of Carl's Jr. and Taco Bell. Every year, Major League Baseball stadiums around the country test the bounds of how many ingredients those little flimsy cardboard troughs can carry without losing their structural integrity. Gone are the days of hot dogs and soft pretzels. We're now trading in slow-roasted pulled pork, mac and cheese and funnel cake batter. So, in celebration of the many afternoons and evenings Americans will spend regretting their dietary choices in the stands this year, here's what you can look forward to this year, so long as your stomach can take it.
24. Tuna Poke Bowl (Dodger Stadium)
Not the first thing that comes to mind when one thinks of "ballpark food." Healthy. Trendy. Not disgusting.
23. Loaded Tater Tots (Dodger Stadium)
It's quaint that the Dodgers consider tater tots topped with garlic, oil and parmesan to be "loaded." Then again, they're serving poke bowls so what can you expect? We're going to go ahead and call it early: Dodgers Stadium has the least disgusting concessions in Major League Baseball.
22. Lobster Melt (Fenway Park)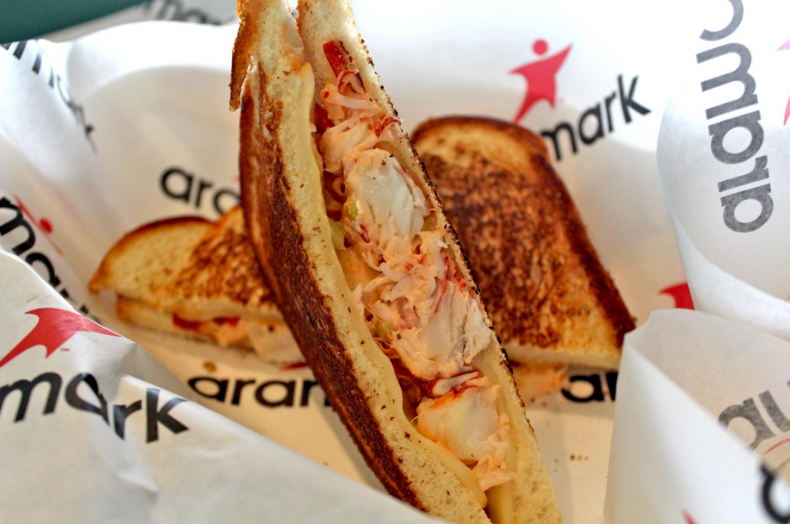 The Red Sox are going heavy on lobster this year, and this may be their most appetizing new offering. Steamed lobster. Melted muenster cheese. Tomato. No complaints.
21. Bacon Wrapped Pretzel Baguette (Chase Field)
Folks, this is the right way to combine a bunch of independently appealing ingredients into a single offering. Ballparks around the league, take note.
20. Smoked Bacon Mac and Cheese (Miller Park)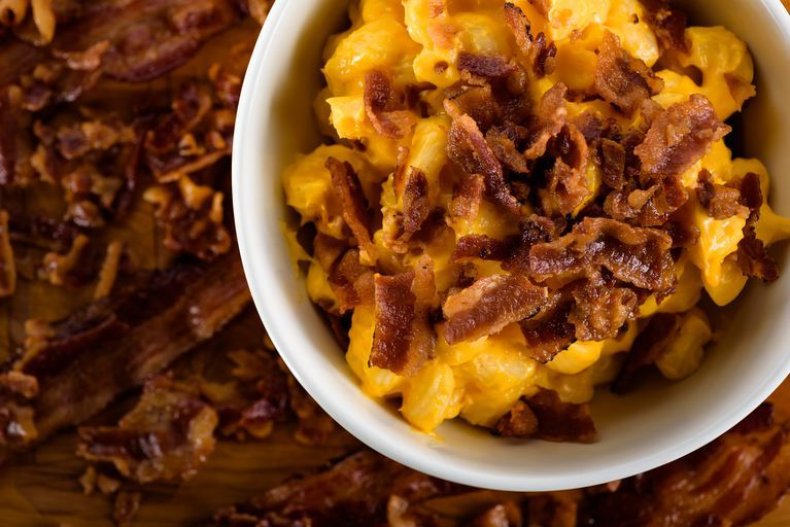 Nothing wrong with this. Well done, Milwaukee.
19. Choco Kebab (Guaranteed Rate Field)
Yes, it's a spinning spit of shavable chocolate. Get yourself a weird dessert gyro this year at Chicago White Sox home games. Totally unnecessary. Not necessarily disgusting.
18. Loaded Bayside Fries (Citi Field)
The Newsweek office was split on the appeal of this new addition at Mets home games, but I'm the one writing this list so I'm deeming our official position to be that it looks good as hell. Clam strips. Bayside fries. Clam chowder fondue. Arguably a little disgusting, sure, but this is ballpark food.
17. Lobster Poutine (Fenway Park)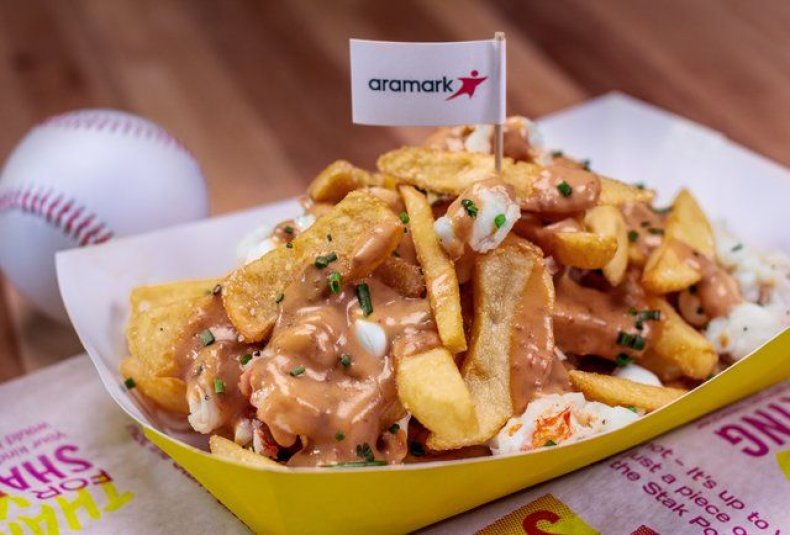 More lobster from the Red Sox. The Lobster Poutine ranks as more disgusting than the Lobster Melt simply because poutine is inherently disgusting.
16. Dessert Poutine (Rogers Centre)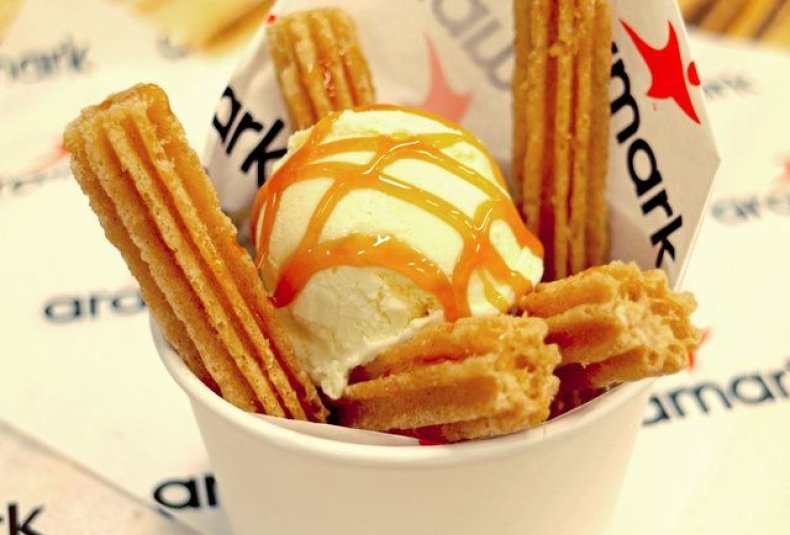 Poutine... in dessert form. Not bad, Toronto. Would order.
15. SPAM Grilled Cheese Sandwich (Minute Maid Park)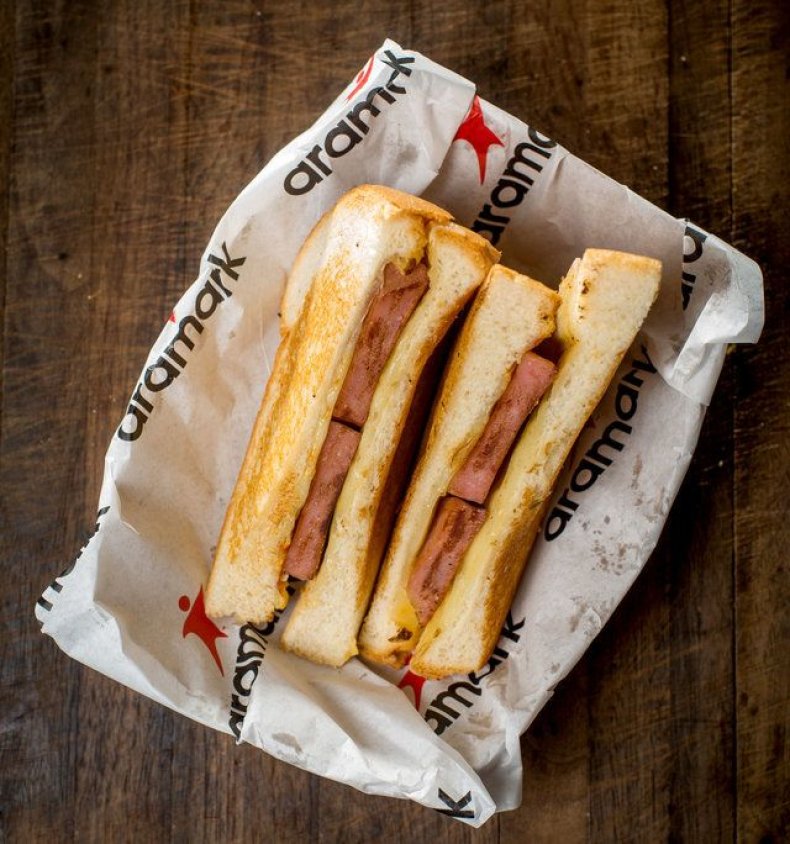 SPAM on Texas toast. This would probably be better if instead of SPAM they used... well, any meat other than SPAM, but this probably isn't too bad.
14. Churro Dog (Chase Field)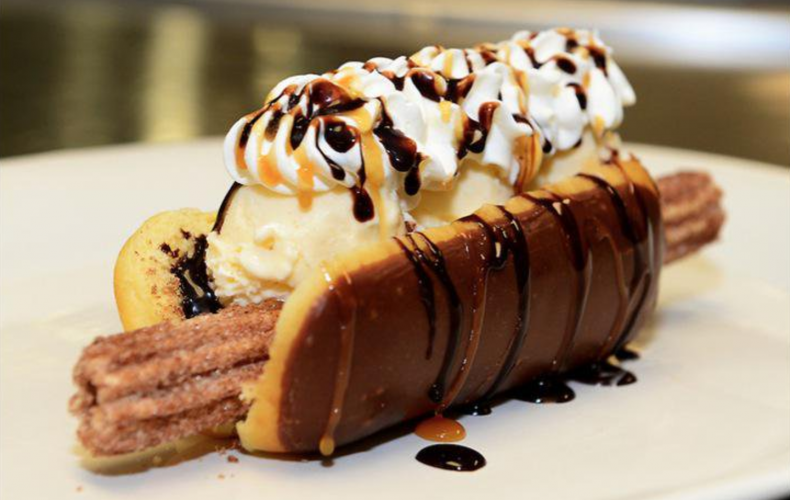 Though this looks pretty disgusting—and surely looks even more disgusting IRL—but we're dealing with a high bar for disgust here, folks. If you can manage to mash a bunch of dessert elements into a tray without accidentally slipping bacon or pulled pork in there, you're doing better than most.
13. Brunch Bloody Mary (Tropicana Field)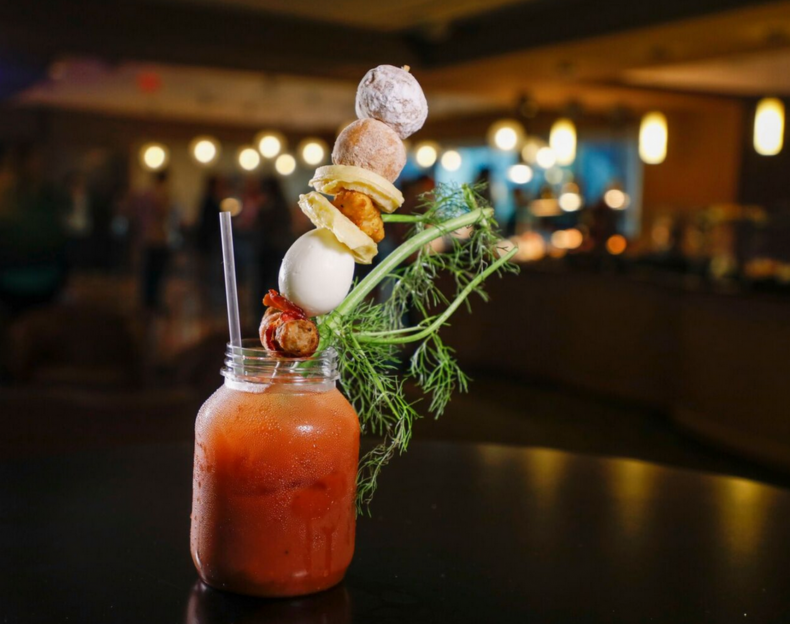 The trend of stabbing an entire meal's worth of food through a skewer and dropping it in a Bloody Mary is a bit old at this point. What separates the Brunch Bloody Mary from the rest is the introduction of desserts onto the skewer. It's a good thing that the powdered doughnut balls are not forced into contact with the beverage; but still, we cannot endorse this.
12. Brisket Mac and Cheese Grilled Cheese (Guaranteed Rate Field)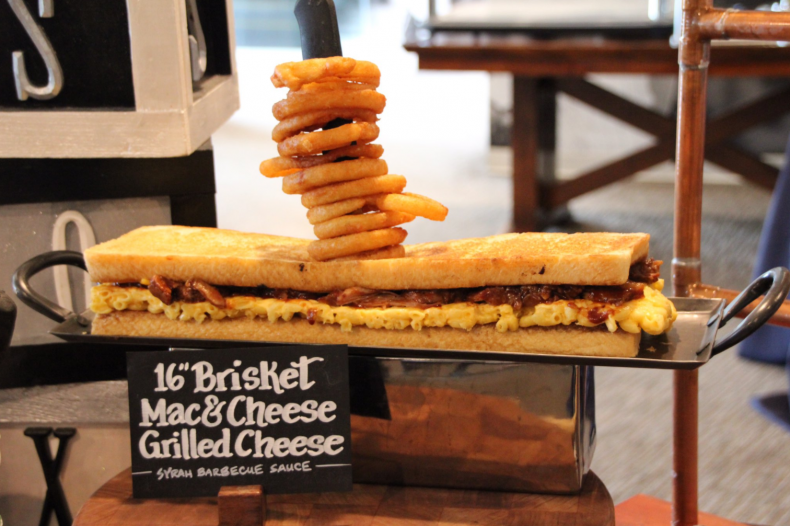 It's a bold—but not unprecedented—move to try to contain mac and cheese within two pieces of bread. Add brisket to the mix and you've downright lost your mind. The presentation might be nice, but don't expect to get through this behemoth without a fork and knife. We can't say we wouldn't try it, though.
11. Sweet Chipotle Fried Chicken (Minute Maid Park)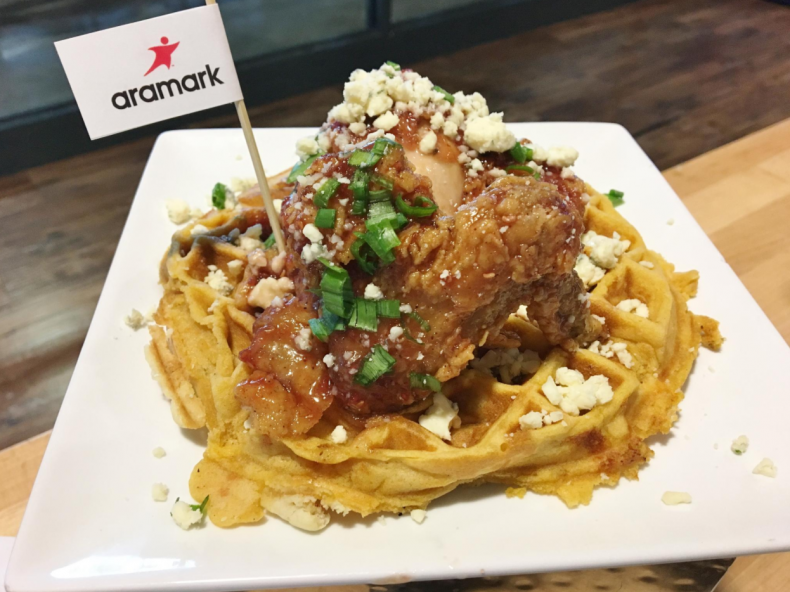 It's on a blue cheese and sweet potato waffle. Sorry, but "blue cheese" and "waffle" should never appear in the same sentence.
10. Bacon Pork Rind Chipper (Camden Yards)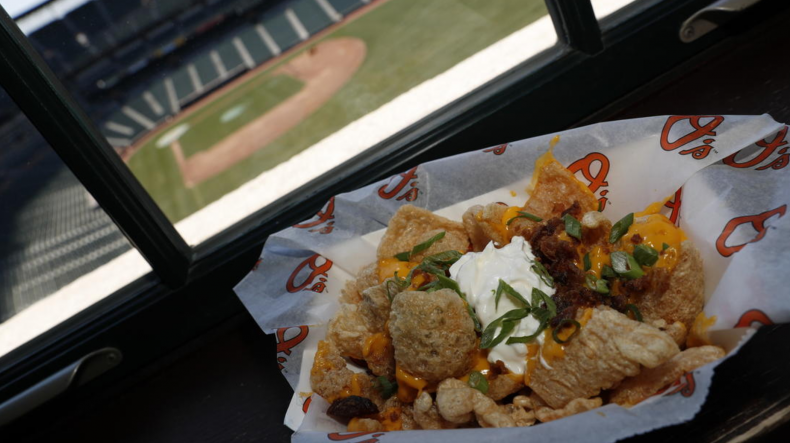 It's hard to wrap our heads around what's going on with this new offering at Orioles home games. It looks like it should be served out of a trough in the men's room.
9. Coney Island Pizza (Comerica Park)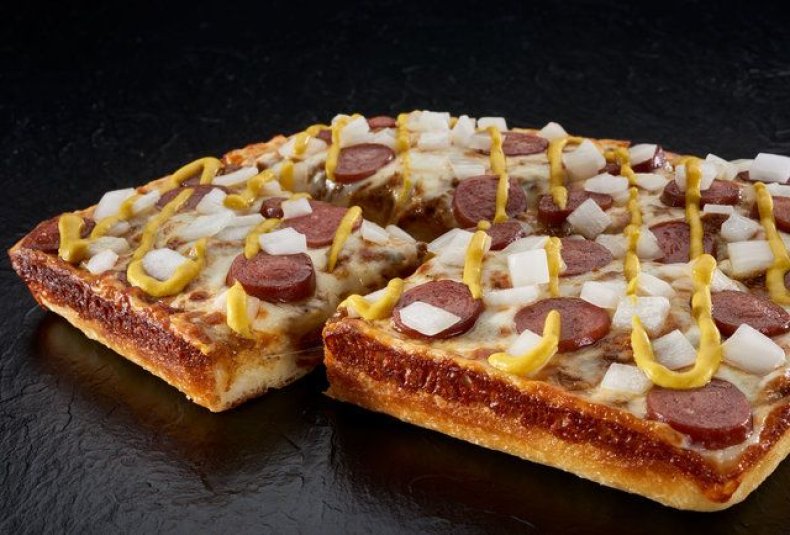 As the name implies, this new item at Tigers home games is part pizza, park hot dog. What it amounts to, though, is a typical pizza with hot dog slices on it, drizzled in mustard. The caramelized crust is a nice touch, but nothing can overcome the blasphemy of mustard on a pizza.
8. Tomahawk Chop Sandwich (SunTrust Park)
We're not sure collared greens belong in a sandwich—same goes for slaw—but the combination of ingredients here isn't as abhorrent as some of the Frankenstein-esque dishes that have debuted this year. The most notable new offering at Braves home games ranks so high on the disgust list because of the sheer size of it. Look at that sesame-seed bun! The $26 sandwich is supposed to satisfy four people. We can only hope the good baseball fans of Atlanta respect the recommended serving size.
7. Chicken Enchilada Dog (Chase Field)
This is basically an 18-inch enchilada, but instead of a tortilla you get a "talera roll."
6. Pulled Pork Patty Melt (Kaufmann Stadium)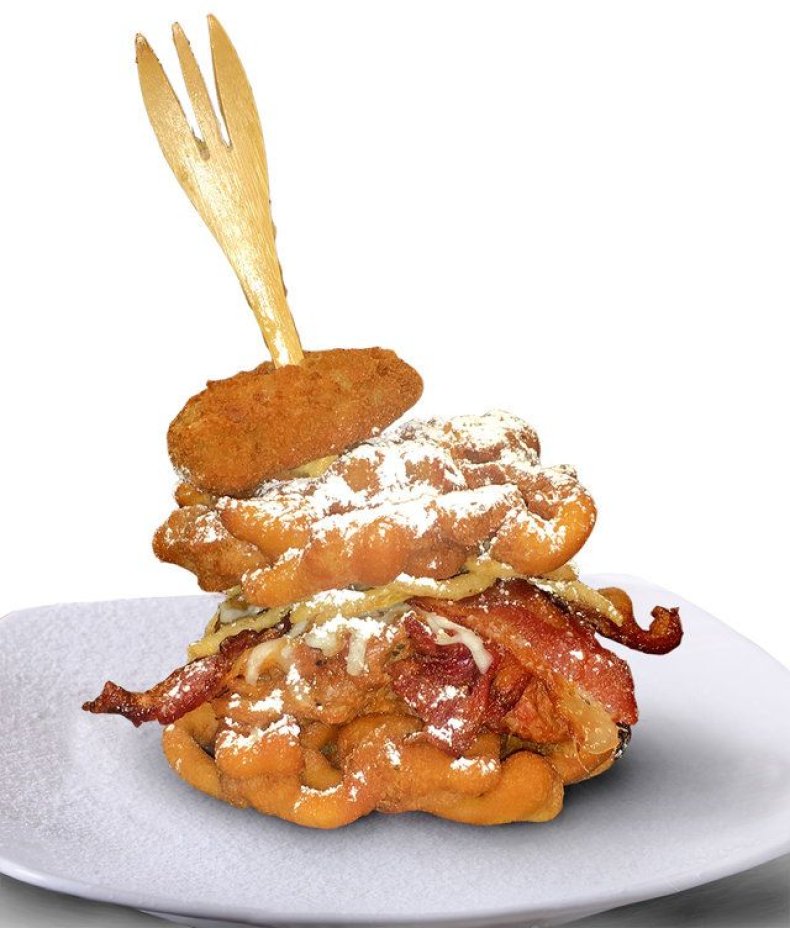 In case you're having trouble figuring out what's going on in this picture, here's the rundown: Powdered funnel cake plays the role of bread. Inside it is barbecue pork, fried onions, cheese and bacon. That fried blob on top is a jalapeño popper. We don't usually condone mixing dessert elements (funnel cake, powdered sugar) with meat (pork, bacon), but if it must be done, this doesn't seem so terrible. It is, of course, disgusting as hell, though.
5. Funnel Cake Chicken Sandwich (Chase Field)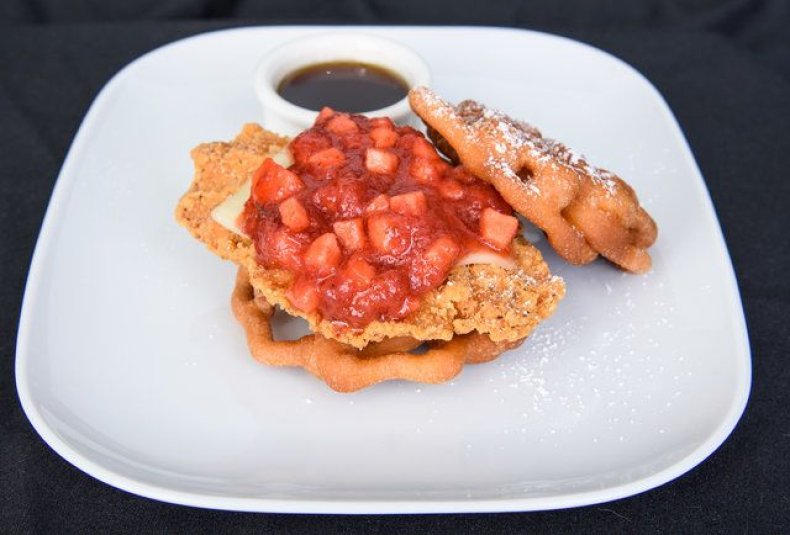 The combination of fried chicken and some sort of funnel cake breading may have been disgusting 10 years ago, but it's par for the course in 2017 (see above). What separates Funnel Cake Chicken Sandwich, available this year at Diamondbacks home games, is the large dollop of chunky strawberry sauce that has been leveled over the chicken.
4. Apple Pie Nachos (Coors Field)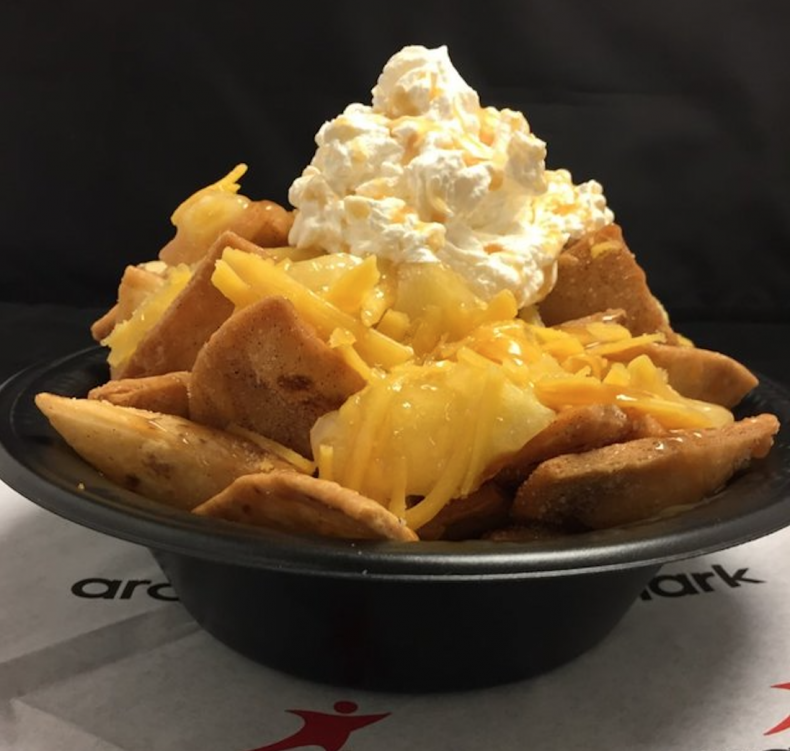 The Rockies really came close to developing something interesting here—apple pie filling, whipped cream, caramel and cinnamon sugar chips all check out—but then they had to go and throw cheese on top of it. For shame.
3. The M.V.T. (Globe Life Park)
M.V.T. stands for Most Valuable Tamale. This is a two-foot-long, tamale-filled hot dog and a direct descendent of the Rangers' famous Boomstick, which was introduced in 2012. The Boomstick cost $26, the M.V.T. will go for $27. It also looks like it's about to come alive, if it isn't walking around on two legs already.
2. Texas Snow Balls (Globe Life Park)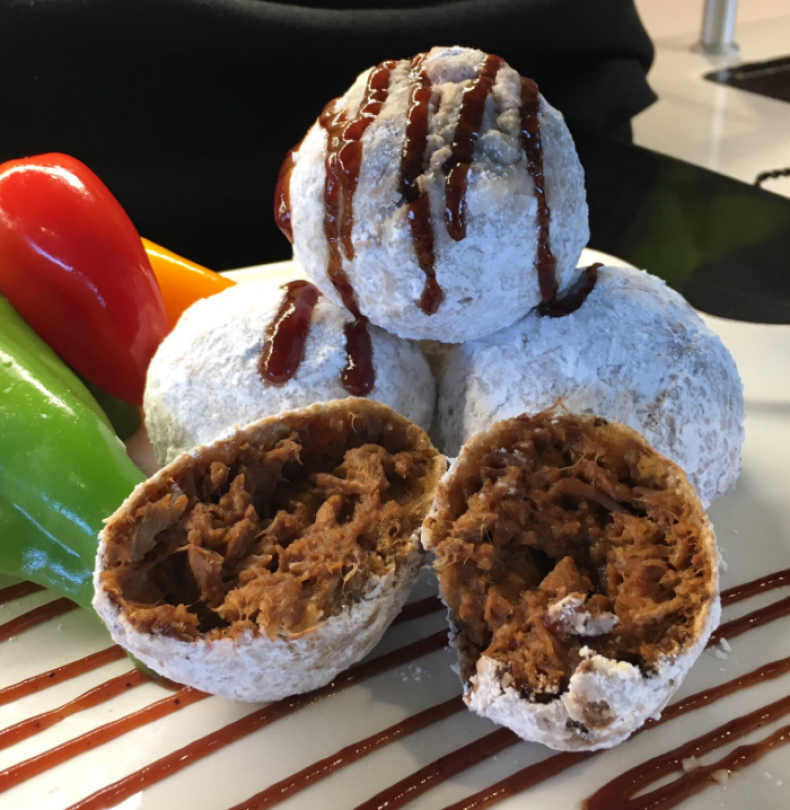 Brisket. Dipped in funnel cake batter. Fried. Dusted with powdered sugar. So you have what appears to a soft, innocent, powdery dessert, then you take a bite and it's filled with barbecued meat. No one asked for this, Texas Rangers. You should be ashamed of yourselves.
1. The Italian Roast Pork Stak (Citizens Bank Park)
"Disgusting" is not always quantifiable. A dish's ability to horrify cannot be discerned merely through an objective assessment of the chemistry of its ingredients, its size or any other number of variables. Often, this is enough, but the dishes that disgust in a way that you will remember years later do so on a visceral level. It's like pornography: You may not be able to define it, but you know it when you see it. Available at Phillies home games this year, the Italian Roast Pork Stak features roast pork, provolone, cherry pepper aioli and roasted long hots, all of which would seem to compliment each other nicely. But then you see the end product and, like pornography, you just know.
Read more from Newsweek.com:
- The refs blew a last-minute call in the NCAA title game
- NCAA basketball games in football stadiums: how we got here
- John Oliver on why we need marijuana reform now