The House committee investigating the January 6, 2021, Capitol riot showed previously undisclosed footage Tuesday of a group of protesters who illegally entered and refused to leave the Arizona House of Representatives building, including a man commonly known as the QAnon Shaman.
Representative Adam Schiff, one of the Democratic members of the panel, spoke as the new footage played and identified one of the demonstrators in the group as Jacob Chansley, who was sentenced to 41 months in prison in November after pleading guilty to one count of obstruction of an official proceeding.
In the video, the man identified as Chansley is seen standing and gesturing inside the Arizona building while wearing what appeared to be the same horned headdress that he donned on January 6.
The House committee has been holding a series of public hearings to present findings from its investigation that it says show a coordinated effort to overturn the results of the 2020 election and stop the transfer of presidential power from Donald Trump to Joe Biden. The new footage of Chansley provides additional insight on his actions outside of the January 6 riot, when he entered the Capitol building with an American flag and wearing red, white and blue face paint.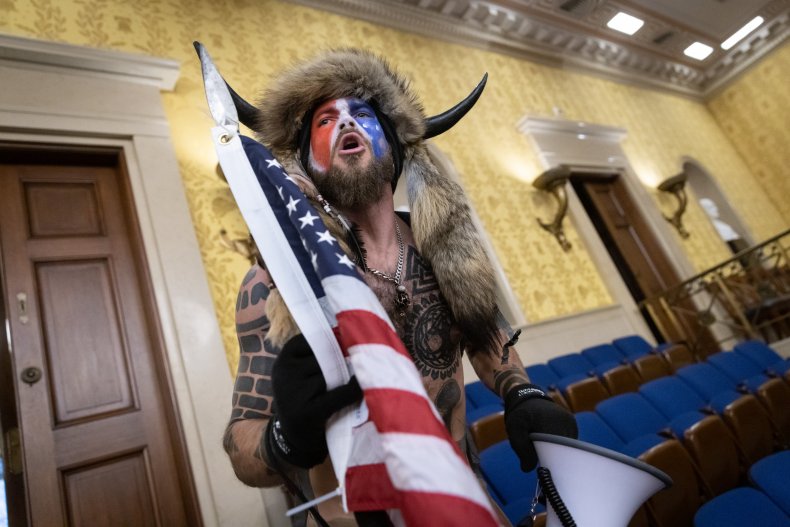 The Select Committee has uncovered evidence during its investigation that some people who attended Stop the Steal protests across the U.S. had ties to groups or parties involved in the January 6 riot, Schiff said. He identified the protest at Arizona's House of Representatives as one of those instances.
"Other protesters who occupied the Arizona House of Representatives building included Proud Boys, while men armed with rifles stood just outside the entrance," Schiff said.
Schiff did not immediately specify exactly when the Arizona protest took place.
The Select Committee played the Arizona footage while Arizona House Speaker Rusty Bowers testified at the committee's fourth hearing on Tuesday. When Schiff said that he understood the protesters inside the Arizona House were calling for him by name that day, Bowers responded: "That is correct."
Bowers testified that he faced pressure from Trump and his former attorney, Rudy Giuliani, during a phone call to replace state electors for Biden. But Bowers said that he had never heard of such a legal authority or precedent.
"You are asking me to do something that is counter to my oath when I swore to the Constitution to uphold it," Bowers said. "This is totally foreign as an idea or theory to me and I would never do anything of such magnitude without deep consultation with attorneys.
"You're asking me to do something against my oath, and I will not break my oath."
Bowers also spoke about separate instances in which Trump lawyer John Eastman and Arizona Representative Andy Biggs asked for his support in decertifying or blocking the certification of Biden's electors.
Newsweek reached out to the lawyer who represented Chansley in his January 6 case for comment.