Data from a Fox News poll released Thursday showed presumptive Democratic Presidential nominee Joe Biden with a 12-point lead over President Donald Trump.
Trump has denounced some political polls as fake, particularly ones which show Biden to be in the lead. In June, he asked CNN to retract one such poll and demanded an apology. Afterward, Trump employed the services of McLaughlin and Associates to analyze polls he felt were skewed against him.
According to Thursday's Fox News poll, 50 percent of all registered voters surveyed said they would vote for Biden if the election were held today. Trump garnered 38 percent of voter support in the poll. When the same question was asked by pollsters in May, 48 percent said they would vote for Biden and 40 percent said they would vote to reelect President Trump.
Trump's disapproval rating also grew in the latest poll. While 54 percent of those surveyed disapproved of Trump's performance as president in May, his June rating went up one point to 55 percent.
Those surveyed also disapproved of the way Trump handled the protests over the death of George Floyd in Minneapolis in May. Out of all individuals polled, 56 percent disapproved of the way Trump responded to the demonstrations while 31 percent gave Trump their approval.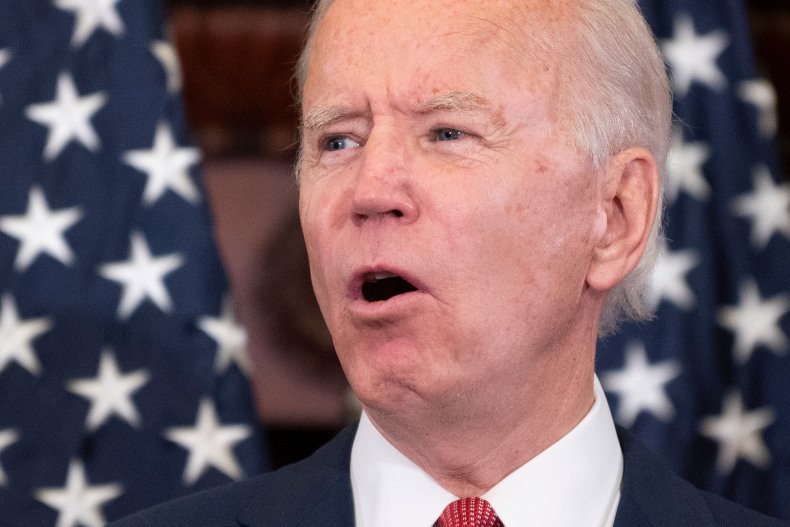 As protests against racism and police brutality occurred nationwide in June, Trump declared himself to be a "law and order president" during an address from the White House. Trump also said he was willing to use National Guard troops to "dominate the streets" of cities where demonstrations devolved into violence.
Newsweek reached out to both Biden's and Trump's campaign for comment. This story will be updated with any response.
Polling was conducted among 1,343 registered voters. Results have a plus-or-minus 2.5 percent margin of error.
Trump tweeted about his disbelief in polls he "felt were FAKE based on the incredible enthusiasm we were receiving."
"This is the same thing they and others did when we defeated Crooked Hillary Clinton in 2016," Trump continued. "They are called SUPPRESSION POLLS, and are put out to dampen enthusiasm."
CNN said they stood by the poll numbers. In a response, CNN's executive vice president and general counsel David Vigilante said that the network had never received threats of legal action "because an American politician did not like CNN's polling results."
Trump has previously shown disdain for news outlets. During his initial run for president in 2016, Trump told a rally crowd in St. Augustine, Florida that the "media isn't just against me. They're against all of you. They're against what we represent."