New Fox News Poll Shows Biden Leading Trump in Presidential Election by 7 Points
With fewer than 100 days left until the U.S. Presidential election, voters surveyed in a poll from Fox News gave presumptive Democratic nominee Joe Biden a 7 point lead over incumbent President Donald Trump.
Although in-person campaigning was brought to a practical standstill by the coronavirus pandemic, Trump and Biden have traded barbs through television and social media. Biden has attacked the Trump administration's national response to the coronavirus while Trump's campaign has recently focused on Biden's alleged ties to a movement to defund police departments. Voters may be leaning in Biden's direction.
According to the poll data released Thursday, 49 percent of registered voters would cast their ballots for Biden if the election were held today. Trump garnered 42 percent of the support of poll participants.
More than half of those surveyed disapproved of Trump's handling of health care. Although 40 percent approved of Trump's actions concerning the issue, 53 percent disapproved.
Biden said in June that Trump's legacies as president would be "his failure to protect the American people from the coronavirus, and his heartless crusade to take health care protections away from American families."
Voters also said that Biden would do a better job with issues surrounding policing and criminal justice. Biden gained the approval of 48 percent of those surveyed while President Trump received 42 percent of voter approval.
Trump has offered to help U.S. cities plagued by violence during demonstrations over police brutality by sending in federal agents to help quell the civil unrest. "We have to be asked by the governors or the mayors, and we'll be there very rapidly," Trump said Tuesday. "It's ready, willing, and able."
Newsweek reached out to both the Trump and Biden campaigns for comment.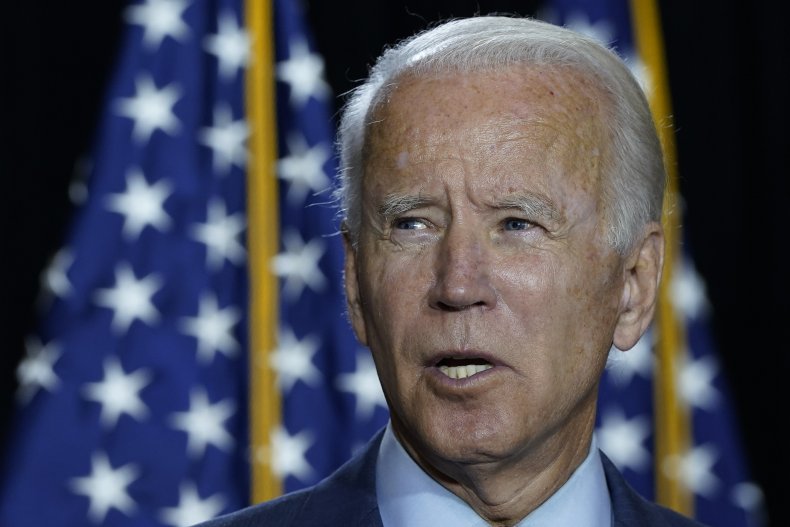 The poll was conducted among 1,000 registered voters and carries a margin of error of plus or minus 3 percentage points.
Trump has dismissed his recent low ranking in the polls by referring to them as "fake." Trump denied the results of a Fox News poll in July during an interview with Fox News Sunday host Chris Wallace which showed Biden ahead of Trump by 8 percent.
"First of all, I'm not losing because those are fake polls," Trump said. "They were fake in 2016 and now they're even more fake."
President Trump was likely referring to polls during the 2016 election which showed him losing to the Democratic candidate, Hillary Clinton. Trump went on to win that election with 304 votes in the Electoral College over Clinton's 227 votes. Clinton, however, received more ballots than Trump in the popular vote. While Trump wound up with 46.4 percent of the vote, representing over 62 million ballots, Clinton ended the race with over 65 million votes for a final tally of 48.5 percent.
"Does anyone notice that the real Polls, as opposed to the Fake Suppression Polls also used in 2016, are starting to define Sleepy Joe Biden as someone totally ill-equipped to control the Radical Left, Crime, Cancel Culture, or to even come close to me on REBUILDING THE ECONOMY?" Trump tweeted in July.
President Trump and Vice President Mike Pence are expected to be nominated as candidates at the Republican National Convention in August. Biden and his running mate, California Senator Kamala Harris, are expected to accept the party's formal nomination at the Democratic National Convention on Thursday.