New George Floyd Memorial Pays Tribute to Black Americans Killed by Police
As thousands across the country mourn the death of George Floyd, a unique new work of art in Minneapolis highlights other black Americans who were killed by the police.
The "Say Their Names" installation features white boards cut out in the shape of tombstones inscribed with the names of 100 African Americans who died at the hands of law enforcement, St. Paul's KSTP reports.
Each tombstone features the words "rest in power," and decorated with flowers at the front of the cemetery is a tombstone for Floyd. Next to it is a marker with the words, "How many have there been? How many more must there be?"
The tombstones were planted in a patch of green space just off 37th Street and Park Avenue, just blocks from where Floyd died last month after being pinned to the ground with a knee to his neck during an arrest made by the Minneapolis Police Department.
The cemetery was created by Anna Barber and Connor Wright, two graduates from the University of Pennsylvania, who were shocked by the death of Floyd and traveled to the Minneapolis–St. Paul area to plant the tombstones.
"We want it [the artwork] to speak for itself," the artists told Minneapolis' FOX 9.
"Hopefully, this is a wake-up call between what we've been seeing around the city, around the country, and the world," David Smith, a visitor, told KSTP.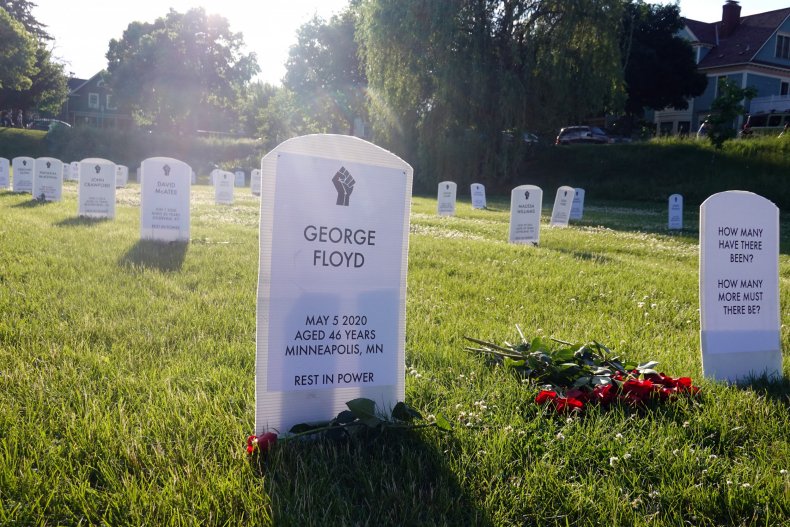 "It's not a physical representation in the flesh, but now that you can put a name to a marker, and see, 'Oh wow.'
"Hopefully it turns the light bulb on for people to start paying attention, and figuring out, 'What can I do as a citizen?' No matter what my race is, no matter your socioeconomic status. 'What can I do to make things better?'," he added.
Barber and Wright will be updating the installation with at least 13 more names, of which they were notified on social media. They will continue to add names to the cemetery as they encourage the public to let them know of any names they have missed.
The "Say Their Names" project is the latest among a string of memorials and artwork that have surfaced around the country paying tribute to Floyd, including outside the Cup Foods shop where he died.
Twitter user @concretefIoors tweeted: "Went to george floyd's memorial at cup foods today & the memorial has grown significantly. there's more art, there's more food donation/bbq tents, there's much more flowers, etc."
Tributes have also been popping up across the globe, including from U.K.-based artist Banksy. The elusive artist shared a new piece featuring the American flag and a candle placed next to a frame of an anonymous black figure on his official Instagram account.
The artist wrote in the post: "At first I thought I should just shut up and listen to black people about this issue. But why would I do that? It's not their problem, it's mine.
"People of colour are being failed by the system. The white system. Like a broken pipe flooding the apartment of the people living downstairs. This faulty system is making their life a misery, but it's not their job to fix it. They can't—no-one will let them in the apartment upstairs.
"This is a white problem. And if white people don't fix it, someone will have to come upstairs and kick the door in," Banksy wrote in the post.
Twitter user @dianaclock shared tributes pictured in Oakland, California: "Scenes of community, solidarity and art today in Oakland for #GeorgeFloyd #blacklivesmatter."
"I stayed up late designing this to paint today. RIP George Floyd.... Your life spurred a revolution through out the world. It's bringing millions together which are demanding CHANGE. #art #charlotte #streetart #piece #georgefloyd #protest2020 #change #abstractdissent," wrote @abstractdissent.
"Portland has amazed me with our unity and love during our protests! this art work honoring George Floyd, and many others was so moving. black lives matter and will never stop mattering," wrote @sagittariusliv.