New 'God's Not Dead' Movie to Star 'Blacklisted' Antonio Sabato Jr.
The filmmakers behind God's Not Dead, arguably the most profitable faith-based franchise in Hollywood, are set to announce the fourth installment, this one starring Antonio Sabato Jr., the actor whose Hollywood career seemed at least partially derailed for speaking in favor of Donald Trump at the 2016 Republican National Convention.
God's Not Dead: We the People, due in theaters nationwide this fall, has Sabato playing a dad whose plan to home-school his children is put in jeopardy by a judge played by Jeanine Pirro, the star of Justice With Judge Jeanine on Fox News.
While the film is fiction, executive producer Michael Scott says it touches on several themes that are controversial topics in the news today, and it has a Mr. Smith Goes to Washington vibe given the major characters take their fight to the nation's capital.
The trailer, obtained exclusively by Newsweek, opens with an authentic clip of President Ronald Reagan saying, "Freedom is a fragile thing, and it's never more than one generation away from extinction." After that, actor David A.R. White—who plays a recurring role in the four God's Not Dead films—is seen gazing upon national monuments in Washington just as Jimmy Stewart did in Frank Capra's 1939 film.
"There's a lot of societal issues we take on," Scott told Newsweek. "What are our freedoms? What are our liberties? And how much should government control us? It's timely, considering debates about critical race theory, revisionist history and prayers taken from schools. The movie is a defense of parental choice."
As for Sabato, he declined to speak to Newsweek about the alleged blackballing that took place after his 2016 RNC speech, but he told Variety in March 2020 that, after three decades of acting, he was working a construction job in Florida because "liberal" Hollywood was punishing him for supporting Trump.
"I had to sell everything," Sabato told Variety. "I was blacklisted. All my representatives left me, from agents to managers to commercial agents. I literally had to move, find a new job to survive and take care of my kids.… It's been terrible. It's mind-blowing. It's a disgrace."
Sabato told Newsweek that he continues to "hold on to my beliefs and love for this country and what it stands for as someone who emigrated to the U.S.A. (from Italy) with his family as a young boy."
He also said he recently created Conflix Studios to make films that "honor our country's faith, freedom and values," including movies about U.S. military heroes and everyday Americans who "stood for what they believed in despite what it cost them."
Like Scott, he said God's Not Dead: We the People should strike a timely nerve as students and parents debate curriculum. Last month, for example, video of a 9-year-old girl dressing down a Minnesota school board for hanging Black Lives Matter posters while banning other political messages went viral; and parents at school board meetings in New York, Virginia and elsewhere recently made such a ruckus over critical race theory being taught in classrooms that they were asked to disperse.
"Every parent has a responsibility to know what is being taught to their children and the influence it has on them," Sabato told Newsweek. "If there is something questionable…this film allows you to see you have the ability to speak up and change the direction."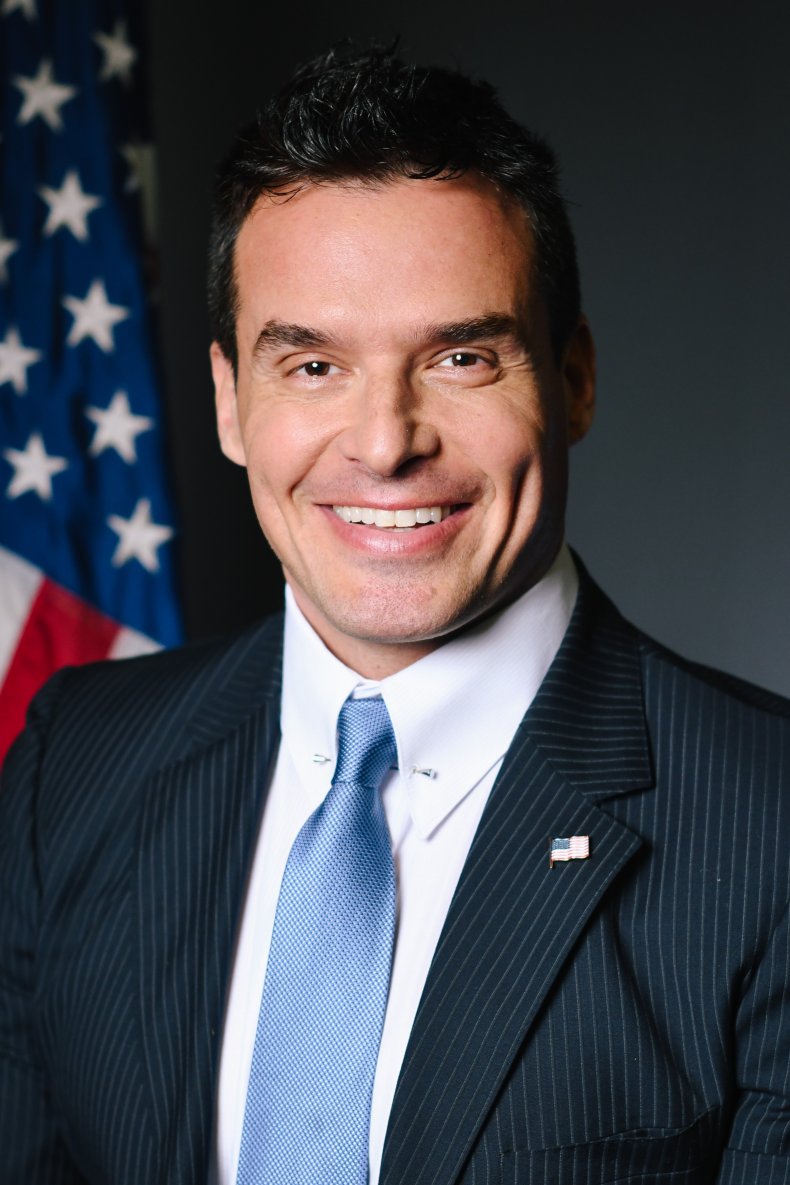 Also featured in the fourth installment of the God's Not Dead franchise are William Forsythe, Isaiah Washington and Grammy-winning Christian singer Francesca Battistelli.
The original God's Not Dead in 2014 earned $65 million on a $1.5 million budget and hailed from Pure Flix, a studio, distributor and family-friendly streaming service. Sony acquired the streamer last year and retained the Pure Flix moniker, while the studio and distribution company was renamed Pinnacle Peak Pictures, run by Scott. Thus God's Not Dead: We the People is the debut movie from Pinnacle, which is not associated with Sony though the movie will eventually stream on the conglomerate's Pure Flix asset.
The first God's Not Dead featured Shane Harper as a college student attempting to prove the existence of God to a skeptical professor played by Kevin Sorbo. In 2016, God's Not Dead 2 starred Melissa Joan Hart as a high school teacher in hot water after answering a student's question about Jesus.
Two years later, God's Not Dead: A Light in Darkness was loosely based on the true story of Texas pastors accused of violating the 1954 Johnson Amendment, a provision in the U.S. tax code, which prohibits nonprofit entities from opposing or endorsing political candidates. A year prior to that film's release, Trump loosened such restrictions.
The first three films have grossed nearly $97 million, still a pittance next to the $612 million grossed theatrically by Mel Gibson's 2004 faith-based movie, The Passion of the Christ, though Gibson's film won't be considered a "franchise" until he releases a sequel, which is allegedly in the works and focusing on the Resurrection of Jesus.