New GOP Florida House Speaker Blasted by Home State Newspaper Editorial Board After First Speech
Florida's new Republican House Speaker Chris Sprowls was blasted by the Orlando Sentinel's editorial board following his first speech on Tuesday.
The editorial began by saying: "Chris Sprowls' first speech as speaker of the Florida House Tuesday was a loooong one, covering subjects that ranged from patriotism to law and order to social media misbehavior."
"And yet, in the course of nearly 5,000 words—the length of some State of the Union speeches—the speaker didn't once utter the word 'unemployment.'," the editorial said. "It was a glaring omission in a state with a 7.6% unemployment rate and a disastrous payment system that failed hundreds of thousands of out-of-work Floridians when their need was greatest."
The editorial goes on to criticize Sprowls on how he failed to mention health care or health insurance—"except in a passing reference to infant mortality"—as well as the affordable housing crisis and the ongoing novel coronavirus pandemic.
According to the U.S. Department of Labor, for the week ending on November 14, Florida saw a sharp decline in first-time unemployment claims, decreasing by 9,868 to 21,538.
Despite a decrease in unemployment claims, Florida has continued to see a rise in COVID-19 cases. On Thursday, the state recorded 9,085 new confirmed cases of the virus, bringing the statewide case count to over 914,000. There are also at least 17,810 fatalities caused by the virus across Florida.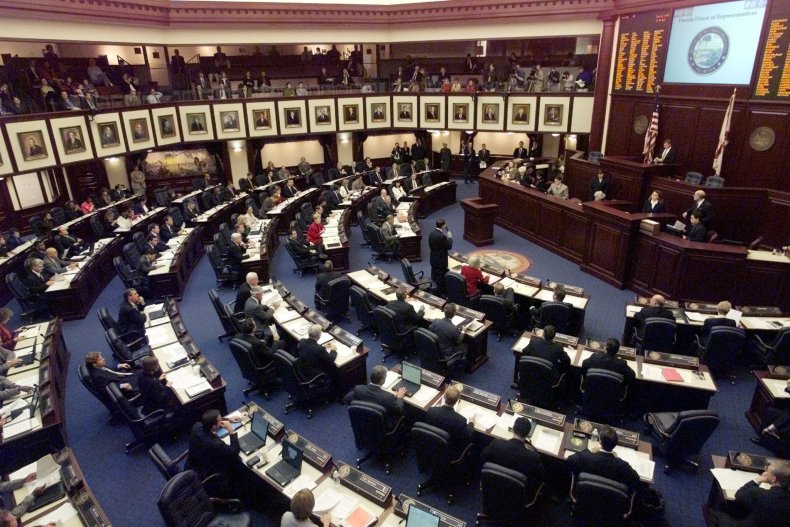 As the editorial continues, so does criticism toward Sprowls, focused on his failure to address the state's low-wage workers, "who comprise a huge portion of the state's labor force."
According to the editorial, this group of Floridians are the people "who had virtually no savings when the pandemic came crashing down on the economy," as well as the "ones who often lacked health insurance."
"They're the ones who now face eviction from their homes and apartments if a federal moratorium expires at the end of this year. A recent U.S. Census survey found more than 50% of Floridians behind on their rent or mortgage are somewhat likely or very likely to face eviction. It's the highest rate in the nation," the editorial read. " Florida could find itself with an army of homeless families on its hands in the coming months."
Additionally, the editorial also brings up incoming Senate President Wilton Simpson but notes that he was not mentioned in the story "because his were far briefer than Sprowls' and didn't lay out a specific legislative agenda. He basically said howdy."
"For the sake of Florida's neediest, we hope Sprowls and Simpson will do what their predecessors have not and direct some attention and compassion toward the workers who have been left behind by an economy that's rigged against them," the editorial said. "These next few months will tell us whether lawmakers have awoken to the forgotten worker, or whether they'll keep ignoring an economic class that doesn't have an army of lobbyists at its disposal."
In an email sent to Newsweek, a spokesperson for Florida's House of Representatives said: "The Orlando Sentinel editorial board fixates on Great Society-style welfare programs as the only possible solution to every problem. But the Florida House understands that we live in the 2020s not the 1960s."
"Working-class families are looking for success not subsidies, and that's why Speaker Sprowls laid out to the Florida House in his Tuesday speech an Opportunity Agenda designed to help Florida's workers find their own personal American Dream," the email sent to Newsweek said.
Updated 12:48 p.m. ET, to include a statement from a spokesperson for the Florida House of Representatives.