New GOP 'Fox & Friends' Ad Rebukes Ken Starr for Joining Trump's Impeachment Defense Team: He Can't Excuse 'Stonewalling'
Conservative organization Republicans for the Rule of Law (RRL) are expected to release an advertisement Wednesday questioning the addition of Ken Starr to the legal team representing President Donald Trump during his impeachment trial, which began in the Senate on Tuesday.
In the advertisement, which is expected to run on both Fox & Friends and Lou Dobbs Tonight, Paul Rosenzweig, the former senior counsel to Starr during the Whitewater investigation, says the selection of Starr is "puzzling."
"It's puzzling to me that Judge Starr has joined the Trump team," Rosenzweig said. "I do not see how anybody who recommended the articles of impeachment for Clinton that Ken Starr did could not have recommended an impeachment article against President Trump. Judge Starr had a view then that his job was to uncover the truth."
"The idea that the Senate should only hear what the House presented is ludicrous and ahistorical," Rosenzweig continued. "Every impeachment trial that has been conducted had additional witnesses. I would hope that today Judge Starr would have that same view."
"It seems to me that the lessons of the Clinton impeachment that conservatives wanted to draw were that character matters, that the rule of law matters," Rosenzweig added, "and to now see conservatives abandoning those principles for presidential support is disheartening."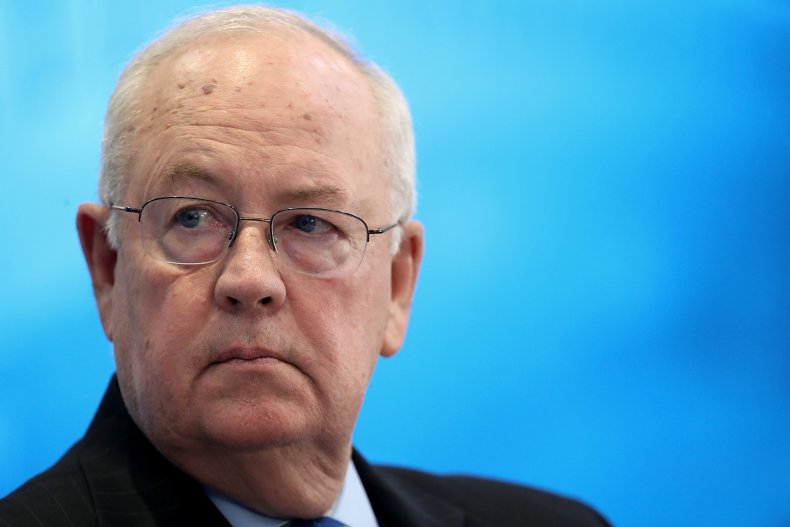 "Judge Starr recommended the impeachment of President Clinton in part because the president had attempted to impede discovery in a civil action," said RRL director Bill Kristol in a statement. "Anyone who believed that was impeachable can't now believe that President Trump's absolute refusal to cooperate with an impeachment investigation is acceptable constitutional conduct. Judge Starr faulted President Clinton for trying to hide the truth then. He cannot consistently excuse President Trump's stonewalling now."
Starr's apparent change of opinion on the impeachment issue is fine with RRL Chief of Communications Carson Putnam, but he feels Starr needs to explain his actions.
"It's totally OK for Judge Starr to change his mind!" Putnam said in an interview with Newsweek. "But he owes the American people a thorough, convincing explanation. But he hasn't given any sort of explanation. If he hasn't changed his mind, then he's being wildly inconsistent, and that's a problem. We would welcome an announcement from Judge Starr about why he was wrong in 1999 (though we don't think he was) or is wrong now."
Starr recently left the employ of Fox News as a contributor, a decision Putnam found difficult to fault.
"Judge Starr has a daunting task ahead of him defending the president's reputation and legacy," Putnam said, "and if he and Fox News decided it was best he focus on that, it's hard to criticize him for that decision."
On the matter of witnesses being called into the impeachment trial, Putnam feels that the emphasis given to House Majority Leader Mitch McConnell is misplaced.
"Whether or not witnesses will be called depends on whether four Republican senators will vote to call them," Putnam said. "Too much attention is being paid to Sen. McConnell, as if he's ten feet tall. [RRL is] focused on the senators who are choosing to exercise their independence and conscience, rather than those who think 'the world's greatest deliberative body' is a game of Follow the Leader."
Starr's investigation into the financial dealings of the Clintons, including a failed land development scheme called Whitewater, also uncovered President Clinton's sexual misconduct while in office. Clinton was impeached in the House of Representatives for obstructing justice and lying under oath to a federal grand jury, although he was acquitted in the Senate.