Gordon Ramsay Steak: Kansas City Restaurant Menu, Details as TV Chef Opens First Steakhouse in Midwest
Celebrity chef Gordon Ramsay has unveiled a new Gordon Ramsay Steak restaurant in Missouri.
The new steakhouse, located inside Harrah's Hotel and Casino in North Kansas City, is his first restaurant in the Midwest, according to the official Gordon Ramsay Restaurants website.
The "evolving menu aims to provide returning guests a new culinary experience with each seasonal visit" and showcase the British chef's "flare for a traditional American steakhouse with a few dishes paying a nod to classic Kansas City barbecue favourites," the website notes.
Featured main dishes (ranging from $34 to $115 per dish) include a selection of Japanese and American Wagyu beef, various cuts of steak and an array of seafood options including oysters, King crab and lobster, according to the menu on the website.
Pork and lamb main options are also available, while appetizers and sides (priced from $10 to $35 per dish) include classic dishes such as smoked beef tartare, tuna tartare, crab cake, seared Hudson Valley foie gras and herb gnocchi, the menu notes.
Some of Ramsay's signature mains, such as beef wellington, roast chicken and beef short rib, from his other Gordon Ramsay Steak venues are also available at the new Kansas City restaurant.
The dessert menu includes Ramsay's popular sticky toffee pudding, among other cakes and ice cream dishes, and a dessert cocktail made with "banana-vanilla-infused Gosling's [rum], strawberry-lime syrup, foam, strawberry mist, orange juice and orange bitters," the website describes.
Other specialty cocktails (priced from $15 to $19 each) include Buffalo in the Wheat Field (made with hickory smoked sour cherry wheatley vodka, buffalo trace bourbon orange syrup and walnut bitter), and the Pendergast (made with J. Rieger's Kansas City whiskey, benedictine, carpano antica formula and barrel aged bitters), the menu reveals.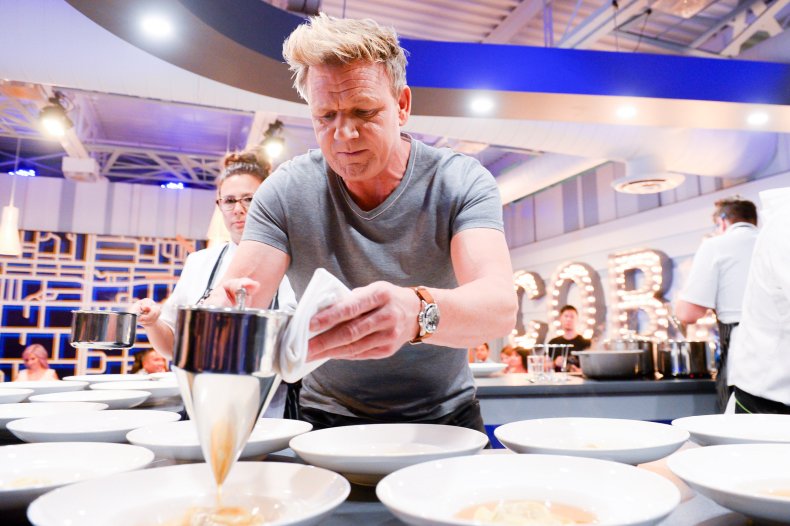 "I've been wanting to expand to the Midwest for some time and found Harrah's North Kansas City to be the perfect location for Gordon Ramsay Steak," Ramsay said in a statement on Harrah's official website.
"My team is thrilled to introduce some of my most signature items including the popular beef wellington and my all-time favorite dessert—the sticky toffee pudding to the Heartland," he added.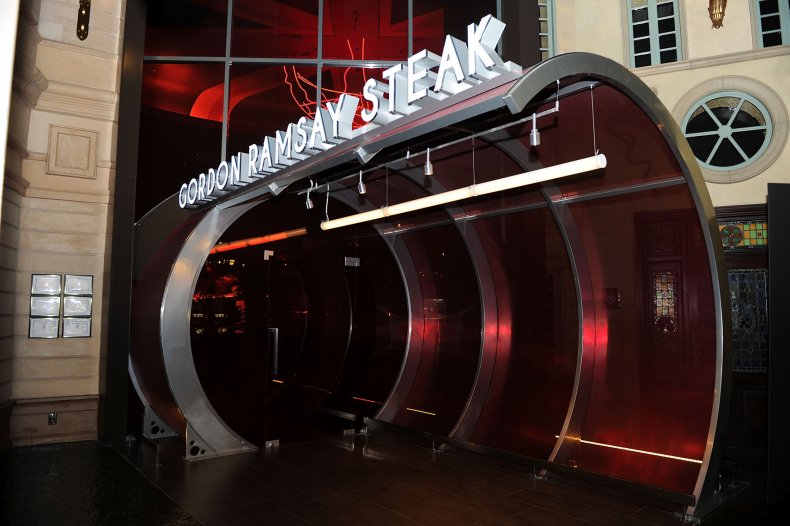 Ramsay offers various fine dining venues around the world, including several Michelin-starred restaurants such as the flagship Gordon Ramsay Restaurant in the Chelsea neighborhood of London, England, which features "elegant and modern French cuisine," the website describes.
Ramsay has also hosted a string of television series including Hell's Kitchen, Ramsay's Kitchen Nightmares and MasterChef.
Gordon Ramsay Steak: Kansas City Restaurant Menu, Details as TV Chef Opens First Steakhouse in Midwest | Culture