Governor Sununu Intervenes to Allow New Hampshire Woman Keep Potty-Humor License Plates
After the New Hampshire Division of Motor Vehicles tried to make a woman turn in her potty-humored vanity license plates, New Hampshire governor Chris Sununu stepped in to personally overturn the decision and let her keep it.
Wendy Auger, a bartender in Rochester, has had plates reading "PB4UGO" for 15 years. But last week, she received a recall notice from the DMV, ordering her exchange them for a standard license plate or another vanity plate.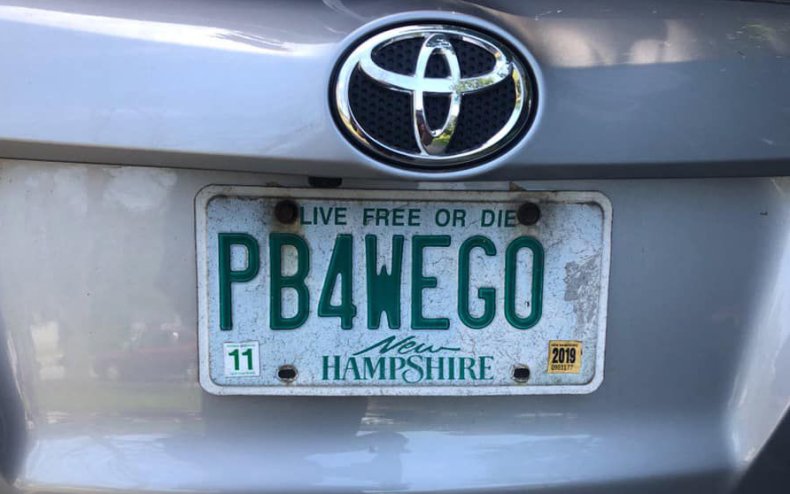 "Who has a mom or dad or parental figure who hasn't said ['pee before you go'] to kids before leaving the house?," Auger told Seacoast Online. "I'm not the type to sit here with a picket, but come on."
The New Hampshire DMV recalled 111 license plates in 2018 for a variety of reasons, though it does not comment publicly on individual cases because driver registrations are covered by state privacy laws.
New Hampshire's vanity license plate regulations specifically ban any messages related to "sexual or excretory acts or functions," so it's unclear why Auger was allowed to have the plates in the first place.
According to the Boston Globe, New Hampshire Governor Chris Sununu heard about Auger's plight from a friend and used his executive privilege to overturn the DMV's ruling.
"Upon this being brought to my attention, I reached out to the Division of Motor Vehicles and strongly urged them to allow Wendy to keep the license plate she has had for the last 15 years," Sununu said in a statement on Wednesday evening. "I recently left a message on her phone to share the good news that her plate will not be recalled."
Auger said the decision to censor her plates seemed to be at odds with New Hampshire's state motto, "Live Free Or Die," which actually appears on the bottom of every license plate.
"If I have to take it off the plate, then I'm not going to be able to live free," she said.
New Hampshire had another controversy with vanity plates in 2014 when David Montenegro of Dover requested a plate reading "COPSLIE." The Department of Motor Vehicles denied Montenegro's request on the grounds that the plate was "insulting."
Montenegro, who later legally changed his name to "Human," experimented by requesting a plate that said "GR8GOVT." When that was approved, he filed a court case claiming that allowing vanity plates that praise the state and rejecting those that criticize it was a violation of his First Amendment rights.
The New Hampshire Supreme Court disagreed, ruling that the previous language stating that DMV employees could reject any plate that a "reasonable person would find offensive to good taste" was unconstitutionally vague and requiring the state to develop new, more specific language.