New Hampshire Health Professionals Urge Governor to Order Masks Ahead of Trump Rally
A group of health care professionals are asking New Hampshire Governor Chris Sununu to "strictly" enforce wearing face masks at President Donald Trump's upcoming campaign rally on Saturday.
In a letter obtained by the Union Leader, health professionals said failure to implement a face mask requirement will cause a spike in coronavirus cases in New Hampshire.
"You have the power to take action to protect the health and safety of Granite Staters who will be at risk with this super-spreader event," the letter addressed to Sununu read. "We implore you to take the actions outlined here to protect New Hampshire, over political relationships, on Saturday."
Earlier on Monday, the governor said the Trump campaign will be handing out face masks at the Portsmouth rally on Saturday but did not say if he would issue and order requiring facial coverings to be worn.
"As Governor I will always welcome the President of the United States to New Hampshire," Sununu said in a statement sent to Newsweek. "I am pleased to see the campaign will be handing out face masks and hand sanitizer to all attendees, as has been true at all public gatherings in NH where social distancing is hard to maintain. It is imperative that folks attending the rally wear masks."
He also said he himself would wear a mask if he greets Trump upon arrival at the airport. As of now, Sununu has not issued any statewide mask order.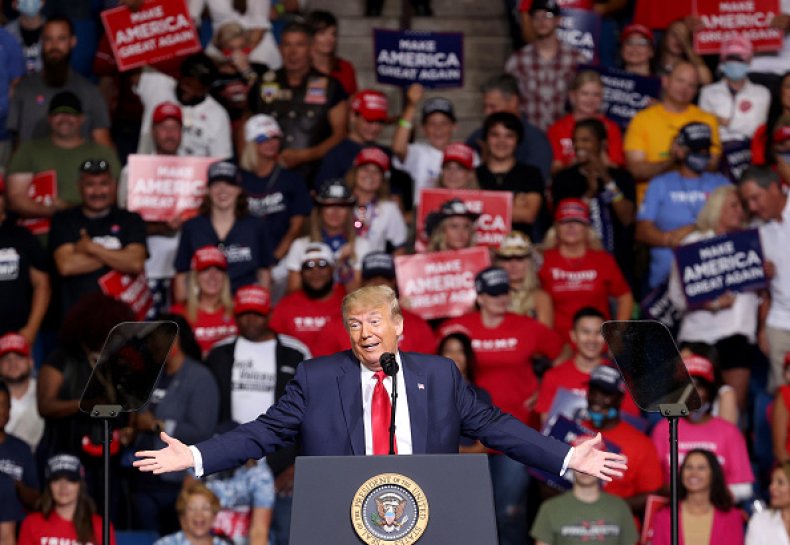 The Wednesday letter comes as Tulsa County reported a surge in COVID-19 cases two weeks after Trump held a campaign rally in Tulsa, Oklahoma on June 20, which drew thousands of participants alongside counter-protests.
The county reported a record single-day high of 261 newly confirmed cases on Monday, followed by an additional 206 cases on Tuesday.
Tulsa City-Country Health Department Director Dr. Bruce Dart said the rally "likely contributed" to the spike of infections during a Wednesday briefing.
Fears that a similar outcome awaits New Hampshire after this weekend has caused officials and residents alike to take precautionary measures.
New Hampshire House Speaker Steve Shurtleff wrote his own letter to Sununu asking him to take the matter of the rally more seriously.
"All of us fear a second wave and we should all be doing what we can not to invite one," Shurtleff wrote. "You have often touted your work with the White House and your close relationship with President Trump and his administration. I ask you to use that relationship now to put Granite Staters first and have the president's campaign practice basic safety standards and require masks on Saturday."
Shurtleff noted that Sununu has been known to take many trips to D.C. to see Trump and that he thinks the governor may be hesitant to issue a mask order to avoid antagonizing Trump's supporters in New Hampshire.
Sununu has said he will likely not be in attendance at the rally on Saturday because he doesn't want to put himself "in the middle of a crowd of thousands of people."
Shurtleff told Newsweek the governor should use the same guidance when thinking about the residents in his state.
"Chris Sununu is justifiably concerned about the risks to his own health and safety by being at the rally," Shurtleff said. "Well, Governor Sununu should be showing that same personal concern for the people of New Hampshire that he's showing for himself. It's not just the health of those who attend the rally that's jeopardized, but everyone those attendees will come in contact with in the days ahead."
A restaurant in Greenland has also closed to protect employees and customers. According to the Seacoast online, Country View is closing for one week beginning Thursday due to "personal health and safety concerns stemming from the nearby Trump campaign rally."
Sununu canceled a scheduled COVID-19 briefing on Thursday. The next one is set for Tuesday, after the Trump rally in Portsmouth this weekend.
New Hampshire has had one of the highest mortality rates in long-term care facilities due to the global health crisis. Deaths among residents of long-term care facilities account for about 81 percent of the state's coronavirus death toll.
As of Wednesday, July 8, New Hampshire has reported 5,952 confirmed cases of COVID-19 and 386 deaths, according to the state's Department of Health and Human Services.
Update 07/09/20 3:33 ET This story was updated after Sununu canceled his Thursday press briefing.
Update 07/09/20 4:15 ET This story was updated with comments from Shurtleff.