New Hampshire Lawmakers Ask Governor to Keep National Guard Troops Away From Protests
In a Tuesday letter, New Hampshire's Democratic Speaker of the House Steve Shurtleff and State Senate President Donna Soucy asked Republican Governor Chris Sununu not to send any of the state's National Guard troops to "break up peaceful protests."
Deployment of National Guard troops was encouraged by President Donald Trump Monday as a solution to the rash of violent demonstrations that have occurred across the U.S. after the death of Minneapolis African-American man George Floyd, who died while in police custody. Former police officer Derek Chauvin, who is white, was shown in a video kneeling on Floyd's neck for almost nine consecutive minutes.
Floyd's death and other high-profile deaths of black people in the U.S. caused demonstrators to take to the streets in protest, with many of those demonstrations turning violent.
"If a city or a state refuses to take the actions that are necessary to defend the life and property of their residents," Trump said Monday, "then I will deploy the United States military and quickly solve the problem for them."
Soucy and Shurtleff's letter to Governor Sununu said that New Hampshire's National Guard troops "should not be sent out of state to fight against Americans' freedom of speech."
"We ask now, as we did in 2018 when the president asked governors to send National Guard troops to the border to separate families, that if the call is made to send our brave men and women who serve in New Hampshire's National Guard to Washington, D.C.—or anywhere else—to break up peaceful protests, that you refuse," the letter said.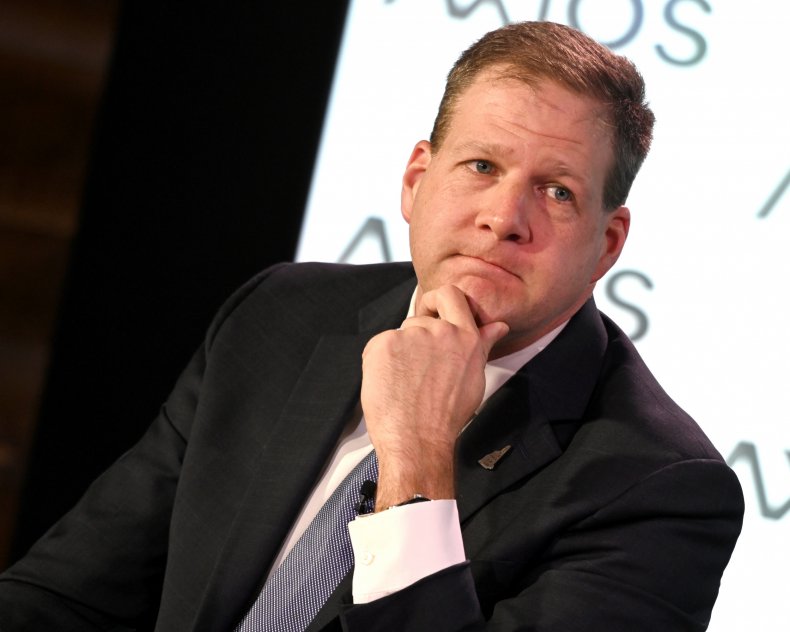 Newsweek reached out to Governor Sununu's office for comment. This story will be updated with any response.
During Monday's remarks, Trump said he would be deploying "heavily armed soldiers" and "military personnel" to protect Washington, D.C. during the protests. Virginia, which borders D.C., refused Tuesday to send its National Guard troops to assist.
In a Tuesday statement, Virgina Governor Ralph Northam's Chief of Staff said the state government had "heightened concern based on the President's remarks that the administration is looking to use the Guard to escalate—not deescalate the situation."
Trump faced harsh criticism Monday after Washington's National Guard used tear gas and flash-bang grenades to expel peaceful protesters near the White House during his speech. After the demonstrators had dispersed, Trump walked across the street to have his photograph taken at St. John's Episcopal Church. In the photos, Trump can be seen holding a Bible.
"We have the greatest country in the world," Trump said. "Keep it nice and safe."
Presumptive Democratic presidential candidate Joe Biden said during a Tuesday speech in Philadelphia, Pennsylvania that the military actions showed that Trump was "consumed with his blinding ego" and that people "can be forgiven for believing that the president is more interested in power than in principle."
Washington, D.C. Mayor Muriel Bowser placed the District of Columbia under a 7 p.m. curfew which is expected to expire at 6 a.m. Wednesday.