The New Hampshire Primary Thus Far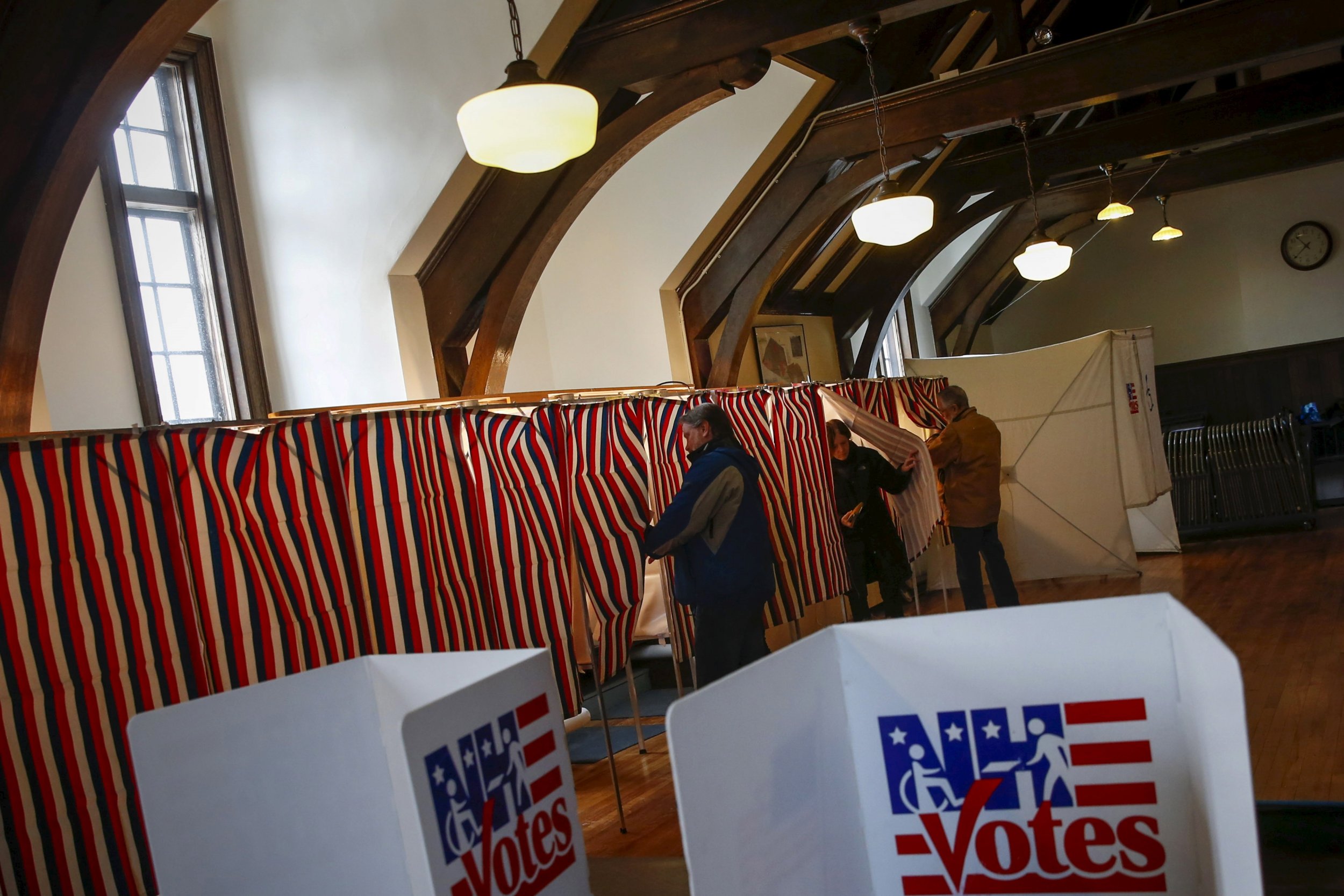 Half a million New Hampshire residents are expected to cast their votes in the first-in-the-nation primary before the polls close on Tuesday.
Democratic Vermont Senator Bernie Sanders and Republican front-runner Donald Trump are hoping to come out of the competitive primary with their first wins in the 2016 presidential season. Trump unexpectedly lost to Texas Senator Ted Cruz in the Republican Iowa caucuses on February 1.
With 1 percent of the precincts representing a handful of towns early, Trump was in a three-way tie with Cruz and Ohio Governor John Kasich. Each of the three candidates had about 24 percent of support, according to WMUR, an ABC-affiliated TV station in Manchester, New Hampshire. Former HP Chief Executive Officer Carly Fiorina and retired neurosurgeon Ben Carson, who was a close challenger to Trump last fall, were at the bottom of the crowded Republican field with three percent of support.
In the Democratic race, Sanders led front-runner Hillary Clinton with about 61 percent of favorability to her 32 percent, WMUR reported. The most recent polls ahead of the primary showed Sanders with a wide lead over Clinton, who won the Democratic Iowa caucuses by a fraction of the vote. Sanders is from neighboring Vermont, which could offer him an advantage.
New Hampshire law requires polls to open between 11 a.m. and 7 p.m. ET, but the exact hours vary at different locations across the Granite State. Most places opened at 7 a.m., and a handful won't close until 8 p.m. Following with tradition, residents cast their ballots in the three tiny New Hampshire towns of Hart's Location, Dixville Notch and Millsfield, just after midnight on Tuesday.
The official results will be posted to the New Hampshire secretary of state's website on Wednesday.
Independents, who make up about 44 percent of registered voters in the Granite State, are a key group because they can cast their ballots in either primary election. Their count is more than either the Democrats or the Republicans.
Since Trump declared his presidency last June, his campaign has been filled with controversial remarks, from criticizing Arizona Senator John McCain's war record to calling Fox News anchor Megyn Kelly a "bimbo" on Twitter. In the days between the Iowa caucuses and the first primary, Trump seemed to back away from his typical rhetoric. Although he accused Cruz of fraud and called for a new election after Iowa last week, the real estate mogul was quieter than usual at the most recent GOP debate on Saturday.
But then, on the eve of the New Hampshire primary, Trump on Monday spoke out against Cruz by using an epithet for female anatomy. He also said Florida Senator Marco Rubio, who placed third in Iowa, had been "sweating like a dog" on Saturday's debate stage because he was having a difficult time with his words.
In a taped interview with NBC News that was released earlier on Tuesday, Trump said he would behave differently if elected into the White House. He defended his words from the rally on Monday night by saying "the place was wild."
"When you're president, or if you're about to be president, you would act different," he said.
A winter storm brought as many as 7 inches of snow to areas of New Hampshire on Monday, complicating candidates' travel plans in the final hours before voters went to the polls the next morning. Much of the state was under a winter weather advisory through dawn on Tuesday. Some polling locations reported having a low-voter turnout in the morning, which the state credited to residents having to shovel their driveways and cars before traveling.
But the presidential hopefuls continued on the trail on primary day. Cruz was stopped by the media outside of a diner in Manchester and asked to respond to Trump's vulgar remarks about him. The senator said voters deserve a candidate who does more than "just throwing mud and insulting others," The New York Times reported.
While Sanders took a walk through the state capital of Concord surrounded by reporters, Rubio was in Londonderry being questioned about his most recent debate performance in which he stumbled by twice repeating the same talking points.